81% of marketers are looking to leave their current roles within the next three years. So, what can you do to keep your team in their roles?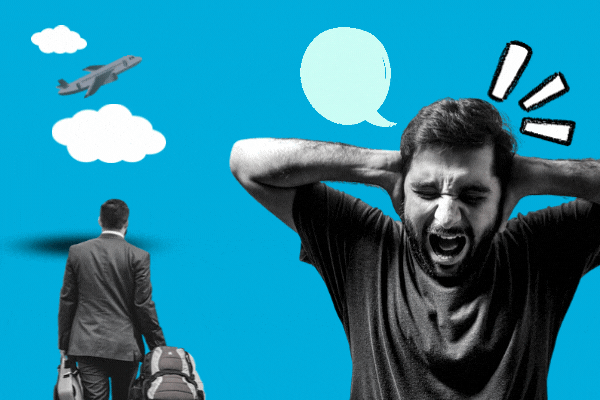 Although the majority of marketers are very likely to stay within the industry for the next five years, many are planning to leave their current jobs. In fact, 43.2% are planning to change their roles in the next one to three years, with 37.8% looking to move in the next year. Not fantastic for long-term planning.
So, apart from locking the doors, boarding up the windows, and throwing away their car keys, how can you get your marketers to stay in their roles?*
*LXA does not endorse kidnapping your employees for any length of time
Well, first up, it's important to ask why people are leaving their jobs in the first place.
I don't know whether you heard about it, but a couple of years ago there was a slight pandemic. As a result, a lot of people were forced to shift towards remote or hybrid work, and quite a few job roles were disrupted and changed. This meant a lot of employees experienced burnout in high-stress industries, including marketing.
Burnout is a huge influence for Gen Z age groups, who often want, and are used to, greater flexibility and control over their working schedules. They are also dissatisfied with the work/life balance.
As Brain Kropp, group vice president of Gartner's HR practice, says:
"Ultimately, employees want their 9-to-5 to look like their 5-to-9, and the organizations that deliver on that idea will gain a competitive advantage."
You especially need to consider how to really win your employee over within the first year. In fact, people are most likely to leave a job around their one-year anniversary, meaning that creating an environment where employees are rewarded for longevity and providing opportunities a=to advance quickly are key:
So, what steps can you take to improve employee experience, save your team from burning out, and keep people in their jobs? With a few small changes, you can make sure employees feel more satisfied and balanced at work, including:
Number One: Introducing Remote or Hybrid Work Choices
Hiring full-time marketing teams in-house isn't always the norm anymore. Increasingly, more marketers are opting to go freelance. This means the best talent has options. Although, this can be good for companies too.
Instead of being restricted to one geographical area, companies can reach out to top freelance talent, which makes expert marketers accessible and affordable for companies of all stages.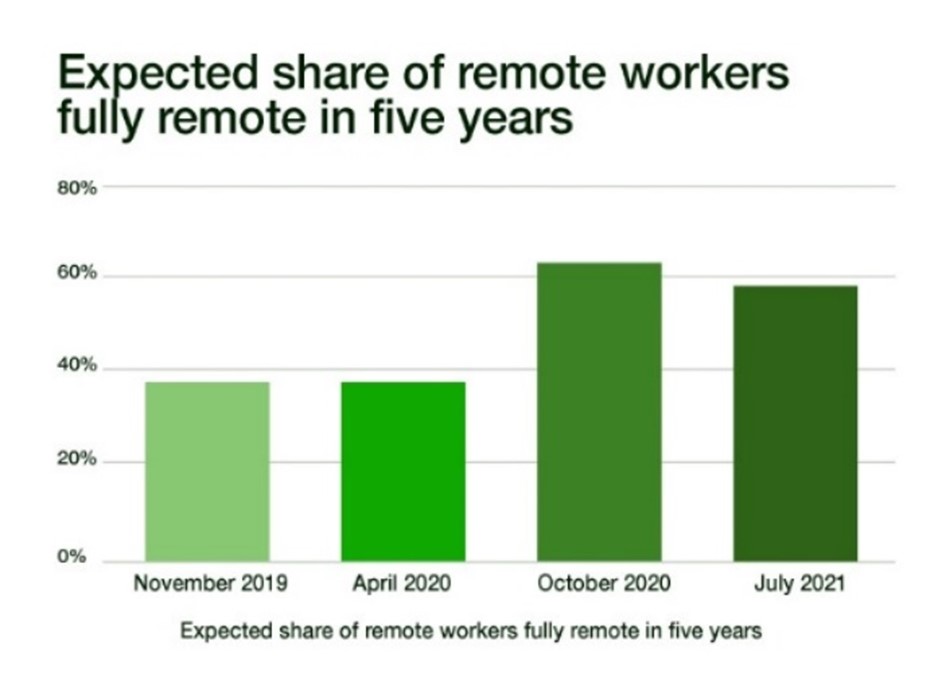 This doesn't mean your entire team has to be freelanced; the best option for most offices is a hybrid solution. This means you hire a couple of people in-house and then work with freelance specialists to get projects over the line. The hybrid approach gives you access to the best names and talents, whilst also taking pressure from your team during busy periods. Which, in the end, decreases the dreaded burnout.
Plus, each approach to a hybrid can be shifted to fit your specific company. Some brands hire more junior marketing managers and outsource strategies to fractional CMOS. Other companies might hire senior marketers, and work with freelance SEO experts.
This model basically solves the question: "how do I create a situation where everyone is happy with how they work?" It also doesn't hurt that it often improves a business' marketing ROI. This is due to the fact that hiring freelancers allows you to create a 'revolving door' of marketers who work on individual projects in the quickest, most high-quality way possible, without wasting time.
So, if your company is considering remote working or a hybrid model, you should consider:
Providing support. Do your employees have the tech, professional, and personal support they need whilst working away from the office?
Collaboration guidance. Don't let collaboration and teamwork die. It's important your employees maintain the connection in-person meetings and projects bring.
Team building. Employees need the opportunity to connect and catch up, so consider introducing team building events and catch-ups.
"It comes as no surprise that it's challenging to keep teams engaged when most interactions are taking place through a screen," according to a study conducted by Canva.
"Video calls are useful but when left unchecked, 'meeting creep' can quickly take over full days. This is something we experienced at Canva, and we're not alone — with 85% of those in our study reporting frustration at the number of meetings.
"To reduce video calls at Canva, and to promote global inclusion for those who aren't able to attend meetings in different time zones, we've increased our use of visual asynchronous communication formats. For example, we use engaging videos and internal 'hype reels' for everything from company-wide updates and internal messages, as well as Talking Presentations — a Canva feature that allows people to add short recorded videos to their slides."
The Canva study also found that remote work makes it difficult to collaborate and innovate. 64% of marketers even say it's harder to collectively make decisions when working remote, leading to inefficient marketing processes leading to poor work-life balance. This is why considering the needs of each individual, and providing remote working support is crucial.
Number Two: Providing Learning Opportunities
Some companies have been trying out a number of different incentives that don't just involve commission. Instead, some believe that money might not be the key to retention after all.
Mya Kelly, VP of people and culture at mid-size agency R&R Partners, told us the agency is putting "a lot of emphasis on training and development" this year.
"Money doesn't really keep people," Kelly said. "It's good to keep people for the moment, but nowadays, I just kind of feel like we've decided to throw money at our employees doesn't mean they'll stay."
In fact, Kelly says she purchased LinkedIn Learning for her company to help their employees develop their technical skills. The plan is to align the courses with the performance management tools, which track employee progress and can be used in evaluations. Then, bonuses can be given based on behaviour and results. She states that employees will "be rewarded for taking the courses that have been identified as a goal for them for the year."
According to the LinkedIn Learning 2021 Workplace Learning Report, 51% of learning and development professionals agree that internal mobility is more of a priority now than before the pandemic. So, providing your employees with the skills to succeed will reduce burnout and increase job satisfaction.
The growing marketing skillsets needed within the industry mean marketing leaders need to provide ongoing learning, development, and training opportunities for their teams. This shows you're dedicated to supporting your team's career development and professional growth. When businesses neglect to provide those opportunities, employees are less motivated to remain loyal and become curious about outside opportunities.
So, consider helping your marketers develop the following skills:
Social media advertising
Instagram
Presentation skills
Content marketing
Brands Awareness
Campaign management
Branding
Creative Problem Solving
Facebook marketing
Social media optimisation
"Hard skills have always been in high demand, but as the martech space has exploded with thousands of applications, the need for employees that are highly trained, educated and experienced has also grown exponentially," according to Anastasia Pavlova, CMO at Uberflip.
"In an age of social media and streaming entertainment, martech leaders are seeing a convergence of B2B and B2C into business to human (B2H), and consumers are expecting companies to deliver in areas of personalization. This means companies are needing workers with training in social media advertising, platforms like Instagram and content marketing to deliver personalized content experiences."
But keep in mind that piling a bunch of learning onto employees can increase burnout significantly. That's why it's important to allow employees the choice of when they do their courses. In fact, Mya Kelly has considered this, suggesting how essential it is to consider "working close to your HR team, working closely with your manager to figure out a schedule of what's going to benefit you, and then what's going to be best for the business."
Number Three: Promoting a Healthy Work/Life Balance
Work-life balance has become increasingly more important to employees over the last couple of years. Increased demand has put stress on workers to meet the needs of employers and clients, which means less time at home and less satisfaction at work.
But with better work-life balance, areas such as the following improve:
Em

ployee satisfaction

H

appiness

P

roductivity

Motivation

Efficiency
Many employees are still working from home and are still struggling with balancing work life and home life. Plus, the pressure to perform better has been amplified to recover from the setback caused by the pandemic.
This pressure and unexpected changes mean employees have been susceptible to burnout after picking up the slack left by those who have left. So, without tackling the work/life balance, your employees will consider looking for other employment.
Matt Powell, CEO of Moroch compares our current 'gen-z' period in history to 2009–2012, when millennials first started working and changed norms by expecting greater work-life balance and transparency in the workplace.
"I feel a lot of the same similarities with this [era]," Powell said. "And frankly, I do think the changes we made back in 2009 and 2010 made us better moving forward. And I think this will be part of that too."
"There was a moment in my career where I realized people aren't necessarily climbing the ladder similar to how we had done...We're making it clearer how to grow and how to move up."
Number Four: Ensuring Your Managers Motivate
"The workforce is showing that if marketing leaders want to attract the best talent, it must start from within," said Anastasia Pavlova.
"Employees want a culture of transparency, trust, diversity and inclusion throughout the workplace. They desire ongoing learning and development, and a workplace that offers challenging, rewarding and flexible opportunities."
Effective managers need to be motivators, as well as great leaders and communicators.
Employees will be more likely to do their best work under the guidance of motivational managers and will be easier to engage. This job satisfaction and success will improve the chance of your marketers staying in their roles.
But this isn't all about cheering your employees on from the side lines. Good managers should be providing positive, constructive feedback, and empathy. They should also accept that sometimes they need to step back and let their employees do their work, without micromanaging.
As Lori Scherwin, founder of Strategize That in New York City says:
"Top performers want space to be their best."
Empathy is also a vital characteristic of good managers. The companies succeeding in retaining employees have accepted a fundamental shift. This involves acknowledging the rebalance in the employee/employer equation.
"It's about building relationships and letting people know that you genuinely care about them," said Debbie Cohen, co-founder and author at Humanity Works .
"Talent is short, and careers are long. You might really see the need to reengage with people over the arch of their careers. So, it's important to be genuine and supportive."
"Belonging is such a powerful human emotion," Karen Mangia, VP of Customer and Market Insights at Salesforce agreed.
Number Five Compensating Hard Work
According to the Atlanta Federal Reserve Bank's wage growth tracker, people who left a job saw an average of 4.6% wage gains, while those who stayed saw 3.4% gains/ So, even before the pandemic, experts suggest that leaving a job can be the quickest way to advance a worker's title and salary.
So, the stakes are higher than ever. Many people are taking the risk of changing jobs, putting companies on the defence. As a result, companies such as Barker have been compensating their employees for their success and hard work.
Barker decided to give employees a 4.3% year-forward bonus in December to proactively respond to growing inflation in 2022. Mary Beth Weil, EVP and managing director at Barker, told Marketing Brew that feedback has been positive.
"To be able to respond in a way that is literally, tactically, meaningful brings joy to [employees]," she said.
The company also gives holiday bonuses, as more of a 'gift', whereas their year-forward bonuses were a more functional reward. Then, they have made plans to continue watching inflation rates and consider quarterly adjustments.
They also plan to give out $ 1,000-anniversary bonuses, as well as retroactive bonuses for every year an employee has worked with them.
"It's another important way to show appreciation and say, 'You matter,'" Weil explained.
According to a recent survey by the Conference Board, companies are expecting to raise salaries by about 3.9% this year, the highest rate since 2008.