Data. It's getting into everything. Marketing. The Super Bowl. My hair. Yuck. Help me get this out, won't you?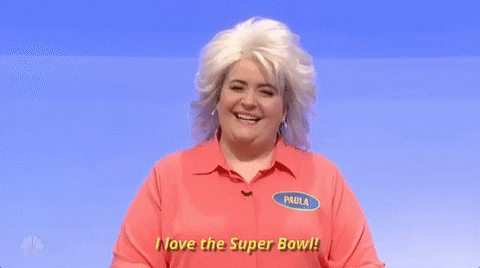 The Super Bowl has been one of the biggest marketing events for decades. But the use of data has bought it into the 21st century.
The thing is we've got a few issues.
Number one: the absence of cookies has upended cross-channel access to customers surrounding the game.
Number two: TV marketing has become more and more expensive; not every brand can spend $6.5M on a single ad.
Number three: the Super Bowl has become a month-long extravaganza.
Number four: consumers have changed the way they engage.
So, how can an updated data strategy and approach fix these complications?
Well, it's important to think beyond the Super Bowl as a singular event. It's just not the way consumers interact with brands and content anymore.
Few people are watching the game without a second or third screen. In fact, 88% of people use a second device while watching TV. Plus, 69% use a second screen—typically a mobile device or laptop—after seeing an ad to find more information on a product or service.
So, there's a huge opportunity to drive awareness and drive engagement.
Your Super Bowl strategy needs to change, because your audience has. Viewership since 1967 has doubled and diversified. Data is one way to do this. But how? Well, let's start with:
Predictive Analytics
More data equals better models, which equals better predictions on how a consumer will react. Pretty simple. Kind of.
Once mining and predictive analytics have been conducted, marketers have the ability to develop effective marketing, and impactful advertising strategies. This means you can target the right people, with the right messaging, at the right time. All of this culminates in a campaign which resonates with consumers.
Basically, if a brand is spending $5M on 30 seconds of airtime, those 30 seconds should be impactful. It's a mix of these analytics and storytelling which leads to highly effective ads. This might look like Microsoft's "Be the One" campaign, highlighting the first female coach. This landed Microsoft's ad in the top 10 Super Bowl ads of that year.
Data's great, but it can't reveal all variables alone. The data can point to a particular anomaly or stand out point, but it's the analytics which refine everything. Analytics can put all the pieces together and make all the information gathered into data-driven decisions for the best action to take.
So, marketers can't just rely on what has succeeded in the past to succeed again. Data needs to be leveraged to your advantage. It's a case of keeping up to date with your consumers; through first or zero party data, through social listening, through constantly updating customer profiles.
Then, using this data to respond to their current wants and needs. The same talking baby ad might've worked in 2020, but your audience might now want a bit of substance.
Multi-screen Watching and YouTube
The Super Bowl ads might just be as important as the game itself. This has gotten to the point where there's ad trailers, just so fans get a sneak peak before the big day. Consumers see the ads as part of the whole Super Bowl experience, so this stretches the event out for months, over a variety of different mediums, on a variety of screens.
So, where are consumers turning in order to see these ads? Well, YouTube of course. According to Google Data, people watched more that 6 Million hours worth of Super Bowl ads released on YouTube in a single year.
People are so eager to see these ads as soon as possible, that they're not waiting around for game day. In the past four years searches for Super Bowl ads have begun increasing before the game, with a surge ahead of kick-off. And brands are catching on.
Newcastle Brown Ale, for example, have been using digital and YouTube advertising in order to get ahead of the curve, and start conversation early.
During the game, social media can be used to increase fan engagement, so marketers can really utilise that multi-screen behaviour.
So, what's data got to do with all this? Well, well-organised and targeted ads sat alongside data-informed online advertising bring in a pretty nifty return on investment. Plus, data on customer behaviour and interaction with your campaigns (i.e. when they interact, with what devices, and for how long etc.) can be used to inform future campaigns.
On top of this, some brands have been using inventive, multimedia campaigns to engage their audiences. Knowing that people will be on their phones, brands like Frank's RedHot. Frank's has launched what it calls the "first-ever Edible NFT" ahead of the Super Bowl.
From the end of January until the day of the Super Bowl, fans can scan images of their chicken wing bones to earn Bonecoin, at Boincoin.com. Whoever gains the most Bonecoin will win the Franks Redhot NFT, and its edible replica - the eNFT. Providing this experience means that Frank's gets a view on how their customers respond to these events, as well as purchasing behaviour around the game.
So, when you've advertised on all these various digital channels, and all the platforms streaming the Super Bowl, you can increase the value of the performance data collected by using an identity resolution provider. This can tie the data back to real people in an anonymised, privacy-conscious manner.
Using this technique, you can see whether these consumers have interacted with your brand before, or whether they are new soon-to-be-customers. Identity resolution helps to segment these individuals, understand their potential for purchase, and then measure the impact of your marketing.
AI Analytics
Before, during, and after the event, data gathered about customer behaviour can help advertisers identify who is interested, and what is likely to have the biggest impact on them.
So, by applying AI, companies can keep up to date with developments in their advertising campaigns, in order to drive up engagement. This means not only does their Super Bowl ad have a better ROI, but so do their ongoing business operations.
AI-powered analytics can also ensure that advertising platforms, retail customer sites, and online businesses interact with customers well and consistently across platforms. Effectively tracking customer activity, and delivering concise dependable data will provide a first-class experience.
QR Codes
QR codes can be incorporated into a bunch of marketing campaigns. They add a lil extra spice to the whole thing, including allowing you to:
Provide any additional information your customer might need. This might include linking to a landing page to capture conversions and first-party data.
Share social media accounts. The customer can be led directly to your organisation's socials, and create a longer lasting link through following your page.
Ask for reviews. Through adding your QR code to any of your marketing materials, your customer can have easy access to a site where they can quickly leave feedback with ease. No heading popping a slip in a box, hunting around for your shop on trip advisor, or screaming a review from the corner of the street.
But what's the most important (and relevant to this article) part? QR codes make all of this data trackable, giving you real-time insights into performances that can help brands adjust spend across channels or campaigns to make sure they're achieving the best return from their efforts.
One example of brands using this technique is Chevrolet. The car company ran ads inviting fans to search for clues with the help of QR codes in their TV commercials. They are also ahead of the multi-screen curve too. They released the Chevy Time mobile app, which allowed viewers to interact with each other, participate in polls, and win prizes during the game.
Omni-channel Data Collection
I'm going to talk a lot about avocados now. I know, classic millennial.
Avocados From Mexico is the number one selling avocado brand in the U.S. They've gone big on the Big Game this year, with a multifaceted campaign, involving all elements referenced above; QR codes, analytics, multi-screens and multi-platforms.
"The brand is deploying a robust multichannel digital campaign designed to drive brand awareness and engagement across all key social platforms, while also increasing purchase intent and placing avocados on the digital shelves of 40 retailers," they said in a press release.
They've also partnered up with MikMak in order to make every single digital and social ad shoppable, giving consumers the chance to purchase whenever and wherever they interact with the brands Super Bowl campaign.
With a strategic partnership with LiveRamp, a data connectivity platform, MikMak will enable Avocados From Mexico to understand its online shoppers, as well as acquire, analyse and enrich its first party data. These capabilities will enable the brand to build brand recognition, while driving sales from branded assets.
"As consumers continue to buy more of their groceries online, Avocados From Mexico is leading the way by ensuring all digital and social media channels are shoppable with MikMak," said Rachel Tipograph, Founder and CEO at MikMak.
"Not only will consumers have a frictionless shopping experience, Avocados From Mexico will get to learn who these consumers are and what else they put in their carts with MikMak."
So Avocados From Mexico are relying on data to build robust consumer profiles, which helps them develop a marketing strategy that blends brand and performance metrics.
"These profiles are built using first-party data which the campaign will seek to acquire via shoppable content," Ad Age's Asa Hiken reports.
"Powered by a deal with e-commerce software MikMak, which itself has teamed with data platform LiveRamp, Avocados From Mexico will receive a detailed view of consumers who are driven to purchase, including psychographic (traits on psychological attributes), demographic and behavioural information."