Partner Content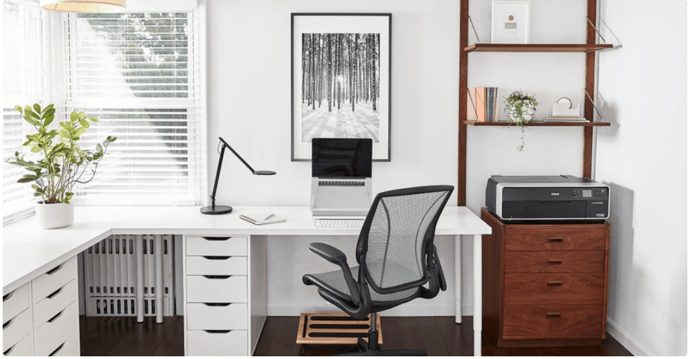 My team loves Bynder, it's one of the backbone platforms that we use to run our day-to-day marketing.
Leena Jain
CMO at Humanscale
Humanscale is an award-winning manufacturer of ergonomic work tools and office furniture. Before the pandemic, office furniture belonged...well, in the office (duh) and Humanscale managed its operations on a B2B basis. But with corporate offices everywhere empty (literally), Humanscale has had only two weeks to get ready to meet their clients right where they were: their brand new home offices.
In order to pivot their messaging, Humanscale had to effectively streamline internal and external communication while creating and distributing brand new marketing collateral to support sales reps in their now-virtual job. As they were rolling out their new go-to-market strategy and accelerating their digital transformation, what they needed was the peace of mind of knowing they had full control over how timely and effectively their precious assets were stored, shared, and distributed.
We recently met with Leena Jain, CMO at Humanscale, and Sara Anthony, Marketing Consultant at Humanscale; both at the frontline of Humascale's pivoting efforts. They shared with us the eight greatest benefits they found in pivoting with Bynder as we spoke about how they leveraged their DAM platform to expand their Direct-to-Consumers (D2C) business and increase their WFH product category by 300%.
Humanscale sets the foundation of their digital transformation with Bynder
When you are a company that specializes in office furniture and people suddenly stop going to the office, you quickly have to rethink how you're going to go to market.
Humanscale had enough foresight to take hold of the opportunity WFH was bringing about. With 1000s of companies now preoccupied with their employees' wellbeing while working remotely, Humanscale continued to serve these companies as a corporate entity—but catering for the needs of employees at home.
The marketing team was able to use Bynder to quickly launch brochures, information, and how-to guides to bring on a whole new product line and product distribution channel within two weeks.
But with Humanscale sales reps also stuck at home and unable to showcase their products across offices and showrooms, Humanscale was also quick at tapping into the power of their DAM to create and distribute new and relevant sales enablement collateral to empower their salespeople to continue to sell during virtual meetings.
Our salespeople were immediately able to access all newly developed assets, images, and information that they needed during virtual meetings with customers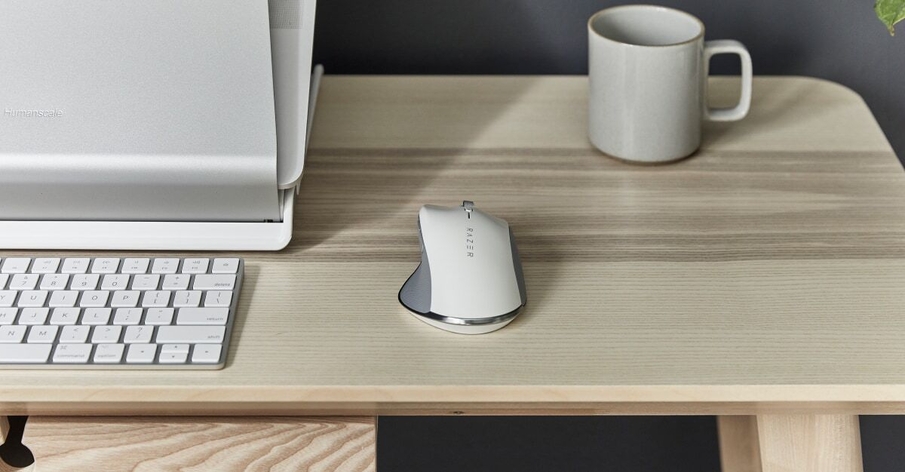 Humanscale reveals: the 8 benefits of pivoting with Bynder
1) A tool everyone uses: Humanscale increases DAM adoption by 50%
At Humanscale, they have always enjoyed high internal adoption of their Bynder DAM across different teams including marketing, C-level, and sales. The need to pivot during a difficult time meant that reliance on the DAM rose exponentially and Humanscale saw a staggering 50% increase in asset views and downloads compared to the previous year.
A robust DAM solution acting as a single source of truth for the entire company meant that teams at Humanscale had a clear overview of asset performance, usage, and what assets were available to support internal and external stakeholders during this delicate time.
Each rep was logging on and accessing assets every single day as they were preparing for meetings. It's definitely a metric that shows us that there is complete and frequent engagement.
2) Closing deals easily: sharing collections with clients
As the number of asset views and downloads rose exponentially, so did the reliance of the sales team on the collection feature of their Bynder DAM. Easy to create and share with clients, collections allow sales reps at Humanscale to organize, use, and reuse the collateral they need for specific types of clients and calls.
Without being able to touch and feel the products, clients now rely on the imagery Humanscale developed during their pivot to get a feel of the product they are buying. By sharing collections with their clients, sales reps at Humanscale have found an effective way to remain appealing to prospects and customers everywhere.
Clients aren't able to touch and feel the products anymore. But we are able to curate collections for our clients, showcase our fabrics and our textiles, and have them be able to take advantage of all the great photography that we host on the platform. That's a huge benefit
3) Switching to e-retail made possible: Humanscale increased e-commerce sales by over 200%
Humanscale has always relied on their sales team and network of retail partners to get their ergonomic work tools and furniture inside every office. They enjoy a direct relationship with client companies and this traditional approach remains the bulk of their sales.
Before the pandemic hit, Humanscale had already created an e-commerce platform that initially didn't see much traction, but having that platform in place proved beneficial as sales moved online. Humanscale have now expanded their business model to also include D2C and Bynder's DAM is able to integrate with most other software, including PIM to enrich assets with product information and populate e-markets automatically. Read our guide to find out how DAM helps companies capitalize on the expanding e-retail market.
Our e-commerce platform has grown over 200% this year and is really becoming a core part of our go-to-market strategy.
4) Onboarding new teams to Bynder: the case of the customer care team
As e-commerce sales increased during the pandemic, so did the need to provide customers with a new type of after-sale care and support. The customer care team was, in fact, initially inundated with calls they struggled to manage. They were having difficulties in finding the most up-to-date installation instructions or just images of products that they hadn't seen in person.
That's why Humanscale decided to build up a user group for customer care and give them the same DAM training the sales team receives. The customer care team is now able to find all information they need in a single location. Humanscale is not the first company to leverage Bynder to set up portals to empower their teams. Check out these five creative use cases for Bynder's Brand Guidelines inspired by our customers.
Now, they have a central location to access all the information they need—much like the sales team— to meet the surge in inquiries they are seeing. That's really cut back on their response time to clients and benefitted the way they work.
5) Reaching audiences across every touchpoint: Humanscale builds a robust digital and social presence
In the digital-first world, companies need to develop a robust online and social presence. Humanscale was missing this initially but as they pivoted their go-to-market in the wake of the pandemic, they have found in Bynder the perfect ally to stamp their presence all over the web.
They now use their videos, photography, and recordings of virtual events to promote their products on social media, create engagement, and connect with prospects and clients on socials throughout the customer journey. Social media marketing requires endless variations of the same assets in order to be effective and fuel optimization algorithms. Read our guide and find out how DAM and creative automation can help you step up your social media marketing.
We've learned how to go to market and promote our brand across all our platforms including socials, e-commerce platforms, and email marketing. We use Bynder to host our assets and share them as needed.
6) Finding assets with a click: a powerful taxonomy speeds up time-to-market
Time is a commodity when racing against the clock in order to pivot successfully. Even something as small as finding the right asset (or conducting an audit of existing assets) in a matter of seconds can make the difference between success and failure.
Thanks to a rigorous tagging routine, the teams at Humanscale have built an enviable taxonomy that has made using the search function of their DAM portal an unbeatable experience.
There are so many unique aspects to every asset and why somebody might be looking for it. If I need to find an image that I want to suggest to somebody and all I can remember is that it had a white cushion in it, I can search "white chair" and get all the ones that have been tagged.
7) Driving cross-team alignment: empowering teams to increase efficiency
No team is an island. A pivot is a delicate time for any company and it is important to avoid that limbo between how things used to be done and the new marketing strategy during which everyone seems to be lost and errors are made.
By breaking down silos and streamlining communication and workflows at a company-wide level, Humanscale has managed to empower every team to align with the others seamlessly while making everyone accountable during this transition period. When pivoting rapidly, creative automation helps marketing and branding teams to be perfectly aligned—learn more.
One thing we really love about Bynder is that allows us to put up all assets so that the rest of the company can access them. It just makes us all more efficient and eliminates the need to dig and find things for each rep. Everybody knows how to access the most up-to-date material.
8) Full control over assets and digital rights: setting permissions based on role and use case
By leveraging permissions, the teams at Humanscale have full control over who gets to use which assets. A pivot can be a very confusing time for everyone and the last thing you need is ambiguity over what assets should and should not be used.
Bynder's permission settings allow admins to choose who gets to see (and use) each asset or category of assets. The feature was developed with external stakeholders in mind and includes an expiry date setting to automatically withdraw permission when the time comes. But at Humanscale, they have found a very convenient way to make use of this feature during their pivot.
A lot of times you'll do a photo shoot and you'll get 100 photos. You only want your sales team to be using the 10 best ones, but you sometimes need the other ninety for an invitation or a certain website view. So we're able to tag assets in different ways for different classes of the organization.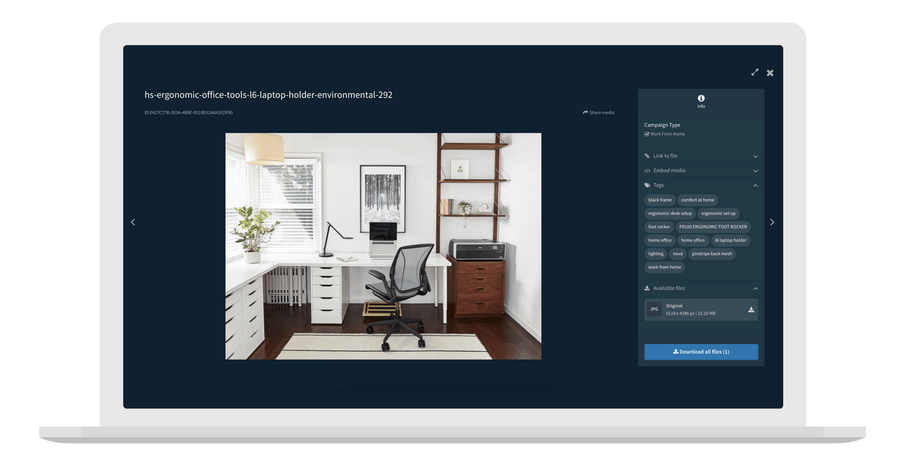 What's next for Humanscale x Bynder?
As Humanscale demonstrated with their pivot, digital transformation is the way forward for any company willing to survive in the digital-first world. As they shift from traditional sales operations to e-commerce and D2C, Humanscale is creating high volumes of new, high-quality digital content to fuel digital experiences for their customers.
Humanscale is now planning to expand its digital reach by automating parts of the creation process of both video and image assets. In the future, they plan to use Bynder as the creative engine behind their asset creation process and tap into the power of creative automation. It's important to act swiftly when carrying out digital transformation initiatives. Learn why the time to automate content creation is now by reading our free guide.
With Bynder's offering of creative automation tools like Video Brand Studio and Digital Brand Templates, companies worldwide have already started scaling up the creation of marketing assets by automating parts of the creation process and freeing creatives from the burden of grunt work.