Meet John Watton, VP EMEA Marketing for Yext, the Search Experience Cloud company. We caught up with John to chat his typical working day, the impacts of coronavirus, prized work desk possessions, advice for young marketers and what he eats for lunch (in my opinion the most important questions of all).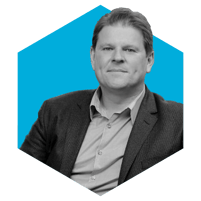 We know you're extremely busy and working on all different aspects in your business. Could you give us a top-level overview of your role?
I lead European marketing for Yext. Put quite simply, my role is to help the business build its brand in the region and drive the commercial pipeline. My role covers all aspects of marketing, from brand awareness and advertising, down to lead generation, customer success and customer marketing, and everything in between.
How has your role been affected since the outbreak?
Well the funny thing is, I'm actually fairly new to Yext. I started during the early stages of the coronavirus outbreak and joined the company a week before the lockdown and work from home measures were brought in.
So I've been working from home for the majority of my time with the company! From a sort of personal perspective, I've been onboarding into a company where I've yet to meet a lot of my team and my peers, but have been super impressed by everyone and how we've been able to continue to drive amazing marketing programs.
In fact, one of the first things I had to jump into was spreading the word that we would offer our newest product, Yext Answers, for free. As COVID-19 started taking its toll on the global economy, we realised we had a solution that could really help businesses and organisations of all types during this unprecedented time. We aligned very quickly across the company to create that offer and marketing got to work developing a campaign to promote it.
Before the pandemic what did a typical working day look like?
Like a lot of people in European roles in the tech industry, I work with a team that's based in multiple countries. So there was no such thing as a typical working day and my working life would be spent not only in the London office, but also travelling to our other offices in Paris and Berlin, as well as our headquarters in New York. That said, a lot of meetings were over video conferences so I'm not unfamiliar with Zoom!
What does a typical working day look like now?
A typical working day now is a lot more predictable of course. Like everyone else, there are no face to face meetings right now and a lot more video conferencing. The biggest change is for team members like myself who have family commitments and homeschooling to contend with. With a boss based in the U.S, it means that the day starts a little later than normal, and usually runs a bit later into the evening given our need to stay connected.
But of course there are benefits that we'll come to realise, too. For example, I'm certainly someone who's travelled a lot, and it's refreshing to have a break from the physical stress of travel.
Do you have a prized possession on your desk?
Well, I'm in my home office, which doubles up as many different things. I'm a bit of a music fan, so I have various bits of musical equipment around me both to make music as well as play music. So my prized possession would probably be my turntable, as I have a large collection of vinyl records. So, when I'm working on projects, I often put a record on.
What helps you unwind after a working day?
Listening to music, when I get the time. With my working day now shifting a little more into the evening, I also unwind by having dinner with my family and typically watching the latest Netflix box set.
If this was pre pandemic, I would probably go for a run or a cycling in the evenings. I now do this first thing in the morning - but sometimes I'm not sure if it helps me to unwind or wind up!
What do you love the most about your job?
I think it's an amazing time to be in marketing; I've worked in marketing for a long time and I think today it's more exciting than ever.
We're blending all of the innovations in data that we've seen over the last few years, our ability to understand and predict what our customers need from us with an appreciation of building an emotional connection. And I love that even in B2B our customers not only want to be informed, they also want to be entertained.
At Yext we really appreciate that blend of data and creativity, art and science, which is an incredibly exciting place to be!
Also, I've marketed many different technologies over the years, and what I love about Yext is that I am able to relate to our audience, as our audience is typically marketers. So I understand what they're going through, and the issues and challenges that we can help solve.
What's difficult about your job?
Outside of right now being confined to my home, I think the digital world is incredibly crowded, and our customers and prospects have lots of pressure on their attention. This can make it difficult for any marketer to cut through the noise and stand out.
So whilst it's a challenge, it's also something I love, because we have to be continually innovating in order to break through to our customers. At Yext we're well placed with a strong brand, amazing offering and a lot of smart marketers. So I'm confident we'll rise to that challenge!
What have been the biggest changes and challenges at your business and day to day?
Our offering is mission critical to our customers. So of course, whilst we have definitely been affected by the pandemic because our clients are being impacted, we've also seen that they are relying on us during this time. We're helping them to answer the questions that their customers are asking. In that sense far from being shut down, our Answers product is actually being used more through this period of intensity.
What is your best piece of advice for people struggling to work from home?
I think it's very easy for work to dominate your entire day, but you need to have some separation. It's good for you as an individual and it's good for the business. We're all going through a period of anxiety, uncertainty and stress with personal and family challenges too. So make sure that there is a point in the day where you stop working, make sure that you have a routine, and try to do something else with your time. It's about how you manage that and keep mentally well as we go through this time.
What advice would you give to someone looking to start a career in marketing?
There is so much to be curious about in marketing and so many opportunities and potential that's out there. The communications tools that we use in our personal life are now the tools we use in business, and that's the way in which we build an emotional connection and drive relationships with our consumers. So be curious, always be looking at things that are out there, read the trade press, bring in ideas from what's going on in the industry - be that in the business or consumer world.
The name of the game is to be innovative and to stay ahead of the curve, and I think it's important to avoid getting hung up on one particular element to marketing. Don't chase the shiny things! Try and stay quite broad. The tools that we're using today will be totally different to the tools that we're using next year or the year after that, as we continually evolve and drive campaigns to cut through in the digital world.
And finally, it's important to come back to some fundamentals, like what are we trying to do? Who's our core audience? What's our value proposition? All those bedrock concepts are really important.
Finally, the most important question. What do you eat for lunch?
Variety is the spice of life. When I'm at home it tends to be pretty basic: I like brunchy type meals like avocado and/or eggs on toast! When we're in the office in central London, we have so much variety. So it can be Thai food one day, sushi the next. Hopefully we'll get back to those days where I can have that choice again soon.
At the moment though, it's fundamentally eggs on toast.
John is speaking at #MarTechFest Dial Up, you can catch his sessions

here