Hello! Yes, that's me, waving through your window. No, no, I'm only staring because I want to get to know you better! So I can send you cards and gifts that fit your previous behaviours. Wait, why have you shut the curtains?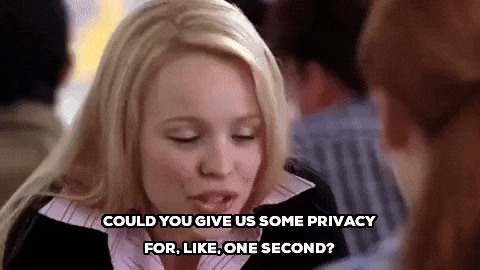 If you relate more to the curtain-closer in that situation, you're not alone. In fact, 80% of people say they're willing to act to protect their privacy and personal data, according to the Cisco Consumer Privacy Survey.
But all this is about maintaining customer trust, whilst providing a personalised experience that doesn't involve you bringing up their first pet, mother's maiden name, and the colour of the t-shirt they're currently wearing.
So, in order to maintain that balance, it's important to understand the landscape. With changes in privacy regulations, increased consumer awareness of data leaks and misuse, and the death of the third party cookie, the space has become a bit of a marketing minefield.
Companies are beginning to feel the impact of this shift towards data privacy, with 97% saying they're planning to increase their spending on protecting consumer data.
Remember, marketers can be the custodians of a brand's image, so ignoring privacy concerns, or underfunding the process can have some bad effects. Studies have found that 8 out of 10 customers report they're willing to abandon a brand if their data is used without their knowledge.
Right, we've gone through the "why" to protecting data privacy. Now, let's look at the "what", "who", "when", and "how".
Looking for the down low from a download? Want to be overly-informed on Data Privacy? Well, check out our Data Privacy Best Practice Guide, here!
Consumer Trust
61% of individuals who are active about their privacy are under the age of 45



84% of respondents indicated that they care about privacy, care for their own data, care about the data of other members of society, and they want more control over how their data is being used.



48% indicated they already switched companies or providers because of their data policies or data sharing practices


79% of respondents said they are very or somewhat concerned about how companies are using the data they collect about them.


64% say they have the same level of concern about government data collection.


81% of respondents feel as if they have little or no control over the data collected


46% of customers feel they've lost control over their own data.


43% of all respondents don't believe they can adequately protect their personal data today


93% of Americans considered it important to be able to control who could access their personal data.

86% of US citizens have attempted to somehow remove or decrease their digital footprint online.


21% of email and social media users have experienced a cyberattack at least once


Around 81% of Americans express concerns regarding companies collecting private data.


92% of customers

believe that a proactive approach can prevent customer data breaches. It's probably why more than 60% of Americans blame the company instead of the hackers when a data breach occurs.



Only about 22% of Americans say they always (9%) or often (13%) read company privacy policies before agreeing to them


70% of American internet users are not sure what purpose a VPN serves
Data Protection Laws
45%

of respondents indicated that they find the federal government responsible for protecting data privacy


24% of respondents find the individual user responsible for protecting data privacy


21% of respondents find that companies should be responsible for the protection of data privacy.


The majority of consumers (40%) believe that their government should take the leading role in battling the cybercrime increase due to the COVID-19 pandemic.


Just 3% of Americans say they understand how the current laws regulating online privacy in America today actually work.


107 countries (of which 66 were developing or transition economies) have put in place legislation to secure the protection of data and privacy. In this area, Asia and Africa show a similar level of adoption, with less than 40% of countries having a law in place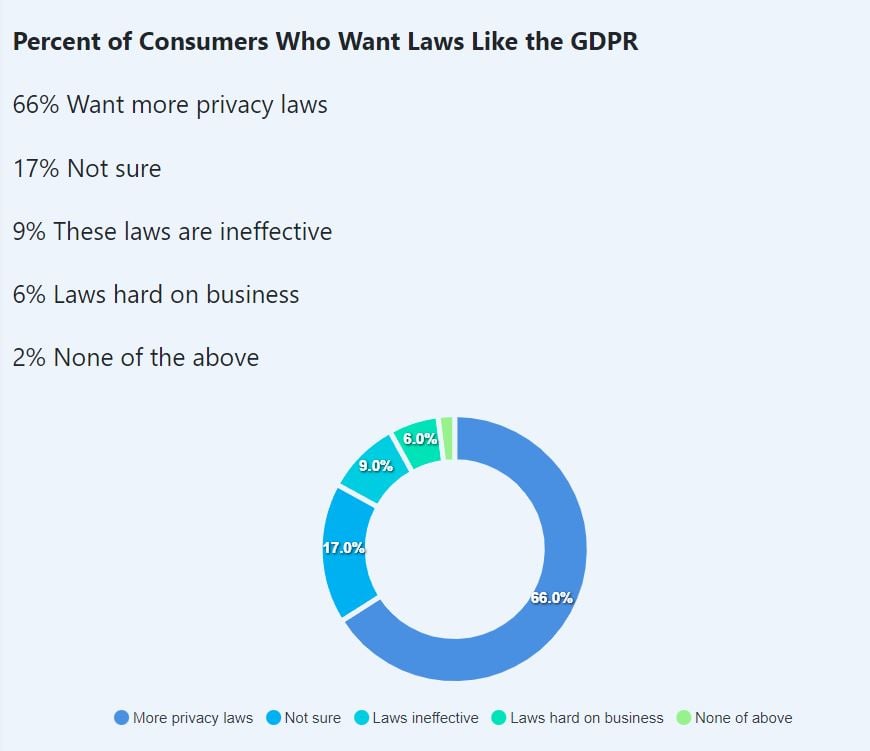 Actions by Brands
47% of organisations updated website cookie policies, and 80% updated policies more than once over the past year


97% of companies recognized they were realizing benefits such as competitive advantage or investor appeal from their privacy investments


The average annual privacy spend was

US$1.2 million



Among large enterprises (10,000 or more employees), the average annual privacy spend was $1.9 million, and 2% of these enterprises spent more than $5 million


Most companies reporting a breach say they've reported fewer than 5, although 22%

have reported 10 or more.
Threat of Inaction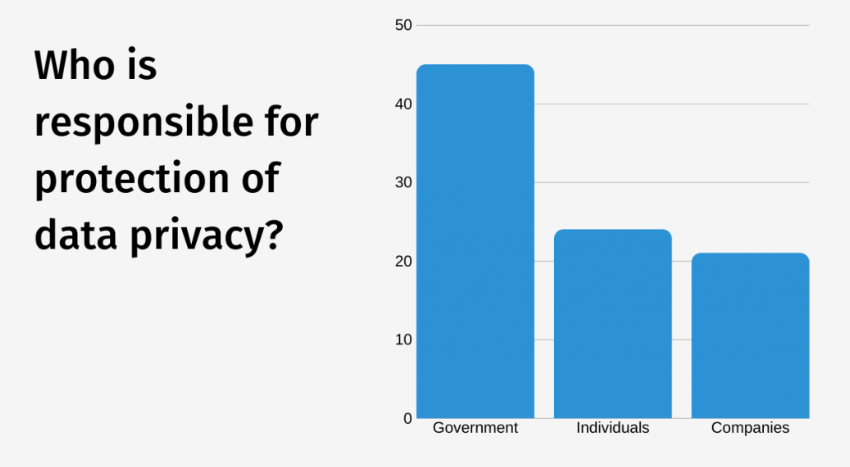 Social Media Privacy
1% removed personal information or posts that they didn't want the network or others to see.

0% made their profile completely private.

8% stopped adding location tags to their posts.

2% changed which data they allow the network to collect and share about them.

6% have used a password manager.

3% have used the

Do Not Track

(DNT) setting in their web browser.

1% have used a

virtual private network

(VPN) for non-work related Internet usage.

1% have used a

tracker blocking app or browser extension

.
64% of respondents believe that privacy options or features are "extremely important" or "very important" when considering their next smartphone, computer, and smart home device purchase.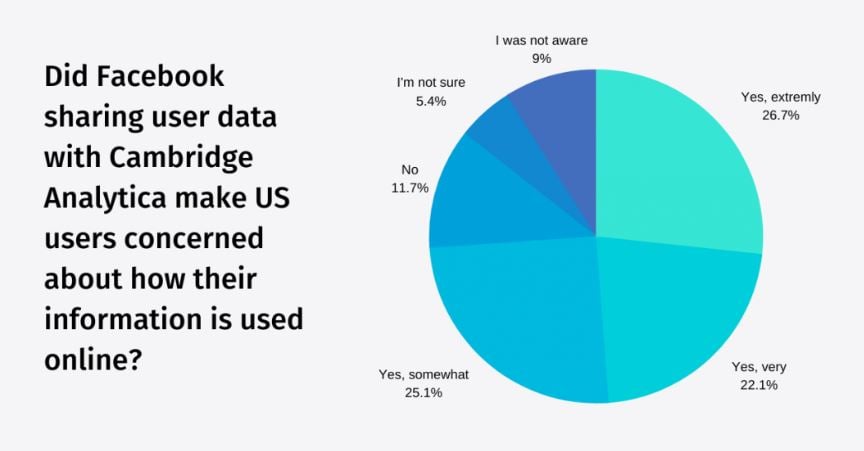 Data Use
This post is part of our Martech stats series, which compiles key data and trends. Others include: