Surely the Master Data Platform will win, I hear you say. It's the master after all. Think Obi-Wan Kenobi vs Anakin Skywalker. MSM must have the high ground, right?
Ah, in fact CDP is the bright-eyed underdog, and oh boy does he know how to do a flip with a lightsaber.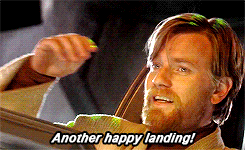 Before we can figure out who escapes the battle with their life, we'll have to define each of them. Just so you'll have a good idea for who to bet on. I've heard the bookies down the road will do a deal on that nice watch you've got there.
Anyway, first up:
What's a CDP?
The CDP institute defines a Customer Data Platform as "packaged software that creates a persistent, unified customer database that is accessible to other systems." Put into English, it's a centralised system of customer data, made readily available to you and your teams.
So, a CDP is a software that aggregates and organises customer data, across a variety of touchpoints. They also collect and structure real-time data into individual, centralised customer profiles.
Customer Data Platforms...help companies solve a huge and growing problem: the need for unified, accessible customer data. Like most packaged software, a CDP reduces risk, deploys faster, costs less, and delivers a more powerful solution than custom-built alternatives."

— David Raab, Customer Data Platform Institute
These customer profiles are informed by a collage of first, second, and third party sources. This might include your; CRM, DMP, web forms, email, website, social media activity, behavioural data, transactional systems, and beyond.
A CDP, in simple terms, serves three purposes:
To collect and unify all first-party data. Eliminate silos, and connect all tools.
To manage customer data. Control the data flows between systems, and manage consent.
To allow for the activation of this data. Create audience segments that can be used across the rest of your channels.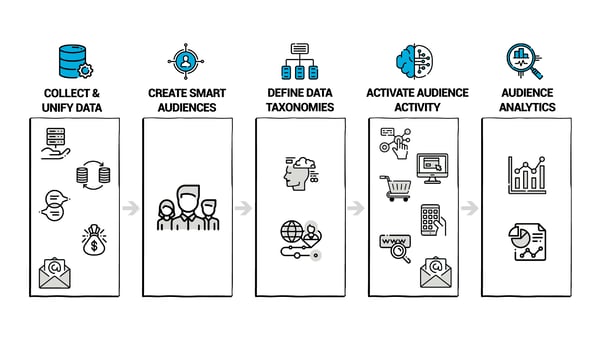 According to Forrester:
"A CDP centralises customer data from multiple sources and makes it available to systems of insight and engagement."
So, where does a CDP sit in the stack?
Slap bang in the middle. This is due to it being able to gather, segment, and identify data from your CRM and DMP, centralise it, plus push info out of each of these platforms too. It's basically a single source of truth, to get to know your customers better, and serve them better.
Founder and CEO of CabinetM, Anita Brearton, says the main point of having a CDP is to receive the most complete picture of a customer in order to make informed marketing decisions:
"Companies take different approaches to achieving this. One way is to designate one or more of their existing marketing platforms (like a CRM) as their data repositories and then use a data orchestration/management system to cleanse, append and integrate second and third party data, and then synchronise that data across all relevant platforms.
Proponents of this approach will argue that designating an existing platform as the source of truth for customer data is more cost-effective and less complex because it negates the need to introduce another anchor platform into the technology stack."
So, a CDP can help drive a data-informed and customer-centric marketing strategy, using the ability to access and use insights and data in the smartest way possible. With more access to customer information, marketers can drive a more informed marketing campaign.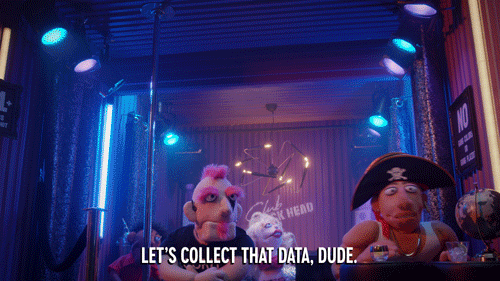 What is an MDM?
An MDM is a more mature technology. Think 'Jeff Goldblum' mature, rather than 'old man shouting in a Wetherspoons' mature. Basically, it's a tech that enables 360 insights by creating and managing a central system or index of records for master customer records.
So, this means a chance to govern and manage the core info that identifies one customer from another.
The goal of an MDM is to create a single, organisation-wide view of all this data, that becomes the source to support operational and analytical systems. Quite a lot of the solutions used involve taking messy, fragmented data scattered across an enterprise, and turning it into trusted customer data.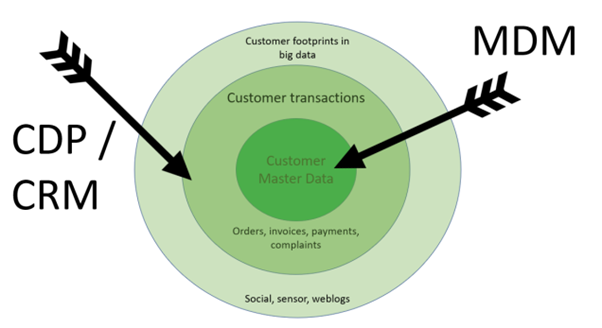 Many teams across a company can benefit from MDM; customer service, finance, sales, product development etc. etc. This is because the solution can perform in a number of different, useful ways, such as:
Democratising data. Throughout an organisation, data can be spread around to employees and stakeholders, meaning that each and every person receives a list of the information they need to conduct their work.
Corrects outdated data. You might have folders and folders full of data, but if it's erroneous, or outdated, it's useless. A MDM programme
Insights galore. C-suites will have a single system from which they can analyse the business, and make informed decisions using nice, clean data.
So how do CDP and MDM differ?
Basically, a CDP manages a bunch more stuff than just a MDM's master data.
It can capture all the details of behaviours, information, behaviours that are outside of just the standard customer attributes.
"Many MDM products are components of larger data integration suites from IBM, SAP, Oracle, SAS, Informatica, Talend and others," reports David Raab.
"These also manage more than the identifying attributes of core data objects. You could argue that this is a bit of a bait-and-switch: the CDP-like features in these suites are not part of their MDM products. But it does mean that the vendors may be able to meet CDP data requirements, even if you need more than their MDM module to do it."
"Another likely differentiator is that MDM systems run on SQL databases and work with structured data. This is the best way to manage standardized entity attributes.
By contrast, CDPs work with structured, semi-structured and unstructured data which requires a NoSQL file system like Hadoop. But, again, the larger integration suites often support semi-structured and unstructured data and NoSQL databases"
So, a CDP deals with customer data first. It collects, cleanses, removes doubles, and stores all the info marketers might need, collecting this data from martech platforms and different parts of the business. And this data can be for a bunch of different things that aren't 'customer related'. These touchpoints then get matched to the customer record, creating a singular record. Basically it's about removing silos.
Plus, the CDP is under the control (most of the time) of the marketing team. CDPs are managed by business users, and are designed as such, although deploying them does take some technical work.
A MDM on the other hand, are primarily tools used to improve data quality and consistency. This means they tend to fall into the hands of IT. So, business user interfaces are often limited to workflow functions.
A MDM system does not connect easily to marketing execution or orchestration systems, so it lacks the ability to collect marketing data together as an entirety, nor can it collect real-time insights. But this doesn't remove the fact that it is a well of data, and can be fed into a CDP. So, it facilitates the sharing of data within a business, but it isn't a platform designed to make the data ready-to-use within campaigns.
As a 2018 McKinsey report noted, MDM solutions "rely on antiquated 'list pulls,' basic segmentation, and campaigns, all of which lack the automated decision-making, adaptive modelling, and nimble data utilization to scale personalized interactions."