Sponsored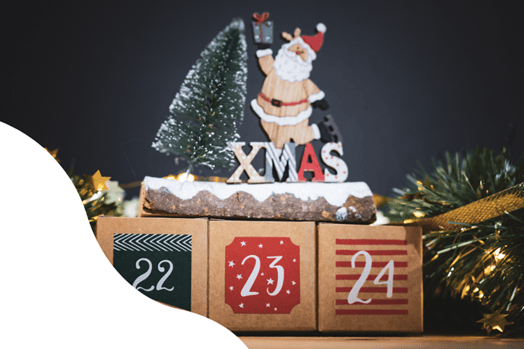 In this article, we'll dive into real-world advent calendar marketing examples of how companies have ingeniously utilized their calendar to solve distinct marketing challenges.
From strategic implementations to gamified approaches, we'll showcase real examples of brands harnessing the power of advent calendars to engage their audience and drive success.
These advent calendar marketing examples will provide you with valuable insights for how you can leverage the holiday spirit for marketing gains. Whether you seek inspiration to elevate your marketing game or want to uncover the potential of advent calendar marketing, this post offers practical insights and actionable takeaways. Let's unwrap the world of digital advent calendar and discover gamification strategies that can light up your brand's festive season.
Advent calendar marketing examples: strategic level
In the upcoming examples, we will illustrate how four companies have leveraged gamification through an advent calendar experience to address particular marketing challenges they encountered!
LEGOLAND
LEGOLAND Billund's Advent Calendar campaign offers a striking example of how creativity can yield remarkable results when it comes to advent calendar ideas.
Seeking to rebound from GDPR's impact on their subscriber database and stay visible during their off-season months (the park is closed from November to March), the resort launched a daily online Advent Calendar. The interactive calendar had the expected results and not only helped LEGOLAND Billund to captured marketing permissions but also helped them in staying top-of-mind with their audience during the low season, and give their loyal customers a greate experience.
The outcome was exceptional: 30,000 new newsletter sign-ups, a 66% surge in website users, 680,000+ video views, and an organic Facebook reach exceeding 2 million. Remarkably, this success came at a minimal cost of €1,400 in ad spend, showcasing the power of innovative gamification strategies. The LEGOLAND Billund case underscores the potential of Advent Calendars to boost brand awareness and engagement, foster brand loyalty, and drive substantial subscription database growth.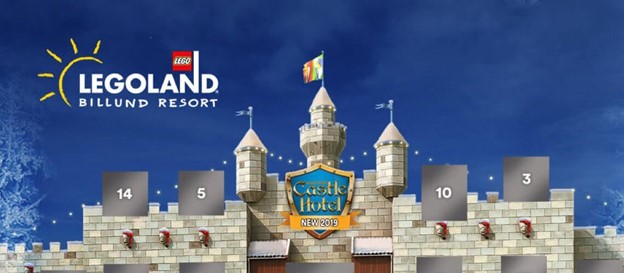 Link: https://playable.com/cases/legoland/
Insurance fund Din Sundhedsfaglige
Din Sundhedsfaglige A-kasse, an insurance fund, harnessed the power of playable marketing to uplift their Christmas Calendar campaign, achieving remarkable results.
For several years, they had been running a daily Christmas Calendar campaign on Facebook - with around 650 participants per day. However, in 2021, after gamifying their calendar using the Playable platform, participation skyrocketed to an average of 6,580 daily participants – an impressive 6.5-fold increase. This change, although simple in concept, of using a gamification platform to create a digital advent calendar where participants can actually open the doors daily, not only increases participation, but also resulted in over 220K sessions, 16K unique registrations, and a conversion rate of 71,2%.
"I almost fell off my chair when I saw the results. The Christmas Calendar performed extremely well, with crazy exposure – 6.5 times more than the year before."
– Mie Bertelsen, Communication Consultant at Din Sundhedsfaglige A-kasse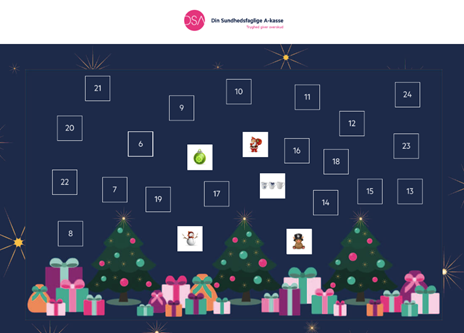 Link: https://playable.com/cases/din-sundhedsfaglige-a-kasse/
Ekstra Bladet & Airline DAT
Ekstra Bladet, a Danish news publisher, is well-known in Denmark for providing native advertising space on their website. In 2022, they wanted to optimize and differentiate their native ad space so that brands working with them could achieve greater results. To do so, they turned toward gamification and Playable. But first, they wanted to test how gamification could uplift their native advertising offer. So, they conducted a test pilot, using Playable, with DAT, a Danish airline, using an advent calendar called "Flying home for Christmas."
The Christmas Advent calendar ran on the front page of Extra Bladet's website every day in December until Christmas Eve. By signing up for the advent calendar, participants had multiple opportunities to win plane tickets home for as long as the campaign was running. This meant that DAT could spend quality time with their audience, uplift their brand image, and also collect marketing permissions. The campaign resulted in 120,000 clicks in 24 days, over 42K registrations, and 9,300 new unique permissions. The campaign also won the silver prize for Best Research Project at the 2022 Native Advertising Awards.
The Digital Advent Calendar they created in partnership with DAT clearly demonstrated to Ekstra Bladet how playable marketing was the way to transform their native marketing offer for better engagement and results!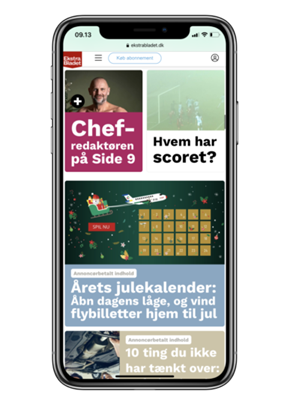 Link: https://playable.com/cases/ekstra-bladet/
KLEKT
Klekt, a popular European sneaker marketplace, wanted to encourage their customers to make repeat purchases on their website. They knew that buying limited edition sneakers wasn't an everyday thing, so they came up with a clever idea: gamification. By making shopping fun and giving people a reason to come back to their site often, they aimed to boost second-time purchases. With this idea in mind, they though about utilizing an advent calendar.
So, during the Christmas season, Klekt created a 12-day Advent Calendar. Each day, customers answered a question for a chance to win prizes like store credit, mystery sneakers, and exclusive items. The simple and engaging Christmas calendar worked very well with their audience and got them to come back daily to open new calendar doors. Using the Playable platform, Klekt made an online Advent Calendar that fitted their style and audience, and they shared it on their website, social media platforms and with email newsletters. They generated over 11,000 sign ups with this campaign alone. What's even more impressive is that even a year later, 54% of those customers were still engaged. Talk about customer retention!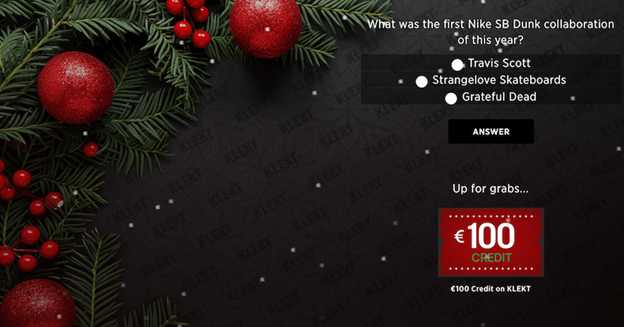 Link: https://playable.com/cases/klekt/
Advent calendar marketing examples: gamification level
In the following examples, we will exemplify how brands can design their advent calendars differently, depending on their marketing objectives, e.g., what happens behind the daily doors, where the lead form is positioned, and so on. This will ultimately help you have a better idea of how to design your own advent calendar depending on your marketing goals.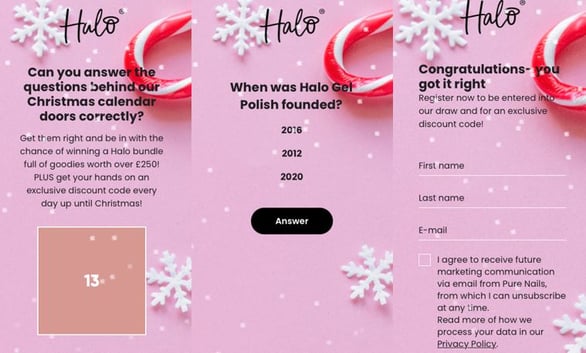 Pure Nails
Pure Nails, a UK provider of professional nail products, aimed to bring some joy to their audience through an online advent calendar. Their approach was simple yet effective: they designed a daily quiz-style calendar featuring daily questions related to their brand and products. These questions not only educated their audience about the brand but also enhanced their brand image. As an exciting incentive, participants who answered correctly stood a chance to win a Halo bundle loaded with goodies worth over £250. And as an added treat, they could receive exclusive daily discount codes leading up to Christmas.
When users landed on the digital Christmas Calendar, they were greeted with a presentation of the calendar and the prizes they could win. Upon opening the door for the day, they were showed the daily quiz question. If they answered correctly, they were directed to a registration form. This form requested their contact details (first name, last name, and email) and consent to receive future marketing communications via email. This smart strategy not only engaged participants by first getting them hook before showing the registration form, but also enabled Pure Nails to secure new marketing permissions for future outreach by using their prizes to boost their registration rate!
Manuscript Pen Company
Manuscript Pen Company, a wholesale supplier of pens and calligraphy products, crafted a 14-day interactive Advent Calendar featuring daily quiz questions. In their role as a supplier, with their calendar they aimed to not only enlighten their audience about their own brand but also about their top vendor brands, including artPOP, The Lionheart Tales, LEGO, and others. Adding an extra layer of excitement, the daily prizes consisted of 12 surprises from these top brands, further incentivizing participation.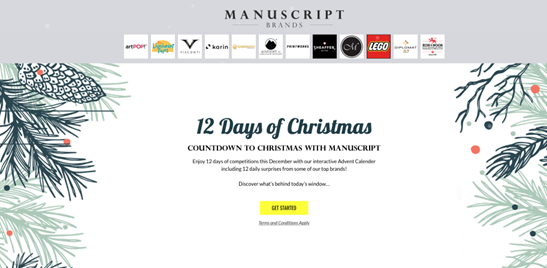 Manuscript Pen Company chose to position their lead form before participants could access their calendar. As highlighted in our data enrichment best practices blog post, this approach is proven to enhance your registration rate. Furthermore, it's worth noting that they collect only essential information in their form: first name, email, terms & conditions agreement, and marketing permissions. If your aim is to uplift your marketing database, this online advent calendar example is an excellent example to follow!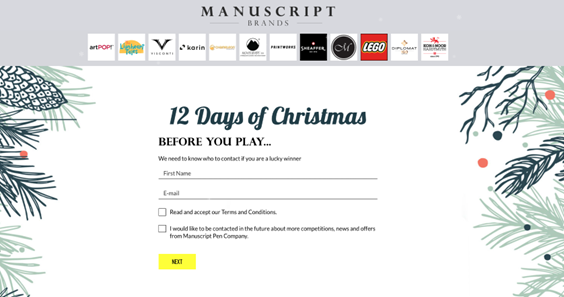 Beauté Pacifique
Beauté Pacifique, a beauty brand, opted for a 4-day calendar instead, allowing participants to open a new door every Sunday, with each door accessible throughout the week. This strategy is advantageous due to its simplified management, featuring only 4 doors and 4 prizes. Moreover, it acknowledges that not everyone can engage daily, as people often have busy schedules or other commitments. Thus, providing a longer window of opportunity can cater to a wider audience while still yielding desired marketing outcomes.
Additionally, for Beauté Pacifique, an essential aspect was to leverage the opportunity to educate their audience about their products. Therefore, the 4 quiz questions were tailored to highlight the unique selling points of their products. The prizes participants could win through the advent calendar were also product-focused, featuring items such as their Crème Paradoxe Night Creme & Crème Paradoxe Eye Creme.
Upon reaching the advent calendar landing page, participants will directly see the weekly door to open, they will be able to click on it, and then behind the door, they will see a picture of the prize they could win. Finally, they would get to the quiz question, and at the end, there is the registration form - a very short form with name, email, content and agreeing to receive marketing initiatives.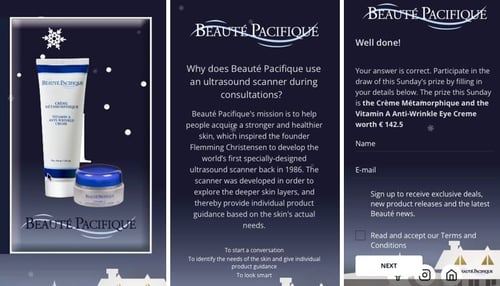 BabySam
BabySam, one of Denmark's largest chains of baby equipment, children's clothing, and items for expectant mothers, is also among the top examples of successful advent calendar marketing. They had two goals: to attract new members to their BabySam Club and to boost sales.
With these goals in mind, they designed a digital calendar that initially started with a registration form. Participants were asked for their first and last name, email, and agreement to join the BabySam Club. Membership also included consent for BabySam to process personal data associated with the member's account for targeted inspiration and offers. If participants provided their child's due date or birth date on their profile, BabySam could personalize communication according to pregnancy or the baby's age, in line with BabySam's personal data policy.
After registering for BabySam's advent calendar, participants gained access to the calendar itself. Each day, by correctly answering a quiz question about BabySam, they could access a specific item at a significant Christmas discount. This daily engagement approach motivated participants to make purchases and effectively fulfilled BabySam's objectives.

qUINT
qUINT, a clothing retailer, employed an advent calendar to enhance their marketing outcomes in 2022. Their aim was to expand their email database while also gaining additional insights into potential customers, such as their phone numbers and gender. This additional information would facilitate sending targeted offers to their audience in the future. Aligning with these objectives, their advent calendar starts with a relatively lenghty lead form. To ensure active participation despite the form's length, qUINT enticed users with attractive prizes in their calendar. These prizes included giveaways from prominent brands like HALO, Carhartt WIP, Dickies, and BLS.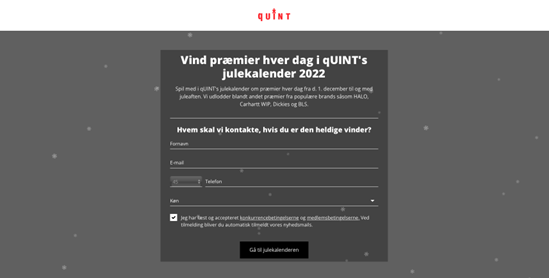 Behind the daily doors of their 24-day advent calendar template, qUINT featured a combination of a wheel of fortune game and quiz questions. The wheel of fortune added an extra layer of interactivity, using game mechanics to engage their audience more effectively.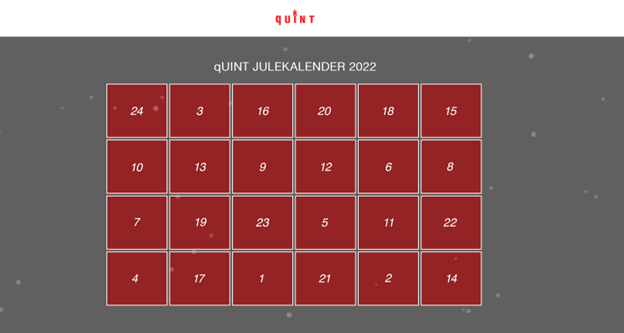 Ready to make your own advent calendar for marketing purposes?
At Playable, the gamification platform for marketers, we've been assisting our customers in crafting advent calendars for marketing purposes since 2017. With our platform, you can swiftly create your own calendar. You have the flexibility to keep it straightforward with daily quiz questions or enhance engagement by incorporating a variety of enjoyable games behind the doors, including luck-based, skill-based, and knowledge-based games.
Feel free to request a demo to delve deeper into the possibilities!