For those of you lucky enough to attend the MarTech conference in San Jose this week, you'll have seen the unveiling of the infamous Marketing Technology Landscape 2018. This supergraphic is put together and delivered by conference chair and all-round MarTech baller Scott Brinker, along with Jeff Eckman and Anand Thaker. We have the pleasure of welcoming Scott back to London this October when he headlines our annual conference. .
As well as being the chair and host of the bi-annual MarTech conference, Scott is the editor of the Chief Marketing Technologist Blog, author of 'Hacking Marketing' (which featured in our book club) and serves as the VP platform ecosystem at Hubspot. Otherwise known as the god father of marketing technology.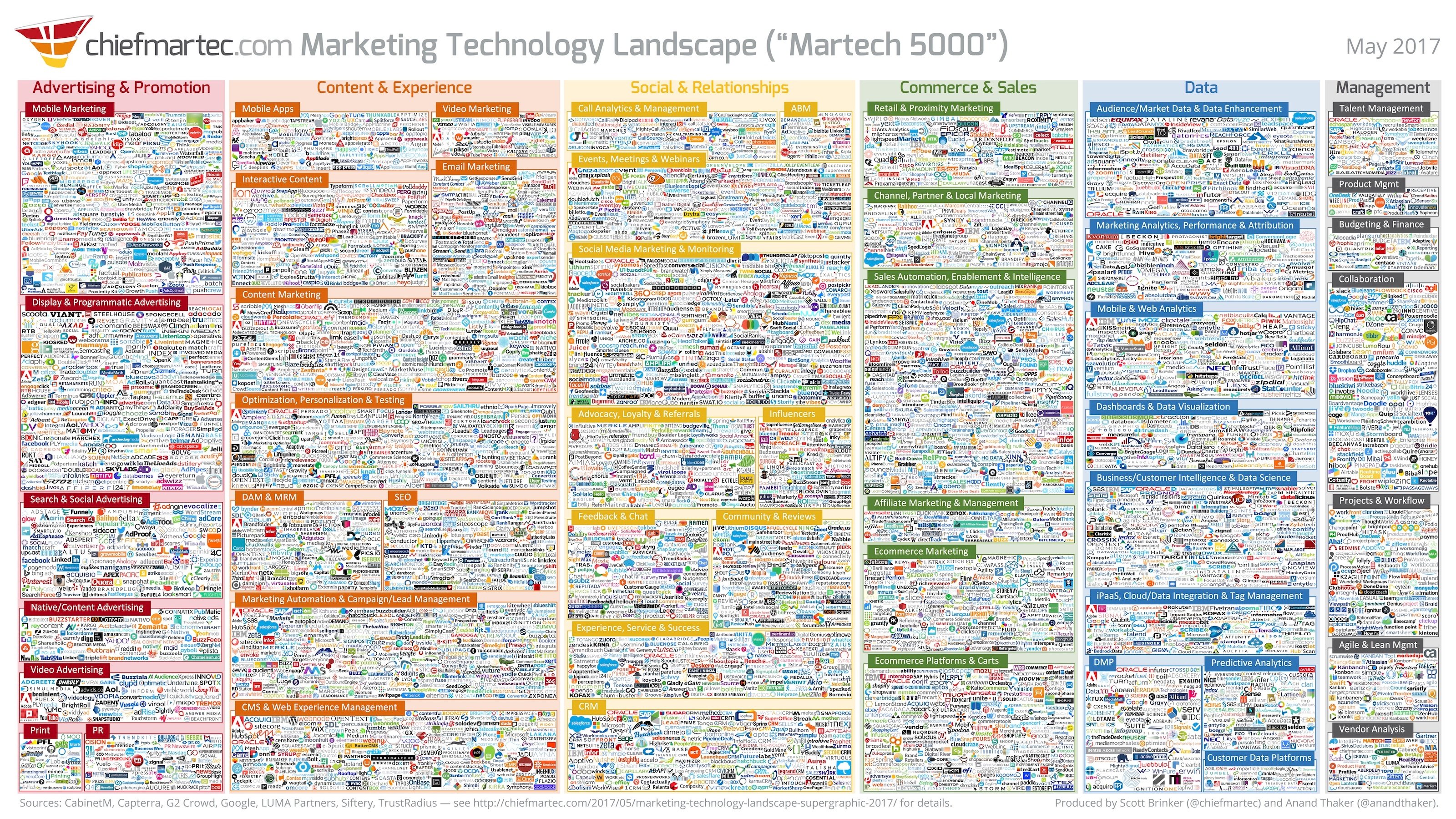 So, what were the main highlights of the latest martech supergraphic, and what can we take away from this year's edition?
Firstly, although Scott kept the nickname of the Martech 5000, this year's graphic features no less than 6,829 marketing technology solutions from 6,242 different vendors.

2018's landscape demonstrates modest growth of 27% since last year, which may not be considered a particularly significant increase. But when you consider that 2018's landscape is equivalent to the sum of years 2011 – 2016 combined, you start to appreciate the magnitude of martech's diversity over the years.

New companies continue to grow or enter the market at a rate that continues to outpace the rate of consolidation. Only 4.5% of the solutions from 2017 failed to make the cut in 2018, and an additional 2.7% changed their name or moved to a different category.

Due to record breaking venture capital and private equity investment, Brinker predicts "very exciting activity" in the sector throughout 2019, even in the unlikely event that new companies were to stop entering the space altogether.

The sector is predicted to continue growing at a rapid rate due to there being effectively zero barriers to entry, and ongoing demand for better, faster, more advanced solutions to help users differentiate themselves from the competition.

The largest category on the martech landscape was Sales, Automation, Enablement & Intelligence. The huge rise of bots and live chats this year has earned itself a category, and the hype around GDPR has resulted in a new Compliance & Privacy section.

The thriving iPaaS (integration-platform-as-a-service) category demonstrates how the dream of "one-suite-to-rule-them-all" has been superseded by a vision of many open platform-like tools being woven together in a more dynamic fashion.
Pretty fascinating stuff, right? Check out the supergraphic on the big screen to really appreciate it in its full glory. We're currently working on producing our own UK version, so watch this space for the release.