Sara McNamara is an accomplished marketing and sales operations professional who has made a name for herself in the industry through her innovative strategies and solutions. She has been recognized for her exceptional work by numerous award-giving bodies, including Salesforce (Pardot), Adobe (Marketo), Drift, and LeanData.
TLDR; Sara has cool hair, cool glasses, and more skills than you can shake a stick at. Also, that's not an invitation to shake sticks at Sara.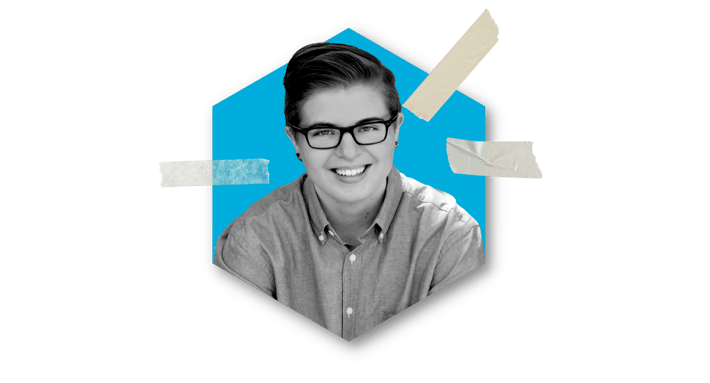 With a career spanning several years, Sara has proven herself to be a highly effective Senior Manager of Marketing Operations at Slack, as well as a talented martech stack (+ strategy) solution architect. Her passion for leveraging technology and processes to improve the experiences of marketers, sales professionals, and prospects has made her a regular guest on MOps podcasts.
Sara's journey towards becoming a leader in the marketing and sales operations field was not straightforward. She initially pursued a career in journalism, but after working at a news station, she realized that it wasn't the right path for her.
Her interest in marketing, however, only grew stronger, and after working as a marketing consultant for several years, she became intrigued by marketing automation.
When an opportunity to help companies implement and learn Pardot with a local Pardot Partner came up, Sara jumped at the chance. She fell in love with Pardot and the Trailblazer community, and her career in marketing operations took off from there.
My dream job isn't a specific position as much as a job where I am valued, respected, able to be creative and experimental, and, most importantly — where I am making a difference in the world!
Sara is known for her expertise in SF/Pardot, and she shares her knowledge and insights with others through her engaging and informative social media presence.
She has a huge following of marketing and sales professionals who appreciate her fun, informative approach to marketing operations. Sara's passion for marketing, sales, and operations is evident in everything she does, and she is always looking for ways to help businesses simplify, automate, streamline, experiment, and ultimately make more money.
One of Sara's strengths is her deep experience in marketing and sales technology, as well as her ability to get things done.
She is often brought in by marketing and revenue leaders to manage critical work, especially surrounding digital transformation, innovation, and large change. Sara has a track record of delivering high-quality work on time, as desired, and under budget.
Adoption becomes a big issue when you don't communicate with people. I try to meet with not only marketing, but also with sales and sales operations. I want to have some kind of cadence because then generally people are on the same page.
She achieves this by consistently learning and growing, sharing thought leadership, and attracting the best marketing operations professionals out there. She has led teams of 15+ and managed managers, and her employees have praised her for her supportive management style.
Sara's expertise and leadership have not gone unnoticed. She has received numerous accolades throughout her career, including being named the LeanData OpsStar of the Year, a Marketo Fearless 50 Member, a Drift Top Conversational Marketer, a Salesforce Pardot Champion, and Senior Marketing Operations Manager at Cloudera.
Sara is also the host of the Wizard of Ops podcast, where she shares her latest thoughts on marketing operations and martech.
In conclusion, Sara McNamara is a highly accomplished B2B marketing and marketing operations expert who has made a significant impact on the industry. Her passion for leveraging technology and processes to improve the experiences of marketers, sales professionals, and prospects has earned her a reputation as a thought leader in the field.
With her deep knowledge of marketing and sales technology and her ability to get things done, Sara is a valuable asset to any organisation.
A lot of people talk the talk, but can you also walk the walk?

It helps that I'm really proud that the marketers that I work with. We have great relationships. They know that I'm in it with them. When I give advice on LinkedIn or anywhere else, I try to think about what is going to help people.