As it's Women's History Month, we'd like the take this opportunity to shine a spotlight on the badass women who work in the marketing and technology industry. This is a series of blog posts we'll be publishing to celebrate the incredible work they do for the industry. So without further ado lets introduce the amazing women in martech.
Introducing Holly Chen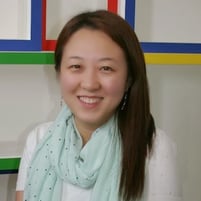 Meet Holly Chen, Growth Advisor. She advises early and growth stage B2B and B2C companies to unlock and scale growth opportunities. Holly also serve as interim Head of Marketing or Head of Growth for companies to acquire and retain quality users and grow revenue.

1) Kickstart growth and marketing before hiring a senior leader full time.
2) Help the new CMO or Head of Growth to systematically establish or review strategies, tactics, team, tools.
3) Elevate existing Marketing and Growth teams with data-driven holistic strategies and transition from agency to in-house.

• Establish a full funnel growth and marketing strategy (brand, demand gen, acquisition, activation, monetization) and tactics (viral, content, paid, organic, platform)
• Establish a solid foundation of data and tools (tech stack, KPI, attribution, measurement, testing)
• Build team and hiring (org structure, role design, candidate vetting)
What's your job title, if you could choose an 'honest' job title, what would it be?
I'm a Growth Advisor. I help growth-stage tech companies unlock and scale growth opportunities. I also serve as Interim Head of Marketing and Head of Growth, primarily for hyper growth SaaS and marketplace businesses.
How would you summarise your career journey?
My career journey is quite non-linear. I grew up in China, majored in Italian in Beijing, and got a Master's in European and Eurasian Studies in the US. Curiosity drove me to learn about worlds so different from mine. I started my career in management consulting, advising companies on their innovation strategies. I got really interested in disruptive innovation and joined an early-stage startup to run their product and marketing. Later I joined Google and then Slack and worked on all aspects of marketing and growth, including brand, product, web, and growth marketing throughout the acquisition, retention, and monetization stages for both B2B and B2C businesses. Most of those choices were not pre-planned and I let my curiosity and the business needs drove my focus.
What has kept you the most motivated throughout?
I love solving puzzles. In tech, we're faced with new puzzles that weren't solved before, not only in product development, but also in how to grow the product, the users, and the business. There are puzzles on the macro-level such as defining who we are, our mission, and our business model, and there are puzzles on the micro-level such as experimenting on how we reach the users at the right time and place. Most often there isn't a set playbook, or such a playbook can only get you to a mediocre place. I find it fascinating to solve the mysteries and unknowns and explore new solutions
What has been the biggest barrier throughout your career journey?
My own self-limiting thoughts. There were moments I thought "I'm not good at x" or "I don't know the best way to do x", which made me less likely to take a risk or act on my own intuition and belief. In reality, while there are past experiences and principles to learn from, many new challenges need to be considered on a case by case basis, and we don't know the best way to solve them unless we act on our best guess. Over time, I've learned to trust my intuition and combine it with a rigorous data-driven approach to experiment and find a best way forward.
Do you think it's important to maintain balance between your personal life and work - do you have any advise for how you achieve this?
I went through different phases on this. I used to be really focused on work and deprioritized personal life, and then I tried to separate work and life in clear lines. In recent years, I'm trying to integrate work and personal life - bring my full self to work, take off the armour, and let myself be seen. This transformed how I relate to people at work and the work itself. I see work and personal life not at odds with each other, but rather parts of our whole, and we play with the balance of them, moment to moment.
If you could tell your younger self one thing, what would it be?
Relationships are more important than the tasks at hand. Building relationships doesn't mean blindly agree with everything or simply be nice, but rather building trust and co-create together. Love, do not defend.
What would you like young women to know who want to get in to marketing/technology?
We need to start somewhere. If companies require years of experience to hire, find somewhere who's willing to take a chance on you and get that experience, even if the pay or the title is not necessarily the most ideal. Start learning and you'll be ahead of most people who are waiting for the perfect role and don't take action.
Who's a professional woman you admire?
One of my earliest role models is Wu Yi, a former Vice Premier in China. She lost her parents when she was young, and through her own efforts, became the most senior female politician in China. She was best known for taking on the role of Minister of Health during the 2003 SARS outbreak. She was the voice of transparency and clarity during a time of uncertainty and fear. I admire her personal journey and her leadership during the time of crisis.
Best advice you ever received ? Professional or otherwise.
I was told I'm most compelling when I'm playful. At times of high stake and stress, I remind myself to have fun and to play. This applies to all aspects of life.
Find Holly on Twitter and LinkedIn