Every good thing has its start somewhere. But there are always plenty of changes along the way. Think Star Wars, think Back to the Future.
That's why it's so important to remember where you came from. Before we hosted the UK's largest martech, salestech, ad tech, and nexttech event, we started in a slightly different direction. We started with #MartechFest™ AKA the martech festival.
With a number of other, newer #MartechFests popping up all over the globe, we're here to tell you about the O.G.
From a little warehouse in South London to the bright lights of Magazine Greenwich, we've been through name changes, venue changes, and branding changes, all to keep up-to-date with the shifting needs of the industry.
But let's head back to the distant year of 2017 when we got our start.
2017: The first #MarTechFest is held in London at Hawker House
"To bring the business to life I got a little help from friends."
Well, at the time it was known as the "MarTech Festival". Less snappy, but does exactly what it says on the tin. The event aimed to offer something different. Something cool. Something filled with beer and pugs.
It was
not your ordinary conference, although not quite Glasto – tip-top speaker lineup, popcorn and beer, practical advice and insight you could put to work and then cut some shapes in the evening.
Plus it offered visitors a chance to speed-date our MarTech vendors to find their match. Held at the edgy, hipster haunt of Hawker House, a SE16 warehouse with all the ingredients for an epic food and drink party. And a bit of marketing talk, of course.
We've since added a whole range of ways to help our community better understand the martech space and build their careers and companies. Today we provide events, both in-person and online, small and large, webinars and dinners.
We also provide digital learning certified courses and masterclasses, as well as a library of martech resources.
"Before I crossed the fence to join LXA in January 2022, I attended AntiConLX (formerly #MartechFest™. ) every year.

It's one of the best learning experiences for marketers out there – the anti-conference experience is really refreshing compared to other large, in-person conferences and the quality of speakers and presentations is exceptional.

It's been amazing to see the evolution of the business over the last 5 years as a member of the community, and so exciting to now be part of this monumental turning point with our brand rename."

- Izzy Casey, Head of Marketing, LXA
#MartechFest™ 2017 even had a keynote session by the Godfather of MarTech himself: Scott Brinker.
He addressed how the space is evolving, the challenges this brings and some guidance on how best to stay ahead of the curve. We even produced this handy little infographic: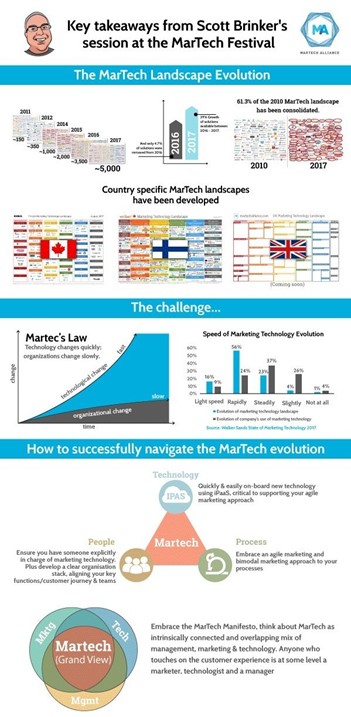 The next year saw the return of Scott, as well as talks by other huge names in the industry. Marketing icons such as Tim Hughes, Laura Price, Nick Mason, and Martha Bennett graced our stage.
Year on year, #MartechFest™. attendee growth has grown, with 2018 seeing 71% more guests stroll the anti-conference floor. Then, 2019 saw a whopping 92% growth. Spoilers for later: all this growth meant we had to move onto new, Greenwich-based waters.
Adapting to the pandemic wasn't easy for anyone. And for a company that likes to throw raucous, vibrant, in-person events, it was particularly tricky.
So, we followed the advice of Bear Grylls: we improved, adapted, and overcome. And what was the result? Well, it was
#MartechFest
™
Dial Up, of course.
This wasn't your average webinar. We booked some of marketing's greatest and streamed live across two time zones! Here's what our watchers enjoyed:
Globally recognised martech speakers
Live polls & Q&A
Exclusive attendee community space
Games, competitions & prizes
Resident Virtual DJ
2021: AntiConLX Moved Into a Bigger Venue
London's #MartechFest™ Global was the flagship event of the inaugural #MarTechFestWeek. It was 5 Blissful days of marketing technology breakfasts, workshops, parties, dinners and plenty more.
Over 40 of the best and brightest experts took to the stage to share their knowledge, wisdom, insights, case studies and predictions with over 1000 senior marketers.
We took learning to the next level with our MarTech Alliance Campus. There was even a new dedicated space for freshers and course alumni to connect, collaborate, and have peer-to-peer coaching
Everyone agreed it went off with a bang: '
A bigger venue, with bigger stages, bigger audiences and most importantly bigger and better experiences for our community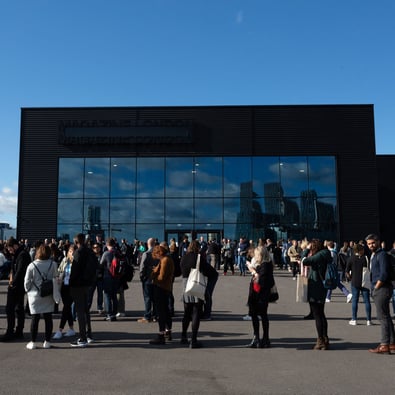 2022: Re-Brand Announced
2022 was the year of change. Starting off with a big shift, #MartechFest™ became AntiConLX, bidding our old event name a fond farewell.
Like many waistlines during the lockdown, the marketing technology industry continued to grow. And so did we.
So, in order to show our commitment to all things learning, our flagship event had to follow suit. So, #MartechFest™ Global upgraded, shifted and transformed into AntiConLX.
In London, on 1st July 2022, AntiConLX was where tech meet marketing, sales & experience, featuring a stellar line-up of all-star speakers.
As we continue growing our event series, we are more committed than ever to delivering exceptional learning experiences (LX) to help people keep upgrading their knowledge, skills and network. Our events will retain the "anti-conference" format but expect even deeper learning and opportunities for career growth.
Then, MarTech Alliance became the next part of the re-name series.
Becoming LXA, AKA Learning Experience Alliance, the new name shows that learning is at the heart of everything we do. We want to help people do their job better and get ahead in their careers.
But one thing isn't changing: we will continue to bring you cracking speakers, networking, best-selling authors, and giveaways.
Obviously, this is the most important of all milestones in the company's history! It feels like 5 minutes ago and also 1000 years, I sometimes have to pinch myself when I take a minute to appreciate just how far the company has come...we've really achieved some amazing things and I can only imagine what we'll be able to pull off now that we have such a huge, amazing team!
As part of our new rebrand comes the expansion into new topics: Salestech, Ad Tech and Nexttech. Getting their own stages at AntiConLX, the new areas help reflect the needs of a rapidly expanding audience eager to update their knowledge across marketing, tech, and data!
So, What Now?
Well, we haven't ever slowed down. AntiCon is back every year, twice a year, for you to get your anti-conference fix.
AntiCon lives at the intersection of advertising, marketing, sales and technology, with dedicated event streams for MarTech, SalesTech, Ad Tech & NextTech.
Just like our previous years, AntiCon isn't like other events. Our team works around the clock to bring you the ultimate anti-conference experience - with beers, beats, bants & a fully stacked agenda.