Cutting out the middleman, and bypassing humans completely, Direct-to-avatar might change the face of consumer business models for good. Or maybe it doesn't. The only way to find out? Read this article.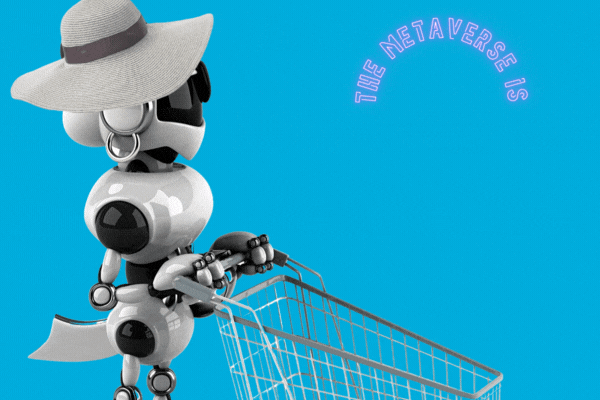 Now, direct-to-avatar doesn't mean giving robots an amazon account. I don't even want to know what a Roomba will buy on a 12 am whim.
Instead, it hints towards the next evolution of sales channels, by selling directly to our avatars.
But, what even is an avatar? Well, this is a person's digital identity. It's a 3D representation of that individual in the gaming, social media, and virtual space.
According to Krista Kim, the contemporary artist behind the world's first NFT digital house, "we will be living in an augmented reality lifestyle within a very short period.
So, the future of consumerism may also lie in virtual products, as we spend more and more time online. This is what Kerry Murphy, founder and CEO of the digital fashion house The Fabricant believes.
"People are going to start seeing value in digital items," Kerry told Wunderman Thompson Intelligence,

"and realise that they'd rather interact with a digital item, or have an infinite wardrobe of digital fashion items but a very limited wardrobe of physical items."
So, as digital ownership increases in popularity, brands need to consider the metaverse as a place which will develop a mass audience. This means there's a real opportunity for brand integration, expansion, and expression. Stay tuned for some examples of IRL brands doing the 'verse right.
In particular, direct-to-avatar is a mainstay in the fashion economy. It allows brands, companies, and users to sell and retail products directly to avatars. So, anything worn in the metaverse will be just as important as attire donned IRL.
Also, in the metaverse, companies can bypass supply chain issues and all the logistics found with physical products, from the complexity of a shop floor to the process of delivering a product to a customer's front door.
The physical appearance of an avatar may even begin to influence customer behaviour online and off. Though digital fashion is not a new concept? it's gaining popularity and momentum and provides an opportunity for brands. This may be to appear and be more sustainable and is also an inclusive way to reach consumers. Plus, it pays off. Juniper Research forecasts in-game skins will reach $50B in spending this year.
"The direct-to-avatar model is linked closely to the direct-to-consumer model, and that allows brands to side-step supply chains and sell clothes that don't exist in real life directly to the avatars themselves," said WGSN Insight's Cassandra Napoli.
Some huge fashion brands have been releasing direct-to-avatar digital collections, including:
Ralph Lauren releasing a 50-piece digital clothing collection available for purchase in social networking app Zepeto.
American Eagle announcing a digital clothing collection for Bitmoji avatars
Gucci and The North Face releasing a joint collection for avatars on Pokémon Go
Gucci releasing virtual sneakers that can only be worn with AR, using technology developed by Wanna.
So, what benefits are brands seeing? Well, direct-to-avatar can mean:
Developing Brand Specific Content
The 'verse gives brands the opportunity to go a bit buck-wild, a develop immersive experiences for their customers beyond anything they've seen before.
Companies can create entire ecosystems with their own rules, spaces, and physics, allowing for endless possibilities with gameplay and storytelling.
For example, in 2021 Hyundai announced their own metaverse space on Roblox, in which users can engage with the company's products. Then, in 2022, they presented their "metamobility" concept, which merged the use of vehicles and robots, to connect the virtual and real world.
This is not the first brand to provide a unique experience within Roblox. Roblox and Gucci teamed up last year to develop an innovative user experience. The brands hosted the 'Gucci Garden' on the Roblox platform, a two-week art installation aimed at building brand awareness among younger users.
Ahead of its centenary, Gucci developed the event to be a virtual recreation of a real-world installation in Florence. The Garden offered various themed rooms paying homage to the brand's campaigns, with metaverse benefits including the ability to transcend the laws of physics.
When visiting the area, visitors could try on and purchase digital Gucci products, and then go on to explore the themed rooms. As they explored the virtual world, the avatars absorb elements of each area.
To ensure the partnership was fair and collaborative, both the platform and the brand received value from any sale of the virtual clothing, with the items being sold via a revenue share model.
Giving Customers a 'Try Before You Buy" Experience
An immersive, interactive, and realistic experience gives your customers the chance to try your product before they commit to it, avoiding costly returns and customer service hotlines.
Already, retail brands such as cosmetics and vehicle industries are using these immersive technologies to allow customers the chance to gain an accurate visual perspective and make informed purchases.
This can also be useful for furniture brands, such as with Ikea's place AR app, which gives customers the chance to place digital copies of furniture in their home, to check the size and colour works for them.
Ikea's AR Christmas calendar is also pretty popular every year, allowing users to see what size and style of Christmas tree will fit their homes.
This is a natural, and festive, extension of their Ikea 'Place' app which gave customers a view into what certain furniture would look like in their room, before making a purchase.
Providing Post-Purchase Customer Service and Support
So, the metaverse doesn't just look after your customers' pre-purchase and during the purchase, but it's all about the post-purchase too.
The metaverse doesn't have to be all about creating the maddest, most eye-catching marketing gimmicks. It can also provide more practical and vital support needed throughout the customer journey.
For example, let's take a look at Nespresso's AR descaling instructions. Customers can unlock a step-by-step guide by scanning the packaging with their phone, which can help them through the process in real time.
Although this isn't the flashiest, most high-tech example of the metaverse or AR, it has identified and addressed an issue that customers had been experiencing, and which had probably blocked up customer service phone lines. This makes the AR tech a practical tool to improve the customer experience, instantly and smoothly.