Did you catch our most recent Websesh with the CDP king Treasure Data? No? Oh. Okay. No, that's fine. I'm not crying, it's just raining. On my face.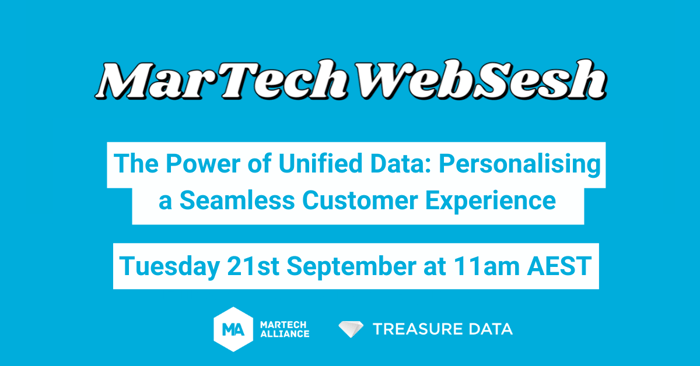 No worries, Really. All you have to do is read this handy little catch up. You can't say we don't spoil you.
In this Websesh, Sean Valencia explored why customer data is at the centre of delivering personalised, seamless experiences.
Sean, Marketing Strategist-APAC Marketing Lead at Treasure Data, is a data expert. He leads APAC marketing for Treasure Data, and is based in Tokyo, Japan. He holds a MBA from Hitotsubashi University and has previously worked in marketing for an online bank in the United States.
To realise a truly relevant customer experience, we have to take a holistic approach to data strategy, capture first party data and unify it, then empower teams with the insights they need. Customer Data Platforms have emerged in response to this need.
So, personalisation. What's the goal?
Well, it's to give the millions of customers the feeling that each is the one and only. The keeper of your heart. The One.
When we think of a personalised experience, Sean says, we think of the pre-digital age. This might be walking into your favourite coffee shop, where all the staff know you by name. And they have your triple shot soy turmeric latte with a shot of caramel ready, piping hot. This has always been a challenge to translate digitally. I mean, that coffee order is pretty complex.
This translation is difficult, especially now that customers are beginning to raise the bar even higher, expecting high levels of personalisation at every touchpoint. They have access to highly personalised experience - things like music apps are taking digital experiences to the next level, recommending songs that played a very significant part of your life that one eventful week in high school. So, how can we meet these expectations?
The Websesh audience were asked: What aspect of the customer experience do you think will be the biggest challenge for brands in the future? The winner? Creating a seamless customer experience across channels.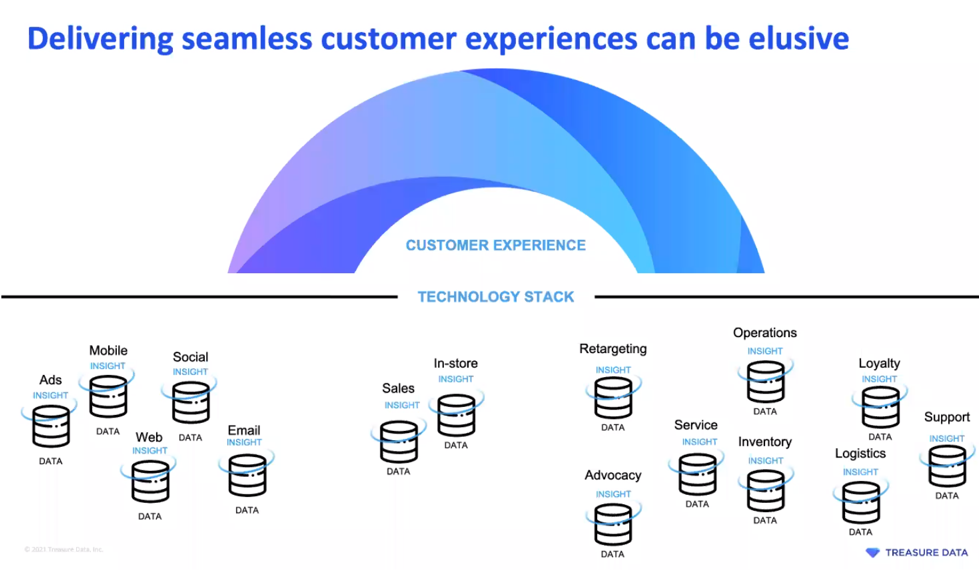 Data can be siloed, squirrelled away in different systems or platforms, as well as within teams and business units.
Plus, marketers tend to focus on just one, individual channel, such as wondering how to personalise social media. But seamless means covering multiple channels.
Delivering seamless customer experiences can be elusive. The more you optimise each channel individually, the worse the overall customer experience gets. A great brand experience utilises insights from all channels.
"By focusing on the one individual system or platform, it can break this seamless experience," says Sean.
"The question then becomes: how can we really create this cross channel experience?"
How do you create a cross channel experience?
Well, at Treasure Data, Sean reports they "refer to this as the need to create data gravity". Now, this answers the question "How can we find a platform that's going to pull in all of the data from around the organisation?"
With such a platform, there's a few things it'll require, these being:
The right data
The features to manage consent
The ability to give insights
Connecting all key systems in One Customer Foundation to create Data Gravity gives teams across the organisation real, live, data-driven power that turns what you know into unique, personalised customer experience with purposeful activations.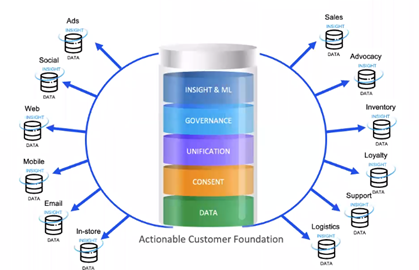 With Data Gravity, the data can then be sent straight back out. But, it has to start with an actionable customer data foundation.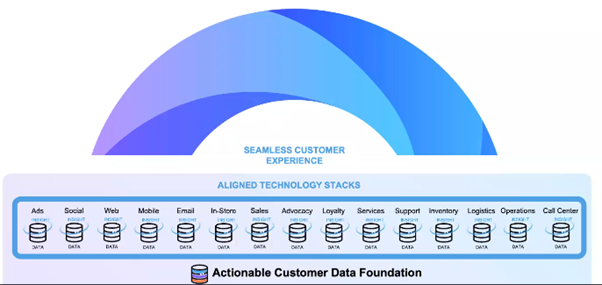 So, how can we begin to tie these silos, or systems, together into this full foundation?
A seamless personalised customer experience requires continuous conversation on all channels. That means: right time, right tone, and the right offer.
How do you build a platform?
There's two options: build, or buy.
Number one: Build.

You can develop a platform in house. This needs a wealth of resources, and a trained engineering team.




Number two:

Buy.

More and more martech tools are meeting this challenge. CDPs are one of those tools.
Where do CDPs fall in the stack?
So, first up. How does a CDP work?
Well, a CDP sits at the centre of the tech stack, and makes customer data usable across it.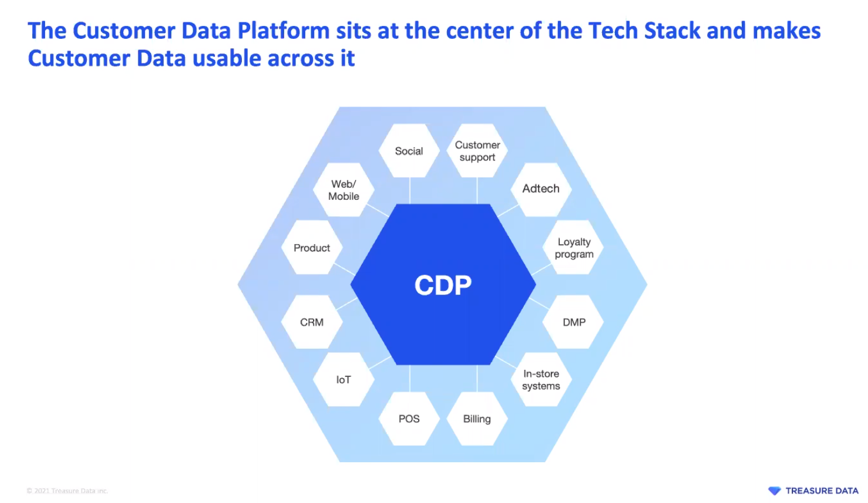 Many are built with a bunch of features beyond APIs, like JavaScript STK, or even ways to bring in data from offline sources. But the end goal is the same: to take all of this key customer data and unify it.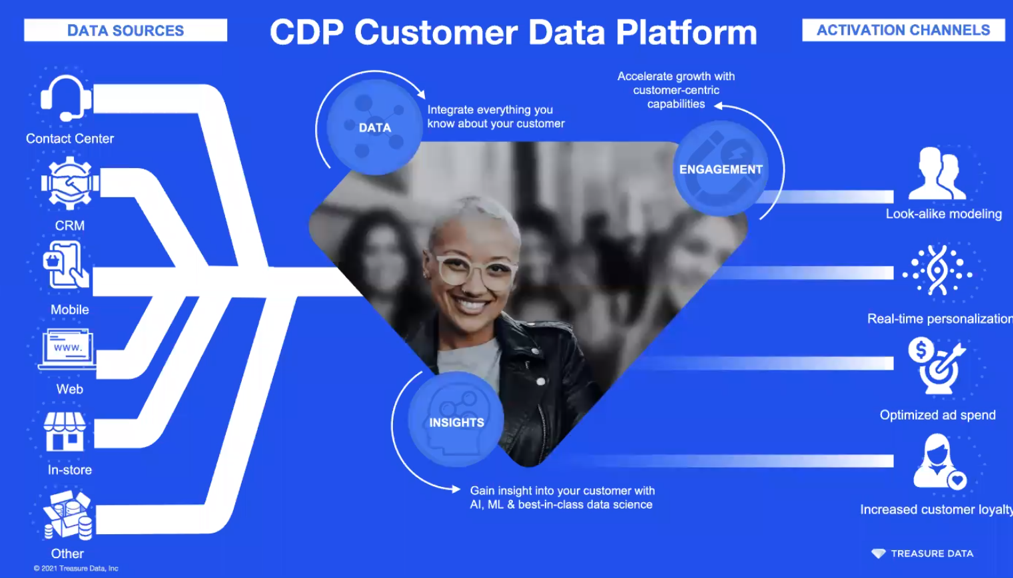 So, there's three steps.
Step one: Bring the data together into one platform.
Step two: Take a look at the insights. This might even mean using machine learning to segment the audience. The questions to ask are: How are your audience experiencing the brand? How can you turn them into brand ambassadors? What offers do they prefer? It's all about predicting what they will do in the future.
Step three: The actual delivery. This means delivering the relevant experience. Right time, right place, right customer.
Build relationships through trust.
The best way to build relationship is through trust. So, how do you not only build it, but maintain it? The simple answer is to provide value.
Recently, zero party data has emerged. Zero party data is when a customer willingly and proactively shares information with a company. This might include product preferences, personal details and context, or how they want to be identified by the brand. It's all about asking, over inferring.
This data differs from the other three data types, as it is provided by the customer, and not theorised by their behaviour. It tends to be absent of the creepy, invasive nature that other forms of data collection can have. Basically, it's all about consent.
The customer is promised a better experience, and is willing to provide data in return.
Relevance can be achieved, one use case at a time. So, where do we start?
Start with one. Start small. Test a relevant experience, get your results, and expand from there. As you work on the puzzle pieces, e.g. the web experience, the digital experience, the seamlessness will come.
There's opportunity for relevance at each stage of the journey, from:
Awareness: Who's my ideal customer, what's their life time value, what's their speed of purchase? Then, you can tactially select the channels you market on.
Consideration: What is your customer's browsing history? What does their first party cookie data tell you? What might be the next product they purchase?
Intent: How do you personalise offers to the specific customer?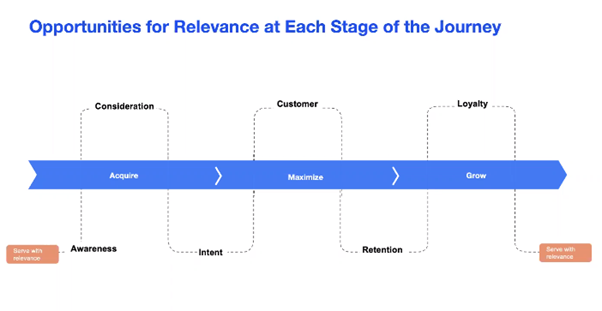 But is all this just talk? Just words? Just stories? No, and how dare you doubt Sean. He came with a pretty cool case study, just in case you turned up.
Case Study: Asian Paints.
Asian Paints is one of the largest paint companies in Asia, with operations in 16 countries. Currently, they're expanding into the Home Décor space.
The challenges they faced were extensive. They had a multi-faceted customer journey: In-store, call centre, design services, website, a mobile app, and social media. Plus, the business expansion resulted in the need to better cross-sell across product lines.
On top of this, the engagement journey was not linear. So, they wanted to better understand buying signals. All of this combined to provide a lack of a comprehensive, single view of the customer, which makes is difficult to deliver a seamless experience.
This led to Asian Paints building a data foundation, bringing in 30 channels of data. Which meant they got the data they needed, to allow them to focus on building experience. In the end, they managed to create a customer data foundation to trigger seamless experiences across all channels.
They focused on a few key things: Journey orchestration, machine learning, upsell/cross sell, and more, in order to achieve this.
One interesting thing to note: The customer experience can be present in a lot of the customer journey. The experience expands far beyond a mobile app, a website, or a advert. In fact, in the case of Asian Paints, it even expanded to the call centre. Every touch point is an important touch point.
What are the key considerations when choosing a CDP?
Vendor agnostic: Able to integrate with all technologies. Schemaless.
Data and identity at a massive scale: Managing and combining millions/billions of data points daily.
Fast time to value. Pre-built connectors, templates, and project accelerators.
Audience builder and journey orchestration: Create a contact strategy for audiences recommended by machine learning and smart attributes
User-friendly for key roles: These include marketing, sales, support, data scientists, IT, and more.
Privacy and security focus: Consent, permissions, secure data management.
Analytics and reporting: Analytics at the segment, campaign, or customer level, to measure continuously and optimise the next steps.
Key Takeways
Optimise across channels, not within them
Great experience starts with great insights
A seamless, relevant experience is achieved one use case at a time.