April Fool's! You thought this was an article about the top 10 marketing campaigns, released on the highest of all joker's holidays, right?
Actually, we're now going to go, step-by-step, through my University short film script. It's a rambunctious romp, combining crime, comedy, romance, and time-travel. Settle in.
1. INT. SANDRA'S KITCHEN, NIGHT
Sandra chops onions. The tears fall onto the chopping board. But they're not all because of the vegetable. We pan out to the rickety time-machine in the corner. Sandra places her hands on the tele-pad. The lights blink faintly.
SANDRA
Oh Dave, why won't you come home? Surely the 100 million credits from the future-bank heist isn't worth leaving little Jimmy behind. What will he do without his father?
LITTLE JIMMY
Mummy, when is dad coming home?
SANDRA
I don't know Jimmy, I don't know. But we have one thing, one thing to keep us going.
She stares into the distance. The music swells.
SANDRA (CONT.)
…Hope
The machine whirs. Smoke billows. Who enters through the hatch? It's --
What do you think? Don't hold back, I wont be angry, promise. Maybe.
Okay, scrap that. It's already a masterpiece. Let's do the April Fool Jokes idea.
Every year, brands craft April Fool's campaigns. It offers an opportunity to communicate a light-hearted subversion of their brand image, entertaining their current community, whilst gaining publicity as people ask "Is this real? Would they do this? Would I buy it?"
According to stats, the average number of online April Fool's mentions per day between the 26th March and the 1st April is a whopping 178K. This is an increase of 639% increase compared the previous 7 days. Some of the trending keywords this year included "joke" "food panda", "prank delivery men", and "somebody's emotions".
As pranks and jokes become ubiquitous and complicated, the risk of consumer fatigue grows. So, brands have to be even more innovative every year. If the joke is obvious, it losing the thing that makes it an impactful marketing campaign - causing conversation and questioning of its legitimacy.
However, jokes can be risky. Humour is often subjective, so when it goes wrong, it goes wrong. For example, Volkswagen announced a eco-friendly name change to "Voltswagen", in order to promote its new electric car. The news went viral, media sources and news outlets praised the progressive move.
But it was all a joke. A joke that could've put the company at risk of a PR nightmare, and even put them in trouble with US securities law for misleading investors.
According to Mimrah Mahmood, Senior Director and Partner at Meltwater:
"The most important thing for brands to remember while devising such campaigns is to toe the line between humour and insensitivity – keep things fresh and engaging, without causing inconvenience or hurting any sentiments.
Leveraging tools like social listening and audience insights will help them better navigate consumer preferences and boundaries, thus paving the way for strong, results-driven campaigns."
So, let's have a look at some brands doing it right in 2022. Starting with:
Number One: Glazey SkinCare by Doughnut Time
"In the words of Hailey Bieber, "If you're not going to bed looking like a glazed doughnut, then you're not doing the right thing!" & that's the motto behind Glazey⁠!! 🌟🧚🏼
Our brand new range of cosmetics aims to give you a glowing, nourished and dewy complexion, that leaves your skin radiant for the whole day!⁠ ✨"
In an Instagram post, not-quite-as-good-as-a-cake-twice-as-good-as-a-muffin seller, revealed their new range of cosmetics, to make their customers as glow-y as a freshly glazed baked goods.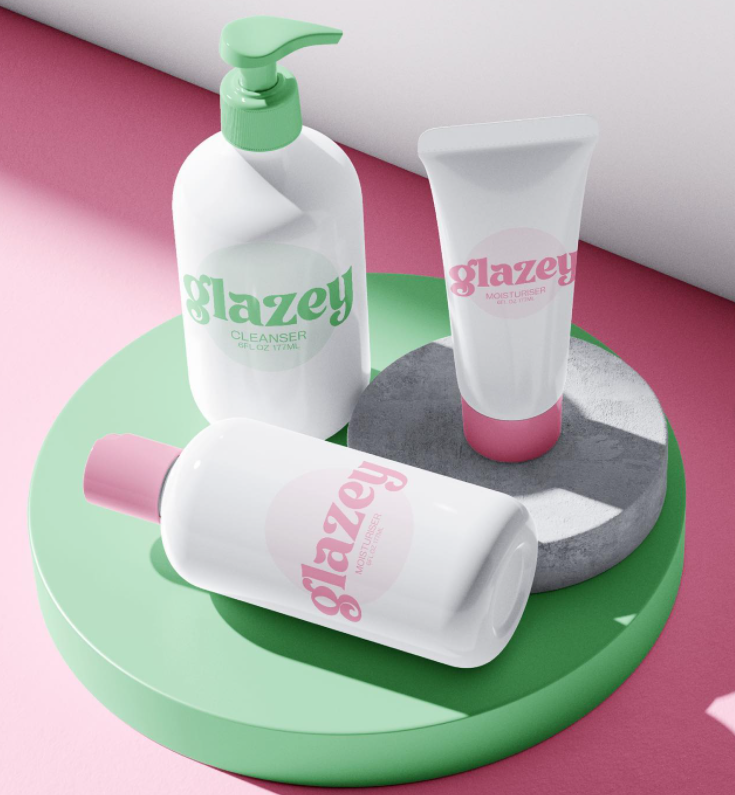 The collection was reported to include moisturiser, cleanser, and body wash, and stuck to the very-millennial skincare wellness styling made famous by brands like Glossier. Though, we're guessing the Venn diagram crossover of Goop purchasers and Doughnut eaters isn't very big.
Number Two: Vegemite and Tim Tam
Okay, I find this one highly offensive. Although, it does seem like the type of product you'd try, it'd change your life, you'd feel ashamed, then move into acceptance. The real hero's journey.
"@timtam's newest flavour, Tim Tam VEGEMITE! Two iconic Aussie favourites have come together to create one MITEY delicious biscuit! What more could you wish for?"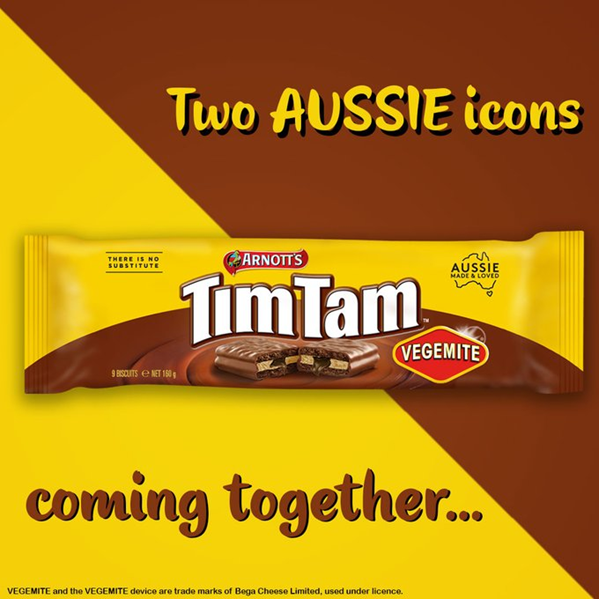 Two iconic Australian brands announced on Twitter they were teaming up to create a blended product - a Vegemite flavoured Tim Tam. Yum, vegetable extract biscuit.
Although, gaging consumer reaction to an April Fool's can also be a pretty effective way to develop new products. In fact, many people commented that they were eager to try it.

So, the brands could jump from the success of the campaign, and take the product into the real world. But I'd rather they didn't.
Number Three: Skyscreen and Under Plane Advertising
Digital signage company Inurface announced, as part of their April Fool's campaign, that they were investing in a way for advertisers to go sky-high with their messaging.
The business, which specialises in audio-visual innovation, revealed their plans to offer digital advertising LED screens, placed on the underside of planes in UK airspace, to customers.
"With over 1,400 planes taking off and landing from Heathrow alone daily, and a long-term working relationship between inurface Media and the airport, the opportunities are huge.
In an even more exciting addition to this announcement the intelligent nature of inurface's technology, and its ability to be managed remotely, means that messaging can be changed depending on where over the country they are being viewed and potentially even modified by interaction with consumers on the ground."
If that doesn't sound exactly like every real company announcement in the last 10 years, I don't know what does. Considering the move to highly personalised, geographically-relevant advertising, I don't see this being too far from a upcoming reality. Until a LED bulb falls off over London and takes out Big Ben, of course.
Number Four: Dezeen's Metaverse Police Raid
According to architecture, interiors and design magazine Dezeen, "digital police have arrested dozens of avatars who rampaged at a party in the metaverse, causing damage to NFT objects worth billions of dollars."
Virtual Officers, dressed in virtual riot gear, stormed the cyberspace art gallery, after neighbours complained about antisocial behaviour. All perpetrators were led away in "blockchains", said the site.
Now, that's a scene I'm predicting being commonplace in the Zuckerverse.
But that's not the only Metaverse-specific prank making its way round the internet today. Lessons.com.au were purporting to offer lessons on a course to explain the metaverse and NFTs to elderly relatives.
Lessons.co.au want to offer customers the ability to escape having to explain the elusive space to their out-of-touch boomer family members, for free. Titles for the 4 core units include "It's like Facebook, but also not", and "Imagine if you could right-click the Mona Lisa".
Number Five: Furniture@Work's Soundproof Cabinet
According to a CareerCast survey released in May, 80 percent of respondents gave their stress levels a seven or higher rating on a 10-point scale. In fact, the study also reported that nearly 83% of people have cried at work. So, what's the solution?
No, it's not that your boss should learn to be nicer. The solution is a soundproofed crying cabinet.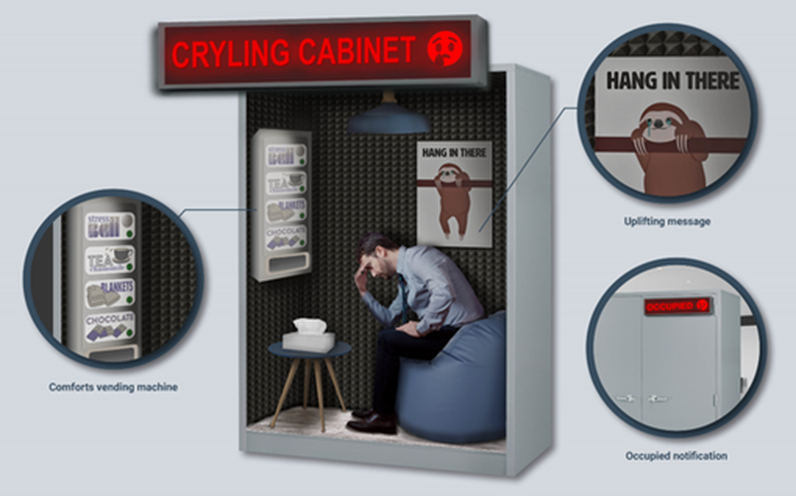 Complete with comforts-stocked vending machine, uplifting motivational posters, and an occupied notice, Furniture@Work's product provides office workers with a safe escape from their daily stresses.
Key features include:
Sound (and scream) proof walls

Bean bag bawler

Pick-me-up vending machine

Tear removal tissues
Number Six: Tala's NightFlex
"Dare to bare" has never been more of an understatement.
In their April Fool's offering, Tala have offered customer the chance to buy sportwear that leaves little (very little) to the imagination. The collection offers NightFlex Lusty Chaps Leggings, NightFlex Saucy Chaps Shorts, and NightFlex All Bets Are Off Sports Bra.
Clicking through the link in Tala's Instagram bio leads visitors to a landing page, where they can access a discount code for 10% off site-wide at 12pm GMT.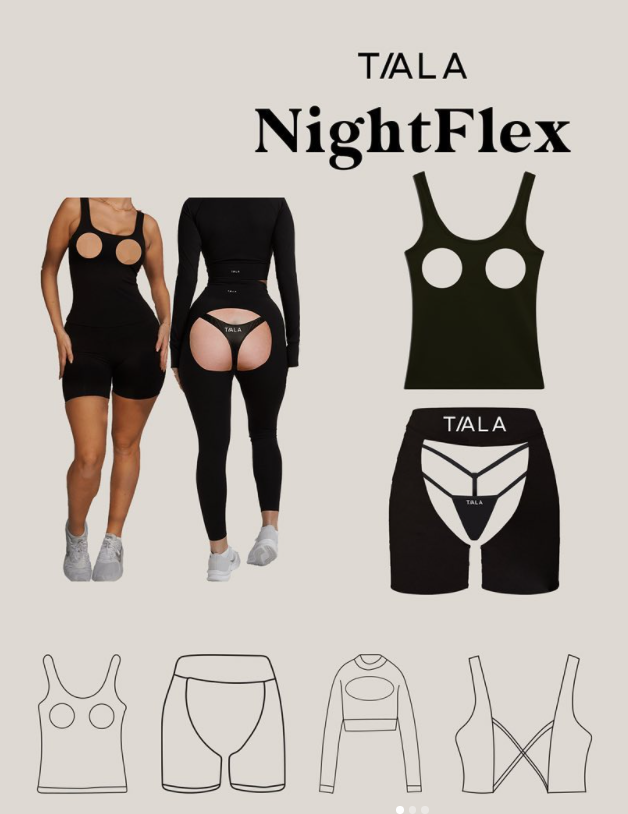 Number Seven: Pot Noodle and Papa John's Noodle Pizza
Another strange collaboration. Pot Noodle and Papa John's prank involved the fast food giants joining forces to create the ultimate Pot Pizza.
These offerings included three of the most popular Noodle flavours, Bombay Bad Boy, Chicken & Mushroom and Beef & Tomato combined with the most popular pizzas.
Head of Product Development at Pot Noodle, Daisy O'Farllop, said: "For the first time in Pot Noodles' 43-year history, consumers will be able to combine our deviously-delicious noodles with a Papa Johns Pizza. Life is too short to have to choose between a Pot Noodle and a pizza – with this new range, you can have both!
Floyd Pasolari, Research & Development Lead at Papa Johns, said: "Ingredient innovation is at the heart of our menu, and we've worked hard to ensure the 'Pot Pizza' menu is the perfect balance of Pot Noodle's much-loved flavours and our best-selling pizzas.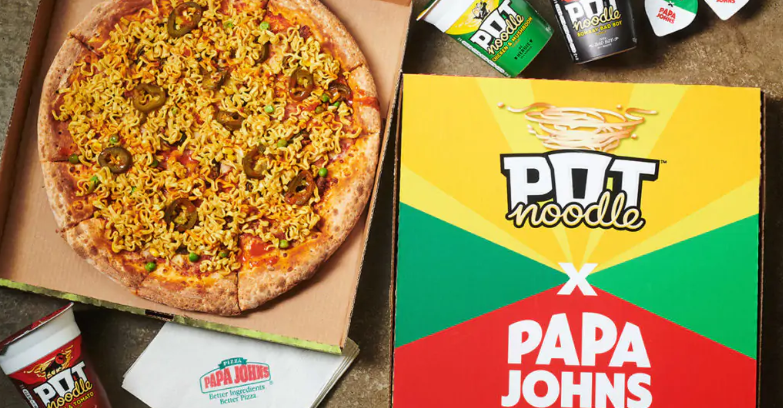 "Following the recent success of our 'Beeza', 'Hot Dog' and 'Christmas Dinner' pizzas, we're excited to give pizza lovers yet another combination that is bound to turn heads."
Number Eight: Subway Candles
Bready or not, here comes Subway with their April Fool's campaign. The sandwich company pranked their customers by offering a candle which smells of their freshly baked bread, in order to help homeowners sell their properties more quickly.
Subway's 'Eau de Dough' room diffuser captures the notes of a perfectly baked Hearty Italian Sub. The state-of-the-art gadget releases a mouth-watering, room-filling vapour in under 0.25 seconds.
A Subway spokesperson said "Customers love us for our delicious, freshly baked bread, so we're delighted to be able to share our in-store aroma as a takeaway scent. Whether you need help selling a property or simply love the smell, 'Eau de Dough' is the must have gadget."
Number Nine: Frankie & Benny's Banned Condiments
Italian-American fast food joint Frankie & Benny's fooled customers into believing they had banned all condiments from their restaurants, even going as far as removing them from all locations in the U.K.
"No Condiments" signs have been dotted around restaurants alongside an all-new menu which includes a message that reads "Please note this is a No Ketchup Zone - we do not have condiments in restaurants from the 1st April"
Matt Pouchotek, Brand Manager at Frankie & Benny's, said: "Our new menu additions are some of our best to date and we wanted to think of a way to encourage our guests to enjoy their true, uninterrupted flavours. By stopping people from adding condiments such as tomato ketchup and mayonnaise should allow them to enjoy the dishes in authentic, Italian fashion." Because when I think of Frankie & Benny's, I think authentic Italian. Ultimate Mixed Grill , just like Nonna used to make.
Ben Keggans, Executive Chef at Frankie & Benny's, said: "Our dishes are packed with flavour and we want people to enjoy them the way they should – dip-free. Don't worry, it's only guests that aren't allowed to use condiments. We've used all the sauces, spices and sprinkles needed to make our best tasting menu to date."
Number Ten: PR Advisor 'Press For A Slap' Crisis Service
Nottingham-based PR advisor and author Greg Simpson announced his April Fool's prank, specifically for stressed out business owners.
Targeting the offering specifically for the regional business award niche, where he feels there is an "an opportunity to prevent all manner of brand damage with some carefully considered backside covering and proactive placating".
"Press For A Slap" will help stressed out business owners who feel aggrieved by judging panels or mocked by vaguely amusing comperes at glittering black-tie events. Simpson's role will be to help them keep calm in the heart of the moment through a combination of more wine, the whispering of calming platitudes in the ear as the shortlist is announced and if strictly necessary, the use of his considerable frame to block the aisles.
Greg said: "Some have criticised my timing as opportunist but I think that is a back-handed compliment. Look, we've all been there. Some of these award submissions have taken time-pressured folk up to 11 minutes to write just before the extended 5pm deadline and that kind of commitment, if overlooked, can vex even the most mild mannered.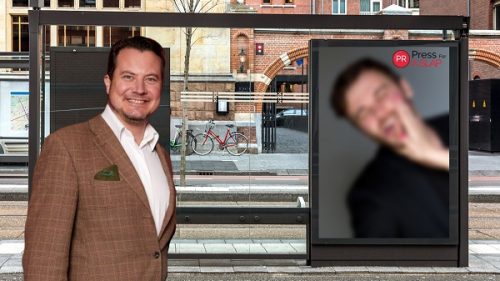 "I will be available for hire on the night or ahead of the event for a more proactive approach to handling this nightmare scenario, afterall, nobody wants to make a big willy of themselves."