Elon Musk has struck a deal to acquire Twitter for $44bn (£34.5bn), with the aim of unlocking its 'enormous potential'.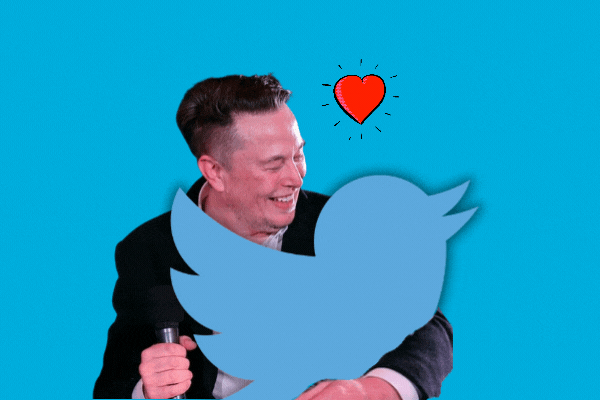 As we reported at the beginning of April, Musk initially acquired a 9% stake in Twitter, which has turned out to have been the opening move in the billionaire's plan to acquire the social platform. Since then, events have moved at a remarkable pace.
Being sold at $54.20 per share — some 38% above the company's share price earlier this month — the social media platform will now fall under the control of the world's wealthiest person. It will add to his expansive portfolio, which includes Tesla, SpaceX, The Boring Company and Neuralink.
But what does the world's richest man want with the world's okay-est social media platform?
Twitter has been Musk's playground for some time. With the power now to determine what is, and isn't, free speech on the platform, will he use it for his own personal gain? Will his supposed philanthropic intentions be stunted by a need to revive a less-than-highly-profitable company? Or is he just trying to buy a nice piece of property in a desirable location, after revealing he is a prolific couch surfer?
The billionaire has talked about making big changes at Twitter and considered that the investment would only be worthwhile if he had the authority that ownership would give him.
The billionaire got straight to the point in his offer letter a couple of weeks ago, claiming this was not a "threat" and the platform was "simply not a good investment without the changes that need to be made".
Twitter reported revenue of $1.56 billion in the final three months of 2021, a 22% increase from a year earlier but lower than analyst expectations. Twitter said it had earned $176 million in income, a 34% decline from the previous year.
So, this may be an indication of why the board was tempted by Musk's offer, and his wealth of financial backers, despite pushing against him previously.
"The Twitter Board conducted a thoughtful and comprehensive process to assess Elon's proposal with a deliberate focus on value, certainty and financing," said Bret Taylor, Twitter's independent board chair, in a statement published this afternoon. "The proposed transaction will deliver a substantial cash premium, and we believe it is the best path forward for Twitter's stockholders."
One major gripe cited by Musk was the lack of free speech on the platform. Twitter's current moderation policies, which many would argue are not effective enough given the toxicity of the platform at times.
There's been plenty of talk on Twitter about the deal, with lots of Twitter users threatening to leave the platform and head elsewhere. Whether people will leave in significant numbers remains to be seen.
Either way, acquiring Twitter gives Musk a handle over the platform as an advertising space and allows him control of the all-important algorithm. Though the platform doesn't compete in terms of advertising revenue with other social media giants, it fits Musk's grassroots Tesla advertising techniques.
The majority of the advertising for his companies and financial ventures comes from his tweets to his followers. So, is this an opportunity to utilise this disruptive form of marketing further?
But we've also got to ask ourselves: what comes out of globe-shaking moves like this? Well, some pretty hot takes, from some pretty interesting marketers. Let's take a look...
Scott Galloway, P
rofessor of Marketing at NYU, Author, and Entrepreneur.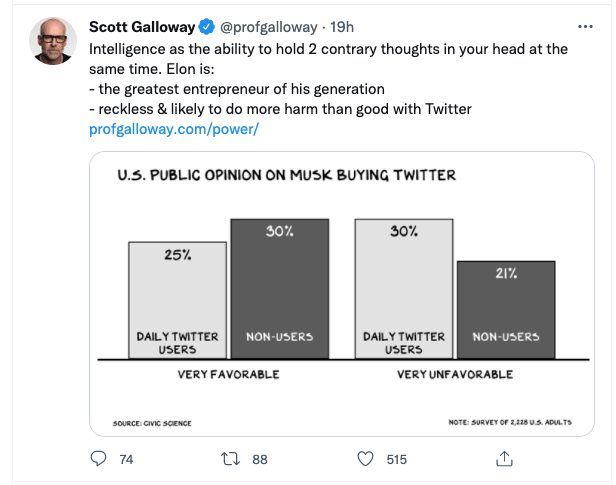 Scott Galloway urges caution around the move in his blog, No Mercy/ No Malice:
Over the past several years, he's been reckless, toying with companies, cryptocurrencies, and technologies that captured his fleeting attention only to move on when the next shiny object caught his gaze.
Carlos Doughty, CEO, LXA
Carlos added a question around the economic play surrounding the move:
"Is the acquisition the ultimate power play to control the space that moves the markets? Forget the direct revenues at Twitter, there's another game playing out when you marry up the impact of a tweets to the stock market."
Rand Fishkin,
CEO & Co-Founder of SEOmoz
Sean Donnelley, Head of Product, LXA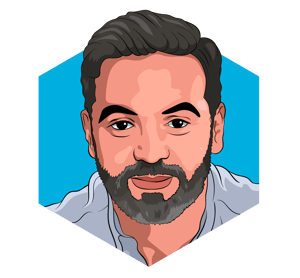 "Bebo is trending on Twitter today. Remember Bebo, the strange mix of personalised profile pages and luv hearts? Bebo - an acronym for "blog early, blog often", used to be the most popular network in the UK and Ireland. I loved it.

At its peak, it had more than 40 million members. As it happens, Michael Birch, the co-founder of Bebo plans to re-launch the social network with a focus on profiles and what he calls "live social interaction" rather than news feeds. In an interview on BBC, he described it as a lockdown project. I wonder how ambitious he is?

It's interesting timing as in February this year, Meta, Facebook's parent company revealed that the platform lost about half a million global daily users in the fourth quarter of 2021 compared to the previous quarter. That might not seem like a major drop relative to its under 1.93 billion total daily active users, but it represents a low point for a company whose user base has long grown at a rapid pace across its different apps.
One analysis is that Facebook is struggling to stay relevant to younger users, many of whom are drawn to competing apps like TikTok. But what about older users, who want a virtual community space, to interact, share pictures and stay in touch, but who have also become wary of fake news and advertising? Does that leave a space for a Bebo?

Of course, the real reason why Bebo is trending is that there is some suggestion that Elon Musk's purchase of Twitter might trigger a rush to other platforms. Will Bebo save the day? Who knows? Michael Birch, if you're reading this, and I'm sure you are, this is your invitation to come and chat through the Bebo play at our Global AntiConLX event in July! "
Jack Dorsey, Founder of Twitter
In principle, I don't believe anyone should own or run Twitter. It wants to be a public good at a protocol level, not a company. Solving for the problem of it being a company however, Elon is the singular solution I trust. I trust his mission to extend the light of consciousness.

— jack⚡️ (@jack) April 26, 2022
Graham Charlton, Head of Content, LXA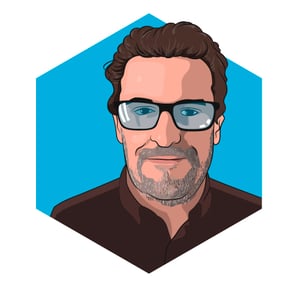 "Marketers may be concerned about potential changes Musk will make to moderation - he calls himself a free speech absolutist after all - and the effect this will have on the perceived 'toxicity' of Twitter. Marketers want to be where their audience is so any potential exodus or change in atmosphere could be a cause for concern.
Brand safety is another consideration - the content brand tweets and ads appear alongside is important in terms of reputation. Do brands want to appear next to hate speech and conspiracy theories?"
Yesim Saydan, Social Media Expert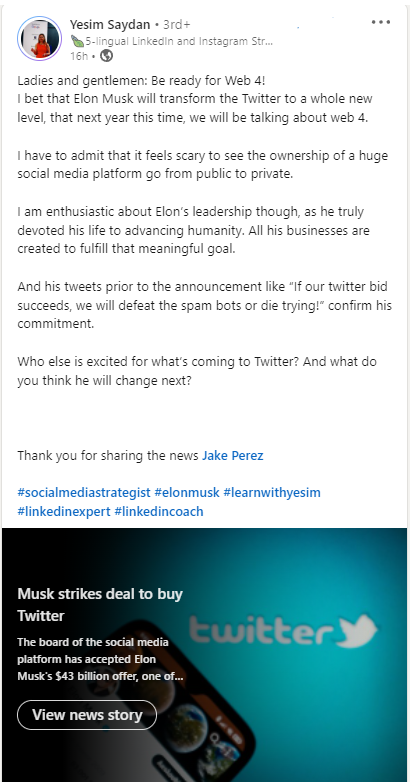 David Finkelstein,
Forbes Technology Council, and Tech Entrepreneur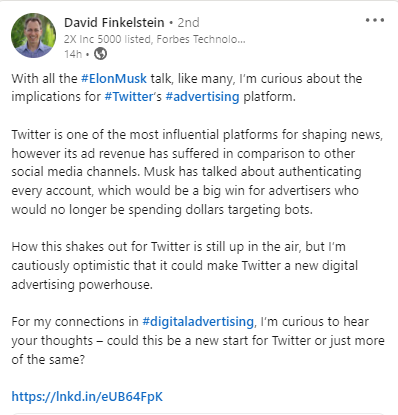 Mark Cuban, E

ntrepreneur, and TV Personality
Twitter's SMB marketing is brutal. They should be and could be doing a lot more. Will be interesting to see what @elonmusk does and what he cares about. He has some real interest expenses to pay. https://t.co/HwJOTz5UtV

— Mark Cuban (@mcuban) April 25, 2022
Holly Ripley,
Senior Marketing Executive, LXA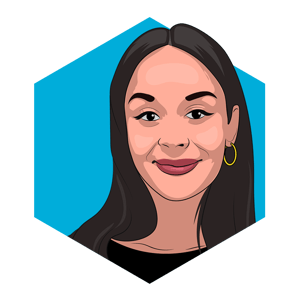 So the world's wealthiest person, Elon Musk has just bought Twitter for $44 Billion.
Musk (who is undoubtedly one of the most influential users on the social network) says Twitter is not living up to its potential as a platform for free speech and intends to make serious changes.
Now I don't know about you, but we've some serious questions...
After splashing out $44 Billion - what's the financial gain for Musk?

Does this mean Trump will be making a return on Twitter...?

How will Twitter users fair with the removal of LOTS of bots?

Did Musk just buy Twitter for a cooler office to sleep in?

Will Musk & Co. finally crack advertising on Twitter?
Coach Toyin Umesiri,

Business Strategist
Matt Barash,
Advisory Board, Zeotap
Adtech exec Matt Barash speaking to the Drum suggested that there's a lot of good to come from the acquisition.
"Musk is a maverick and a magician," he says. "
He's a fearless visionary who is prone to making bold statements and promises — some of which are largely gamesmanship and others which become game-changing realities. If Musk remains true to his word, I'm hopeful his skilful ability to drive product innovation will lead to a more transparent social network with better guardrails and less toxicity for everyone. Love him or hate him, he delivers cool stuff to consumers and results to investors. If he continues those trends at Twitter, everybody wins."
Barash believes in the stability of the platform despite the disruption, as a place "where users continue to spend time and engage with their beloved communities and where advertisers and marketers can connect with their audiences with confidence, continuity and improved business outcomes."
🔥 Hot Topic Alert 🔥 Hear marketing legend Scott Galloway speak on all things Elon at our upcoming AntiConLX DialUp.
Join us for a live AMA with industry guru, straight-talking Scott Galloway, plus an expert panel as we dive into Trends, Planning and Predictions for 2022 and Beyond. Click here for more info and to get your tickets!