This is the ultimate guide to marketing automation. If you find an article with more info on the topic, send me the author's email address. We draw pistols at dawn.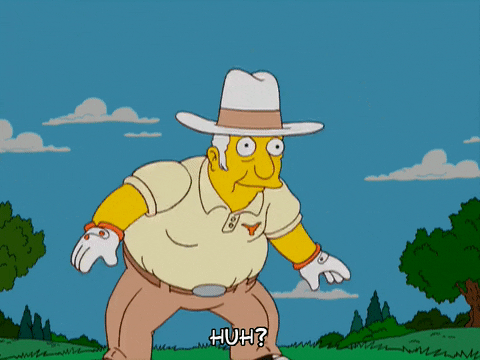 The How? We've got it. The Why? Covered. The When? Possibly. The Who? Great band, but probably not. Now stop messing around.
95% of companies have reported some benefit from marketing automation. But what is it?
What is Marketing Automation?
Marketing Automation, or MarAut which is a term I'm trying to coin, is all about using software to automate all the boring, daily marketing stuff you've gotten sick of doing.
This might be super repetitive tasks like email, social media, and ad campaigns. But it's not just about improving ease. Marketing automation also helps with creating a personalised experience for your customers.
"Statistics show that buyers...want to learn at their own pace and be reached when they need more information or are ready to buy," says marketing expert John McTigue.
"A well-constructed marketing automation strategy makes that a reality."
So, a single automation platform can be used to manage each aspect of each campaign, aligning people, processes and technology to achieve your marketing goals.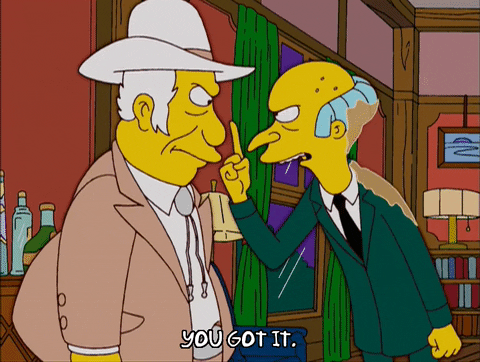 Marketing automation use is growing rapidly, according to Forrester's Marketing Automation Technology Forecast. No longer just the domain of large businesses, tools have become scalable and usable for small to mid-size businesses. Marketing automation tech is actually expected to show a 14% compounded annual growth rate (CAGR) over the next five years.
While you're sipping margaritas on the beach, or having a nap under your desk, your automation software is pulling an extra shift, making sure you're creating a great experience for your customers based on behaviours, preferences, and activity, plus achieving those boring tasks that you're trying to avoid doing.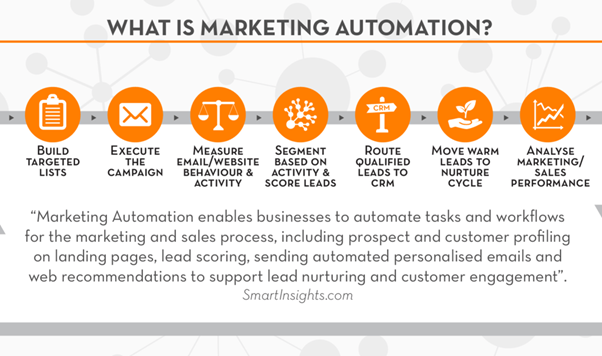 Marketing Automation also helps you understand your customers. It makes your interactions richer, and more profitable. 80% of customers say they are more likely to buy from brands that offer relevant and customised experiences.
Personalisation doesn't just attract customers. It also frequently drives customer loyalty from existing customers. 44% of consumers said that personalised reactions made them more likely to make repeat purchases with a company that utilises personalisation techniques.
Customers appreciate when companies treat them as individual people, with personalised messages, and not as a faceless crowd of witless consumers. So, with marketing automation making this personalisation easier, quicker and less painful, it's an easy way to make customers feel valued.
How Does Automated Marketing Work?
Automation is all about information. Every time your customers interact with you, they're providing you with a bunch of usable tid-bits.
All that contact data can help to tell you who your audience are, what they want, what they like, what their hopes/dreams/fears are. This'll give you a way to see where you need to engage your customers, and where you need to guide them to take actions, based on previous interactions.
After collecting this (GDPR compliant) data, you can give your system a few pieces of information which, according to MailChimp, can include:
What messages you want to send, and tags that need to be added or removed from a contact
The segments of your client base you want to direct your attention towards
What situation will trigger the automation.
With all this information, and a few simple steps, your system will then target the right people at the right time.
The map you've created, detailing what specific actions people are specifically taking, means that you can create interconnecting campaigns to engage leads, and acquire new customers.
For example, you could tell the software to add all users, current and potential, to a certain list if they have visited a number of blog posts or pages, and then send out a series of emails to engage them with the content they have shown interest in.
Then, you can see how they react to that content, and use that info to alert your sales team to similar interactions, hinting when a lead is hot.
How does Marketing Automation Help the Sales Team?
Marketing automation basically gives your sales team the best possible visibility. It means your team can observe the activities of all your prospects, and understand what makes a potential client qualified and focused. Plus, any one of these leads can be identified, and automatically handed to your sales team.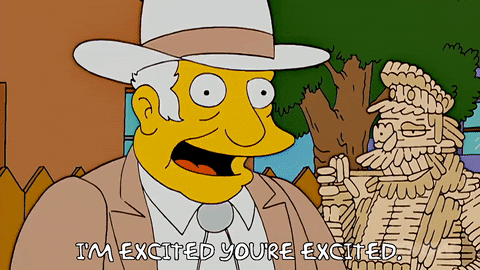 All engagement can be monitored and logged into your CRM, for everyone who uses your CRM to access easily. Real-time alerts based on certain trigger events can be set up so sales can contact them, see what their specific needs are, and get more informed.
What does Marketing Automation Solve?
1) Help! My leads aren't converting!
61% of B2B marketers say that generating high-quality leads is their biggest challenge. Automating lets you nurture prospects using a bunch of relevant info, across multiple channels.
Nurtured leads produce a 20% increase in sales opportunities and businesses who nurture leads make 50% more sales at a cost 33% less than non-nurtured prospects.
2) Oh no! My leads aren't qualified!
Marketers have to make sure leads are a good fit for the company. So automation means you can understand your prospects better, and make an informed decision on whether it's worth chasing a lead. You can also personalise each buyer's journey every step of the way.
3) Damn! I've got marketing inefficiencies and tech gaps!
By automating manual workflows, your staff will have plenty more time to direct their attention to where it's needed. So, this means they'll be able to fill in the gaps, using more strategic works and innovative marketing campaigns.
4) Shoot! I'm not tracking and optimising user engagement!
This stuff is essential. Tracking is made so much easier with marketing automation, be it with capturing, managing, or scoring leads. From this, you can better optimise your marketing processes, which can also be automated. Then, you can better demonstrate ROI.
From this point, you can retarget and recirculate in order to optimise engagement and connect with the buyer. This means getting the right content to the right person, on the right platform or channel. Which can be made easier with, you guessed it, automation.
What are the Benefits of Marketing Automation?
Brainshark is a B2B software provider offering a freemium product for its enterprise solution, and a free trial for a different product. The challenge they faced was converting freemium customers into paying customers. So, the company ran some tests into why they weren't converting.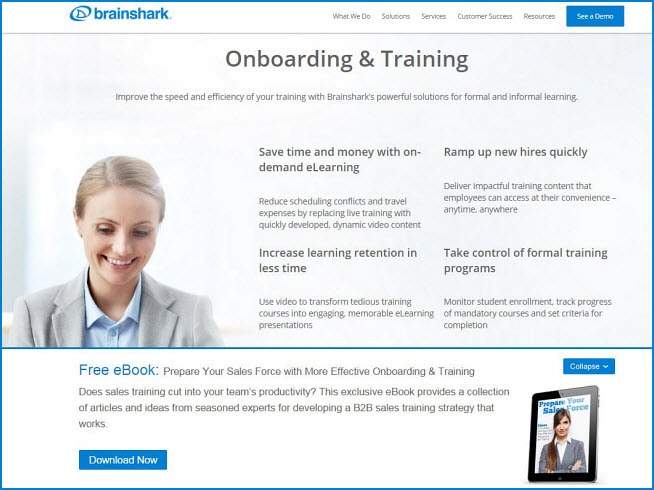 They found a few things, including that some users weren't actually using the free product, some users who would register but never even start using the product, and some users who registered weren't going ahead and sharing the presentations created on the site.
"Like any freemium product or free trial, people got hung up at certain places," Arthur Gehring, VP of Demand Generation at Brainshark explained. "We saw in our analytics that if we can get — there are certain sort of 'bumps' in the road — and if we can get [prospects] over that, we have a much higher probability of getting them to engage with the freemium product and then ideally buy our for-pay products."

The company realised it had to create pipelines to get clients closer to buying at every step. So, marketing automation makes sense, in order to get people to respond to messages communicated during the trial period.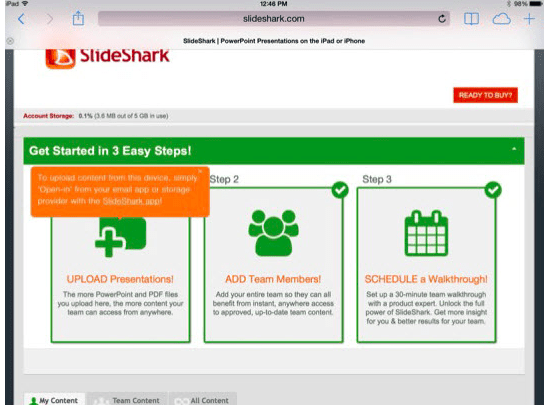 "We started with some initial tests around the holidays to see how existing users would respond to more direct messaging within the site, such as sidebar ads and pop-ups," Gehring said.
Marketing Sherpa reported that:
"The personalisation began when a visitor would navigate to one of the three main areas: sales enablement, marketing solutions or onboarding and training. From there, data points such as time on site and pages engaged with added another layer of personalization to the offers Brainshark would display to visitors."

Personalised offers were seen by all logged in users during the time of each promotion. Personalisation began when a user visited one of the three main areas of the Brainshark site, with all the messages being based on data points including time on site and pages engaged.
This campaign has led to:

MyBrainshark.com registrations increasing 15%
Free trial sign-ups for the enterprise product increasing 150%
More than $1.1 million in the sales pipeline influenced by effort
CentricsIT is another marketing automation success story.
Before automation, the company had no structured method of tracking leads or nurturing them. Engaging in batch and blast emails, they had little to no personalisation, and each email was manually forwarded to sales.
After automation was introduced, leads were automatically directly from landing pages to sales reps, with the CRM looking something like this: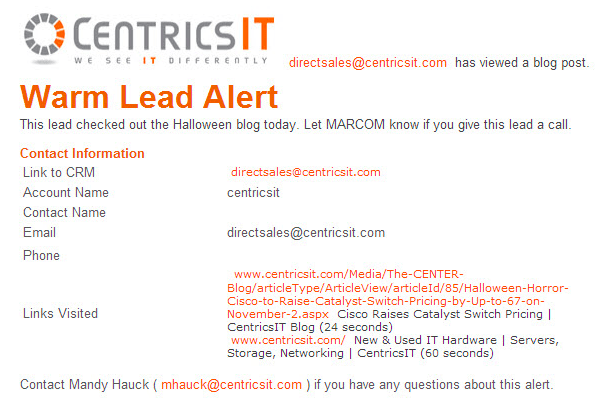 By sorting leads and running more intelligent campaigns, plus integrating email with website lead tracking and having emails sent based on users' web activity, CentricIT could streamline and optimise processes. Now, leads are automatically directed from landing pages to sales reps, which takes a step out of the process of marketing.
"Since my background was in email marketing, I obviously knew what it could do and that we had an opportunity to reach people through that outlet," explained Mandy Hauck, Manager of Marketing Communications, CentricsIT. "So I pushed for email marketing early on."
Marketing Sherpa reported that:
"By taking forwarding out of the process, Marketing can now focus on evaluating ROI and tracking where the leads go. The software has also armed CentricsIT with the ability to track leads from online advertising campaigns and pull reports based on results calculated from the software."
As a result of their marketing automation:
CentricIT saw their lead generation increase by 59%
CentricIT raised $1.5M in revenue, directly attributed to the marketing automation tech

Before the system change, CentricsIT was lucky to get a lead per week, but now the company boasts more than 100 a month.
What are the Components of Marketing Automation?
Marketing Automation has plenty of useful features, and tools, including:
A martech stack. This is all your tools needed to achieve your business goals.
An analytics engine. A way to test, measure, and optimise marketing ROI. This is the place to see what has worked, and what hasn't - and why.
An engagement marketing engine. An environment for the creation, management, and automation of marketing processes and conversations across online and offline channels.
A central marketing database. This is the place where all your marketing data lives, including customer behaviours, and prospect interactions.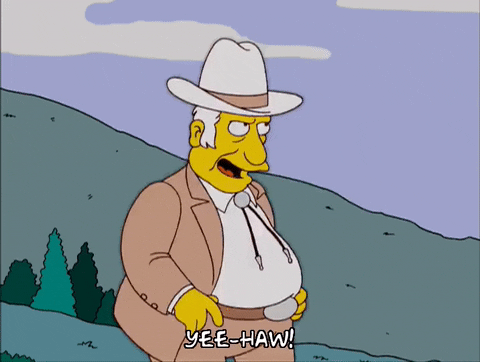 So, let's have a look at some of the biggest automation tools out there.
Marketo.
Marketo is probably the best known marketing automation tool out there. It has a full suite of features that help marketers manage email campaigns, and provide excellent tools for the sales team. Marketo also have a marketplace, with loads of integrations.
Eloqua
Eloqua provides excellent services and features, but it knows its worth. With a super high price tag, it can provide a lot of guidance, and tight CRM integration.
Customer.io
Customer.io has a great level of flexibility. This is a tool that will let you get what you want out of it. If you're willing to put in some developer time, you will have the ability to customise your experience. Customer.io has a lightweight UI and fast, personal customer support. They are growing very quickly, and are built to trigger emails based on events, rather than just pageviews.
HubSpot
Hubspot does a little bit of everything. But it's biggest asset is also its biggest flaw - it doesn't do anything specifically deeply. A self described "inbound marketing software", it offers a variety of tools, one of which is marketing automation. It's also great for the small business owner, and offers additional functionality it provides beyond email marketing.