Simon is an author, founder and visionary. He wrote the global bestseller Start with Why in 2009 and its subsequent Ted Talk has become the third most-watched video of all time.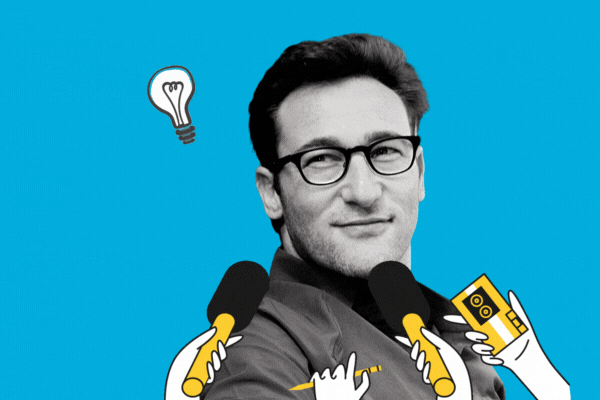 But he wasn't born, full-formed, writing books about marketing right? Well, with his expertise, we wouldn't be surprised. But how did he get here?
Simon was born in Wimbledon, in the United Kingdom. But his family didn't settle there forever, otherwise he may have become a tennis star, and we would've missed out on some great marketing insight.
Instead he grew up in a global way, moving to Johannesburg, London, and Hong Kong, before the family chose the United States as their home base. Then, in 1991, he graduated from Northern Valley Regional High School at Demarest.
Then, continuing his matriculation, he earned a Bachelor's degree in cultural anthropology from Brandeis University, the start of his insight into human patterns and behaviours. Then, he attended City University in London with the intention of becoming a barrister but left law school behind to move into advertising.
He then took up jobs with a number of prestigious advertising agencies, including "Ogilvy & Mather" and "Havas Creative", but moved on to greener pastures, choosing to launch his own firm "Sinek Partners". From here, he established his career as a motivational speaker and leadership coach.
He went on to found a publishing outlet Optimism Press, in partnership with Penguin Random House with the aim of raising the voice of people and ideas to advance his 'Cause'. Published titles include The Power of Giving Away Power (Matthew Barzun), Trust First (Bruce Deel) and How to Make A Plant Love You (Summer Rayne Oakes).
Today Simon, together with Sinek Partners, teaches leaders and organisations how to inspire people. According to his sight, the double act has "a bold goal to help build a world in which the vast majority of people go home every day feeling fulfilled by their work."
His views, insight, and works have gained him international attention, and have earned invitations to meet an array of leaders of organisations including Microsoft, GE Silicones, AOL, New York City Ballet, and Members of the United States Congress.
But he's not just kept himself to the written word, but the spoken one too. Simon also hosts the A Bit of Optimism podcast, where he speaks with some of the world's most successful individuals about their specialist subjects. The podcast has reached over 3M individual downloads.
"I try to find, celebrate and teach leaders how to build platforms that will inspire others."
Why we love him
Simon is an unshakeable optimist and passionate ethnographer, who truly imagines a world in which the vast majority of us wake up inspired, feel safe at work and return home fulfilled at the end of the day.
His concept of "WHY", popularised in his 2009 TED Talk, is based on inspiring people to do the things that inspire them. This means, that together, society can change the world for the better.
The WHY global phenomenon was just the beginning, and he has gone on to write more bestsellers and help transform company culture and create a better working world. Simon has since gone on to explore the difference between finite and infinite games, and how organisations struggle when their leaders play with a finite mindset, in an infinite game.
Simon's work focuses on leaders and companies with the capacity to inspire. He can identify the patterns these leaders follow, from how they think, act, and communicate, to the environments in which people operate at their best. All of this comes together to transform corporate culture.
Credentials
Studied law at London's City University and received a BA in cultural anthropology from Brandeis University

Began his career at the New York ad agencies Euro RSCG and Ogilvy & Mather

Launched his own business, Sinek Partners

Has written five books. Many of which appeared on bestseller lists

Has given talks at The UN Global Compact Leaders Summit and at the TED conference

Nice to talk about the origins of the Golden Circle. Thanks @Inc for inviting me to be a part of your How To Make Your Life A Success series. It was fun. For those who are interested, here's the interview: https://t.co/YjayQ5lqad

— Simon Sinek (@simonsinek) November 19, 2018
Fun facts
Simon was born in Wimbledon, London, United Kingdom and as a child lived in Johannesburg, South Africa, London, and Hong Kong before settling in the United States.

Simon's WHY Ted Talk has become the third most watched on TED.com, with over 40 million views and subtitled in 47 languages
Where to find out more
startwithwhy.com: Simon Sinek's website around his WHY concept
WHY Ted Talk: Simon's infamous well-watched Ted Talk
Don't forget to read Simon's groundbreaking book, Start With Why: How Great Leaders Inspire Everyone to Take Action (as well as his other bestselling books)
Follow Simon Sinek