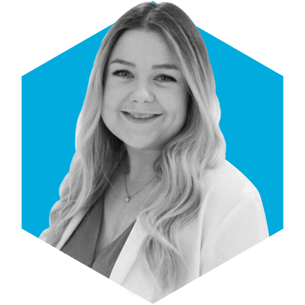 Nikki Raber is the Sr. Demand Generation Manager @ Integrate, and a rising star in the marketing world. From Media Buying, to Digital Strategy, to Digital Marketing, Nikki has done it all. She's skilled at deploying revenue-driving tactics, SEO, Digital strategy, CPL, and much much more (At this point I need her to have FEWER skills, so that this bio doesn't reach 4 pages long). Full-funnel AND Fully-rounded!
Jobs in Martech are always super layered and complex. Your position is no exception! So to make things a little bit clearer, could you describe your role in five words or less?
Drive qualified buying interest.
What is your biggest martech/ marketing ops gripe? Don't hold back!
The jargon! Can we get the english translation please?
It's a bit 2008, but do you have a personal mantra?
It doesn't ALWAYS fit, but 90% of the time "done is better than perfect" applies (especially when you're a bit of a perfectionist to start with).
Have there been any women along the way, who have helped you out and supported you?
My mom has told me from day 1 that I'm capable of excelling at anything I put my mind to. I'm drawn to anyone with that same "can do" attitude. I've been lucky enough to have had many female leaders along my career, some that immediately come to mind that have poured into my growth and supported me: Leslie Dement (Managing Director at Tailwind), Kate Athmer (VP Growth at Bombora) and my current boss Stephanie Swinyer (Head of Revenue Marketing at Integrate). Without the direction, advice, and trust from these women, I would not be the marketer I am today! I'm so thankful.
How do you see the martech scene in the Post-Covid days? Apart from everyone going straight to the pub, of course.
I think buyers and sellers alike are experiencing a degree of enlightenment during this period. We're seeing the faults in relying too heavily on specific channels, technology, and systems and learning that we need to be set up to pivot quickly, not just in a pandemic, but in a future that will require adaptability and innovation. I think the martech companies that will flourish are those investing in technology an in their own product to enable agile strategy shifts and a connected ecosystem.
What are your own plans Post-Covid? Are you looking forward to being back out, or are you enjoying the Netflix binges?
I'm ready to get back in the world! I'm ready to see if any of my social skills are still intact a year later.
Do you have any advice for bouncing back from failure or difficulties, especially for young women within the industry?
Take every failure or difficulty as a lesson learned. You will bring that lesson with you into your next chapter and be better because of it. So much of the time working in martech, we're literally getting paid to learn and apply our learnings. Hopefully there will never be a day where things won't be difficult or have the potential of failure because that day will mean we're no longer challenging ourselves or taking risks.
What career advice would you give to your younger self, on how to succeed in marketing and tech?
I'd tell my younger self to keep asking questions and offering to help others whenever given the chance. By helping and listening you're growing your own skills and perspective and it will always make you better.
Who are the professional women that really inspire you?
I'm inspired by all women working in martech. In an industry traditionally dominated by males, the women who have persisted and paved the way for young women to rise in this career path is hugely inspiring. Marketing is an art that requires intuition, emotional intelligence, empathy, and creativity - attributes that are so evident and inherent in the women in the martech community.
What are your plans for the future? By this I mean what are your upcoming projects, and what are you having for dinner?
In the near future in my role, I'm looking forward to amplifying voices, experiences, and advice to marketers working in demand generation seeking to take their channel strategy and execution to new heights. For dinner later....hey! maybe there will be an ubereats incentive to participate - you're getting me thinking with this question!
Click here to sign up for our Women in MarTech Web Sesh, to find out more about women in the industry!
AND want to hear from more the incredible women in martech? Then check out #MarTechFest Dial up!