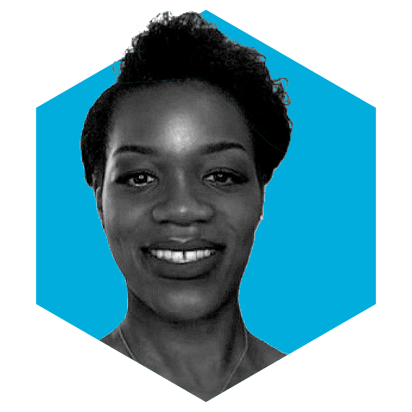 Meet Moni Oloyede. Director of Marketing Infrastructure at Fidelis Cybersecurity, she's got quite the skillset.
From programmatic marketing, to demand gen, to social media marketing, she's a marketing expert - and then some.
She's also one of Drift's "25 Women in B2B Marketing Who Inspire Us Every Day"! Which is a real coincidence, because she inspires us too!
We want to hear about you! Give us a quick overview of what your company does and your roles and responsibilities there!
I work for a cybersecurity company. I'm responsible for marketing infrastructure and operations (website, campaign execution, martech stack, lead mgmt., and reporting/analytics.
We get information that I can immediately apply to my job or organisation.
What bull$hit marketing advice do you hear too often?
That marketing's job is to generate revenue. It's not - the organization generates revenue, marketing builds relationships.
What's your biggest martech/ marketing ops gripe? Don't hold back!
That the technology is auto-magically and its going to generate millions of dollars just because you have it in place. Nope! The tech is only as good as your strategy.
We've all read about Mark Wahlberg's insane 2:30am morning routine, filled with golf and cryo-chambers. What's your personal morning routine?
Morning meditation and a walk with my dog.
What up-and-coming trend do you predict will take the industry by storm?
I think we're in for a reset. Getting back to marketing basics and fundamentals. Building relationships, communicating value and establishing trust.
What was your first marketing job, and how did it help you develop in the industry?
I did event management at a cybersecurity company. It held me learn the basics of marketing and how to communicate with people in person.
If you could recommend one book, podcast, tv show, magazine, piece of bathroom stall graffiti etc. etc. what would it be?
I love recommending "Give an Take" by Adam Grant.
What is your favourite marketing campaign of all time?
Brands I learn about without commercials or mass marketing. I think Lululemon is a great example of that.
Can our audience expect any future projects on the horizon, personal or professional?
Yep! I have a website momartech.com - I love teaching marketing and helping other marketers learn the art of marketing.
Moni will be speaking at
#MarTechFestGlobal
on October 22!
Book your tickets here.