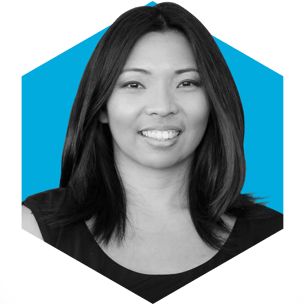 Jessica Kao is the Director of Client Strategy at Digital Pi, an Adobe Fearless 50 Marketer, a Marketo Champion of the Year, a Marketo User Group Leader of the Year, AND a 6X Marketo Champion. And breathe. After all that, you'll not be entirely surprised she's got a PhD in Cancer Biology from Stanford! She's like a one-stop-shop for any fix you may need, digital or biological.
Jobs in Martech are always super layered and complex. Your position is no exception! So to make things a little bit clearer, could you describe your role in five words or less?
Martech data plumber accelerating growth
What is your biggest martech/ marketing ops gripe? Don't hold back!
People who buy shiny new martech and mops tools with zero strategy or forethought on how to use it.
It's a bit 2008, but do you have a personal mantra?
Plumbing is Sexy. #mops How bad can it be?
Have there been any women along the way, who have helped you out and supported you?
YESSSS. So many powerful women CMO have mentored me along the way. Heidi Bullock CMO of Telium, Engagio. VP of marketing at Marketo. Mika Yamamoto - CMO at F5 previous president of Marketo
How do you see the martech scene in the Post-Covid days? Apart from everyone going straight to the pub, of course.
As a women and a mother of two young kids, Covid opened up a ton of possibilities. We don't have to hide the fact that we are moms and martech leaders. The blending of work and home is here to stay. We bring our whole selves to work. When interviewing we can talk about our personal lives and its not something that we have to hide from or be ashamed of.
What are your own plans Post-Covid? Are you looking forward to being back out, or are you enjoying the Netflix binges?
Can't wait to go to Hawaii for vacation with the family. But also, getting back out at conferences and the keynote mainstage to inspire people in person rather from my home office in a square box.
Do you have any advice for bouncing back from failure or difficulties, especially for young women within the industry?
Even the most successful women face rejection and failures. I learn the most from the most difficult projects or stumbles. Be proud and wear them like a badge of honor. Those are the stories that will take you far.
What career advice would you give to your younger self, on how to succeed in marketing and tech?
There's no reason to hold myself back. The self doubt, the chatter in my head that told myself that I wasn't good enough, aiming low doesn't have to be that way. You might have never done something before, but that doesn't mean you can't figure it out. Because you can. You already have what it takes to figure something out even if you haven't done it before. The most important thing is you know how to ask questions. You know how to seek the answer and that's the most important thing.
Who are the professional women that really inspire you?
Aside from my mentors above. The CMO of Netflix. Really strong female leaders who demand an equal voice.
What are your plans for the future? By this I mean what are your upcoming projects, and what are you having for dinner?
I'm starting a new gig as Senior Director of Enterprise Demand Operations. For the first time I'm trying something I haven't done before and after applying to 20 jobs and interviewing at 12 and landing 5 offers, i have some how gotten this confidence that wasn't there 2 months ago. And we are having mac and cheese or cereal.
Click here to sign up for our Women in MarTech Web Sesh, to find out more about women in the industry!
AND want to hear from more the incredible women in martech? Then check out #MarTechFest Dial up!