As a rule you should really avoid your inbox on Black Friday. Just the amount of ⏰clock emojis⌛ is enough to send anyone into a tailspin.
All you have to do is take a gander at my inbox this morning: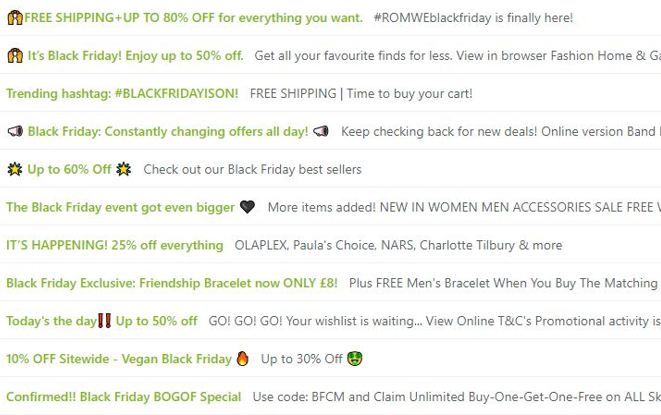 If I never see the 🙌 emoji again, I won't be too upset.
Every single year, on the same day, consumers get shouted at by subject lines in their inbox.
99% OFF this, DON'T FREAK OUT, BUT FREAK OUT that. #BLACKFRIDAYISON but people are exhausted by 10am.
Omnisend's analysis of subject lines from the last few Black Fridays has shown a real move, year to year, how consumers have become fatigued with shouty subject lines.
This is the bets of the best, in terms of open rates, in 2019:
| | | |
| --- | --- | --- |
| Subject line | Open rate | Industry |
| Early Black Friday Sale Starts NOW! | 46% | Computer & Electronics |
| Black Friday Sale – Huge Savings While Stocks Last! | 41% | Computer & Electronics |
| Black Friday Deals EXTENDED Through Sunday! | 40% | Computer & Electronics |
| Expires at Midnight – Exclusive Thanksgiving Offer! | 40% | Computer & Electronics |
| ? Target Hot Black Friday Deals & More | 36% | Garden & Home Improvement |
| ‼️FLASH SALE ‼️ Save on your order… | 20% | Fashion & Apparel |
| ? ? BLACK FRIDAY Big Brand Sale ? ? | 19% | Fashion & Apparel |
| ✨ ?️ BLACK FRIDAY DEALS! ?️ | 17% | Fashion & Apparel |
…and the same in 2021:
| | | |
| --- | --- | --- |
| A Special Offer For Supporters – Free Shipping on The Man Behind the Maps! | 38% | Books, Music & Video |
| Black Friday Warning: $9.99 Deals Selling Out Quick! | 50% | Jewellery & Accessories |
| Last Chance to Save Up To 50% OFF | 49% | Sports & Recreation |
| December Newsletter & 25% OFF Coupons | 45% | Food & Beverage |
| It's Cyber Monday! Get a free Premium Travel Case | 32% | Computer & Electronics |
| The Perfect Ski Gift – Free Shipping on The Man Behind the Maps! | 27% | Books, Music & Video |
| A Special Offer For Supporters – Free Shipping on The Man Behind the Maps! | 38% | Books, Music & Video |
Notice the difference? People are now more inclined to look towards added value. The percentages still reign supreme, but with the amount of competition, people are looking for add-ons.
Think two fruit stall sellers - both yelling about their deals, selling at a discount. But one's chucking an extra bag of cherries in for free. Who is going to win the shouting match?
These subject lines also have the added benefit of being calm in the storm. Take a look at some of the most popular emails that went out today:



It's all less manic, more value added. People are expending a maelstrom of black Friday emails - they know what they're about, and they don't want to be shouted at. Instead, the shorter, stripped back subject lines become the ones that stand out in the crowd.
So, let's have a look at some best practises, updated for 2021's picky audience.
But remember, before jumping into anything subject line-related, the best, best practise is to test your emails. Everything depends on your brand, your customer interest, and your industry.
Saying that, let's jump in.
Best Practice Number One: Carry on using percentage discounts
Now, you don't have to pack it in with all the old techniques. I mean, some of them are classics for a reason.
Perhaps the easiest way to attract a customer is to offer them the chance to save a bit of money. It's what everyone's there for, right? Basically, a percentage sign acts as a quick way to communicate what you're offering your customer, and why they should open the email. It's like an emoji, but less annoying.
During the Black Friday/Cyber Monday in 2019, the percentage sign made it into nearly 33% of all campaign subject lines sent to more than 5,000 subscribers in English-speaking countries.
On top of this, Omnisend found that the most popular discounts aren't all about the highest number. In fact, the highest open rates were the following:
30% discount (16%)
50% discount (14%)
25% discount (13%)
20% discount (13%)
40% discount (9%)
Best Practice Number Two: Add Something Extra
Something extra makes you stand out. Everyone's offering BIG SAVINGS or MASSIVE DEALS, but are they offering free delivery or a free gift on top?
Adding a gift with a certain spending threshold can even encourage customers to increase their average order value, in order to qualify for the gift.
Take this subject line:
| | | |
| --- | --- | --- |
| It's Cyber Monday! Get a free Premium Travel Case | 32% | Computer & Electronics |
With the addition of a free travel case, it's no surprise the open rate is 32%.
But the addition doesn't even have to be monetary. In fact, take this example from Loli Beauty:

This adds value to the purchase beyond savings, whilst detailing the company's brand and values in just 5 words. Pretty impressive. In fact, keep in mind that subject lines up to about 7 words have the best open rates.
Best Practice Number Three: Create Urgency
Though there's a balance between annoying and effective, you've still got to do the ol' copywriter classic - pushing your customer to take action, now.
Using words like the following has been proven to boost opens on Black Friday:
Sale
Offer
X% off
Free shipping
Markdown
Closeout
Then, you should add a phrase that creates a sense of urgency, and limited time:
Black Friday

Cyber Monday

Small Business Saturday

Giving Tuesday

Only X hours left

For the next X hours only

X more hours until …

Soon

Midnight

Ends

Won't last
The most often used words are pretty obvious. "Black Friday", "deals", "%" and "off" tend to feature more frequently.
One surprise, in terms of the wording used, is that personalisation takes a back seat. This is probably because people know that Black Friday is a widespread thing, not specifically because they are a valued customer. In fact, none of the top subject lines contain the customer's name, so it doesn't seem to be a necessity for a high open rate.
So, let's have a look into some brands doing this right.
Example One: Casper - Standing out amongst the shouting.
Subject Line: Snooze through the sales...
There's a few reasons why this example is good. But first up, it's stripped back, it's simple, and it makes fun of the other emails surrounding it in the inbox.
But once you've clicked into the email, you get a continuation of the joke, with multiple alarms in the copy named things like "get in line for a super sale" and "You're gonna pay full price".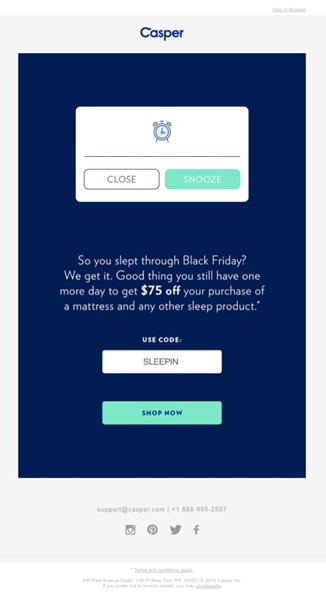 Then, Casper offers an alternative to the manic Black Friday deals; instead you can stay in bed and use their discount code on their website. All of this fits the theme of both the email, and the brand.
Example Two: Old Navy - Use of Humour
Subject Line: CALL IN SICK - Black Friday ramps up NOW! 50% OFF EVERYTHING
Old Navy also uses a couple of techniques in this example; humour, percentages, and urgency. All combined into one pretty impactful subject line.
This shows a different way of thinking around the BIG DEALS and ⚡⚡⚡ approach, instead using a little bit of humour to entice the customer.
The key here is moderation - the shouty urgency is tempered by some good natured humour. So, you can inject the scarcity, FOMO factor, whilst not going overboard. So, this example:
Drives urgency by highlighting the sale 'ramping up'
Promotes the sale by highlighting the discount percentage
Uses humour that makes sense in the context.
Another Example of this is ThinkGeek's "Get a jump on #000000 Friday with these Black Friday Markdowns" which would appeal to their audience, offering an almost "inside joke" among the generic messages. Bath & Body Works also uses this technique, using simply "🤚 HOLD UP 🤚".
One example that Dave Harland praised in his weekly email was Spoke, who used the subject line "That Thighday Feeling". This hints towards Black Friday, without going overboard, with a gentle humour that fits the brand.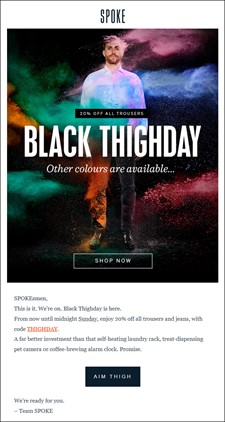 Example Three: Phrasee - Simple and Indirect
Subject Line: 🍽️ The time has come...
Moving away from retailers, now.
Even B2B newsletters need to stand out among the racket. So, Phrasee uses a couple of techniques to do just that. They:
Use a (under-used) emoji to stand out

Hint to Black Friday, without outright saying
Phrasee is using inspiration from it's winning "The time is now" subject line for Curry's last Black Friday. The AI generated line even got it's very own story on the BBC.
It's a great example of how AI can work together with human copywriters to improve what they're already doing, by applying a nice heaping of data to the process.
Notice that the subject line didn't even have to mention Black Friday at all - the AI helped marketers think outside the usual, and forced them to go against their habits and test something different.
Another good example of this is Nasty Girl's 'It's Happening', which also leaves out the percentage, including it instead in the email copy. 'It's Happening' doesn't give too much away, encouraging the customer to click through and find out.