To keep employees engaged, businesses need to adapt to a digital workplace and embrace technology. Here are 5 ways to use technology for remote work.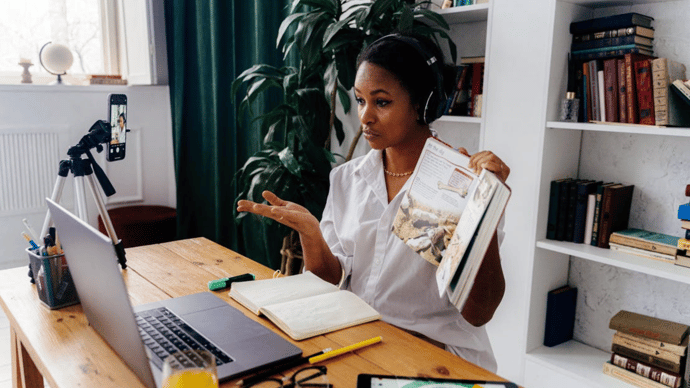 The working world doesn't look like it used to. Companies planning their transition back to the office are looking for a way to create a better employee experience in-office, remotely or a mix of the two. According to SHRM, 55% of workers prefer a hybrid work model where they would have the ability to work remotely three days per week while keeping the option to visit the office on an ad-hoc basis. Employees now feel more empowered to leave their jobs and find new ones if the employee experience doesn't fit within their lives, so human resource leaders are facing mounting pressure to retain their employees. To keep employees engaged, businesses need to adapt to a new digital workplace and embrace technology.
Embrace a Self-Service Mindset
With the massive pivot to remote and hybrid work, employers need to enable collaboration that can span multiple locations and time zones. While an uncertain economic climate caused by the pandemic led to job loss or resignation across certain sectors, the large pivot to a remote work model has also given many employees more control over both how and where they work. People expect that they can find and use the content they need on their schedule. From HR documents to brand style guides to executive announcements, businesses need to make content readily available and discoverable. No longer is a single monthly all-hands meeting enough to maintain communication with your workforce. Employees are embracing independence and a self-service mindset, so make sure they're able to get what they need when they need it.
Remove Barriers to Productivity With Connective Technology
Due to the data and content silos at many organisations, it can be difficult for workers to stay informed and involved in company-wide initiatives. Traditional HR applications and intranets function as standalone applications, resulting in a scattered and confused workforce. When workers have to keep track of multiple log-ins and locations to keep up to date on company initiatives, benefits or onboarding courses, they're spending more time searching and less time doing actual valuable work.
A modern digital employee experience solution should unify important updates and applications within a centralised platform. When internal systems can connect with other applications like your CMS or employee education portal, it's easier for employees to quickly find what they need without wasting time.
Explore Multimedia Content For Internal Communications
Employees today have hit email overload. The barrage of emails, Slacks and IMs only grew due to COVID-19 and the need for more remote work. In February 2021, 40.6 billion more email messages were sent compared to February 2020. HR professionals can break through the clutter by exploring other content types like video or interactive surveys for internal communications. Keeping employees engaged requires embracing the same creativity that brands apply to their customer experience. So, rather than sending out another company wide email update, explore other content types to grab attention.
Work From Any App or Interface
The idea that employees are now working from "anywhere" extends beyond just at home or in the office. It also means that people today are working across multiple devices and interfaces and need solutions that can adapt to these circumstances. Approaching employee experience like customer experience means that employee platforms and intranets can't be confined to just desktop screens. The modern digital workforce includes things like work applications, smart devices, messaging systems and other channels that provide greater flexibility. The key to achieving this is by making sure all work systems are able to connect easily and work together to provide a consistent source of information.
Personalise the Employee Experience With Data
A big concern about the move to remote work and hybrid work models is that employees would miss out on the relationship building and cultural experiences that come with being in the office. However, it is possible to recreate these moments even if your teams aren't always face-to-face. Just as brands like Amazon and Spotify gather data from their customers to offer personalised recommendations and customised content, IT and HR professionals have the ability to deliver every employee an immersive, personalised experience based on their role and relevant information by leveraging unified employee data.
Employee data can be used to make new employees feel like a part of the team no matter where they're working through things like customised onboarding and training sessions. For current employees, having unified employee profiles can also give HR insight into professional development opportunities and long-term career paths for each employee. These insights can help boost company retention rates by helping HR professionals recommend events, boot camps and other resources tailored to their employees' interests.
For even more ways to improve employee experience, explore our e-book: Doubling Down on Employee Experience: How Culture Drives Growth.