The future is now. Marketers are beginning to understand the potential of AI as a tool for many aspects of their job. Now, it's time to look future with everyone's favourite chatty AI - ChatGPT.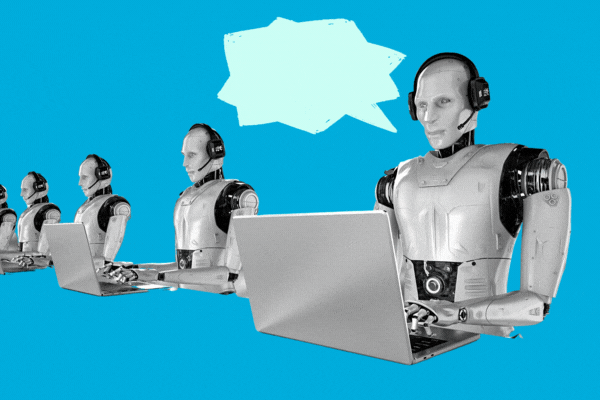 Many companies are seeing the tech's potential. And are reaping the rewards.
In fact, Buzzfeed's stock just did a triple, after announcing the company would be implementing ChatGPT into their content creation process.
This led to their stock soaring from just over a dollar, to almost three.
ChatGPT is an AI-powered chatbot platform that can help marketers create meaningful conversations with their customers.
It offers a unique, personalised approach to customer engagement that allows companies to interact with their customers in ways never before possible.
With ChatGPT, marketers can provide better customer service, build relationships with customers, and ultimately drive sales through improved customer experience.
The platform offers a wide range of features designed specifically for marketing purposes.
It utilises natural language processing (NLP) technology to ensure accurate responses to customer inquiries, as well as deep learning algorithms that allow it to learn from past conversations and provide more personalized responses in the future.
This ensures that every interaction is tailored to the individual needs of each user. Additionally, the platform is integrated with various analytics tools, allowing marketers to gain valuable insights into the performance of their campaigns.
So, let's look at some simple ways marketers are using the tech.
Number One: Influencer Marketing
"Yesterday we needed to work on some TikTok ad scripts for inspiration for one of our clients to send to influencers," Andy Grey wrote on LinkedIn.
So, using ChatGPT, Andy created a script made for their influencers. This included a script outline, scene suggestions, a breakdown of the scene and script information. The whole caboodle.
"I must say as a starting point the end product is pretty impressive," he said.
"In no way do I think chatGPT should replace copywriting, but as a starting point to build on I think it's an incredible inspiration source.

Total task time was 10 minutes - usually, this would be half a day's work with multiple staff working on a similar project."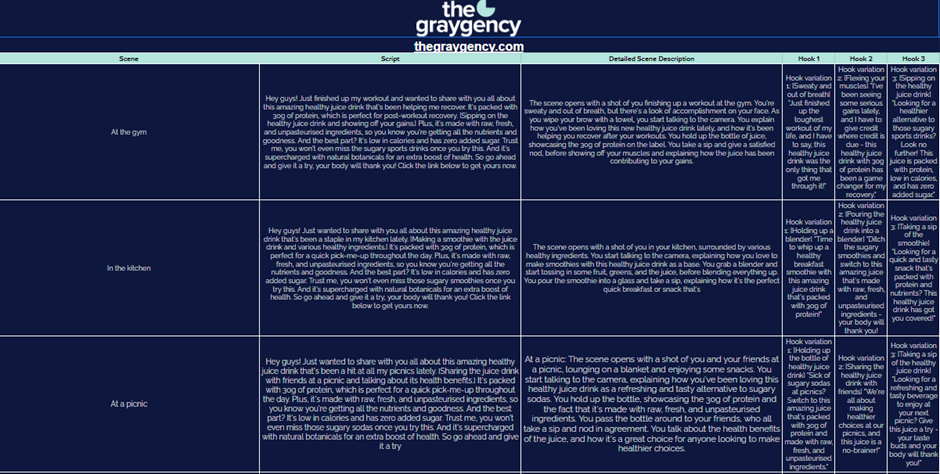 Number Two: Instagram Posts
Louis Smith advocates for the next trick on LinkedIn. Calling it an "ECommerce Hack", Louis states that users can create a revenue-drive eCommerce machine with the help of ChatGPT.
The tech can help, not replace, marketers with multi-channel marketing, content journey, and website development.
But we're looking at his Instagram caption generation today. Check it out below: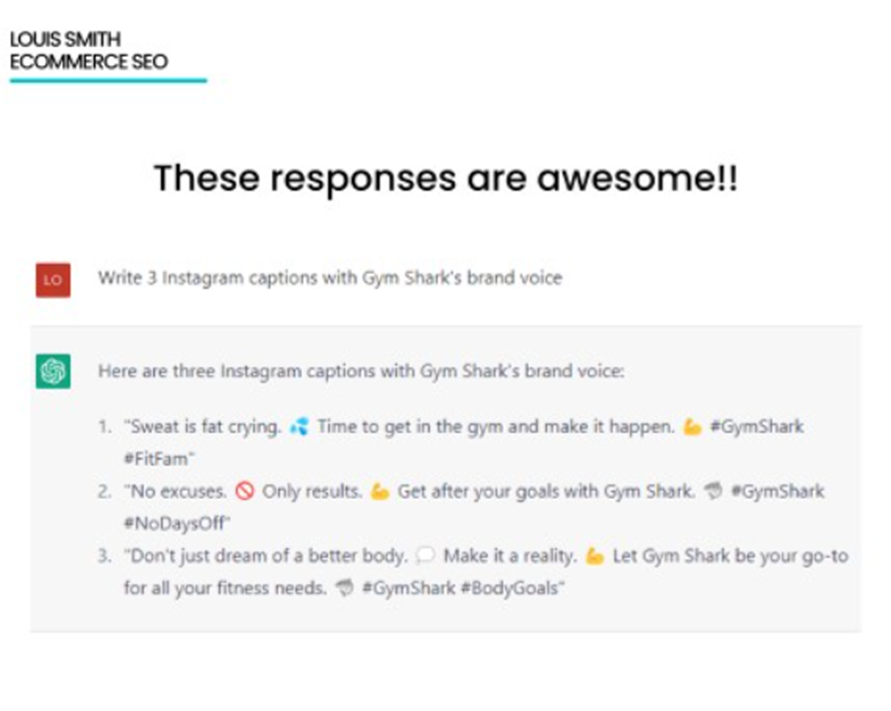 Number Three: Subject Lines
Subject lines are a slog. So, why not get a robot to do it? Dave Chaffey from Smart Insights discovered the best process for creating copy that'll get people opening your emails
Many lists of "Best ChatGPT prompts" tend not to offer enough detail to create those big hitters. Dave gives an example of these:
"Write a persuasive email to increase attendance at our upcoming event"

"Create a follow-up email to send to potential clients after a meeting"

"Generate a thank-you email to send to customers after a purchase"

"Write a promotional email to introduce our new product or service"

"Create a reminder email for an upcoming deadline or meeting"
These are "okay" according to Dave, but generic. Instead of providing engaging copy, it offers generic subject lines. But with a bit of work, these can improve drastically.
So next ask I asked to refine to give improved alternatives relating to someone in B2B switching to another service. These are much more specific.
Check out his results below: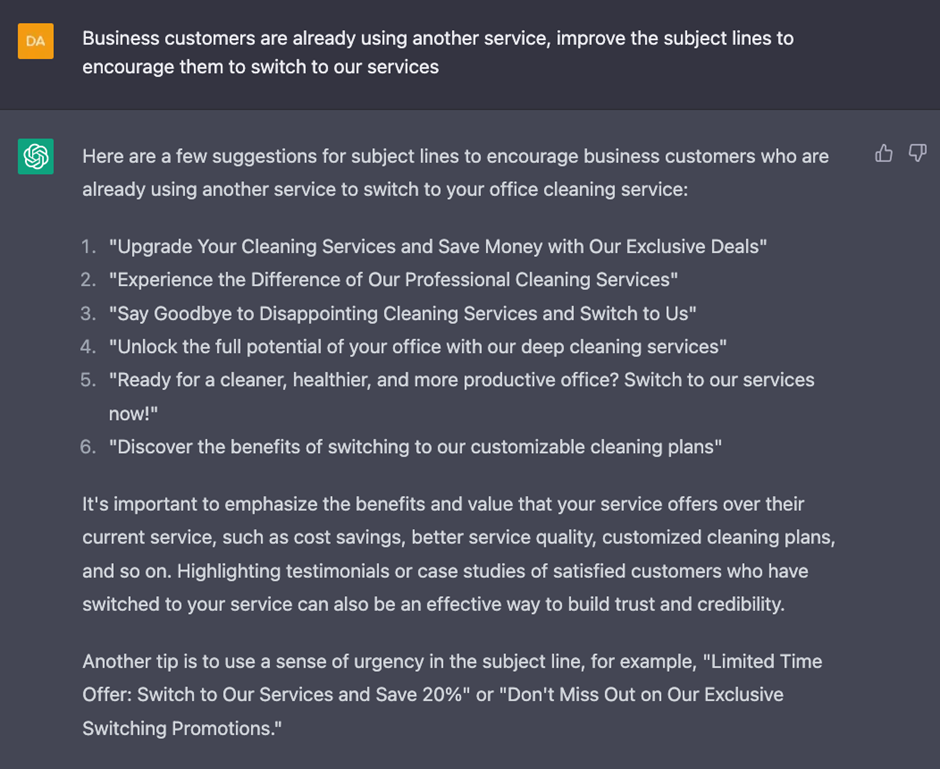 Number Four: Sales Emails
Next, we turn to Text Cortex's Baris Sen, to talk about all things emails.
Baris gives a detailed step-by-step on how to use ChatGPT to generate promotional copy.
He states that writing successful advertising material is about communication value for a particular group, then interesting them, and then causing them to act on the next step.
But to instruct ChatGPT in this way, the user needs to follow a few steps. These are to:
Provide some context. It is important to begin a new discussion by providing some insight into what you want AI to create. This will increase the quality of the output.
Define the task & goal. Provide a goal for ChatGPT to achieve with your prompt so that it can calibrate itself in that direction.


Define the ChatGPT's role or tone of voice. You can simply suggest what type of tone you are looking for in your message. This will help ChatGPT to adjust its tone while creating a marketing text for you.


Ask for alternatives by follow-up questions.
Number Five: Linkedin Posts
"Most people don't realize how powerful ChatGPT can be when used correctly," suggests Sam Szuchan.
Basically, he states that if you know what you're doing, ChatGPT can help you do that better. It means you can "leverage it for genuinely impressive content ideas, hooks, outlines, and more."
For Sam, it's all about trial and error. Check out the examples below: