Sponsored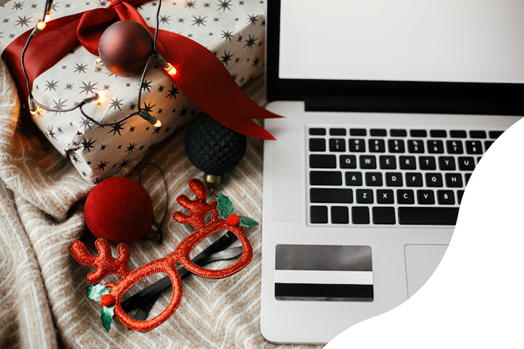 Holiday marketing plays a crucial role for businesses, especially during the end of year or winter season when celebrations like Hanukkah, Christmas, and Kwanzaa bring people together. According to the National Retail Federation, a staggering 91% of global consumers plan to celebrate the end of year holidays, making it an opportune time for marketers to connect with their target audience. The significance of holiday marketing is further emphasized by the substantial growth in global holiday sales. In 2022, holiday sales reached an impressive $936.3 billion worldwide, showcasing the immense potential for businesses to capitalize on this season.
At Playable, we have been at the forefront of assisting brands in creating successful holiday marketing campaigns since 2017. With our expertise and experience, we understand the intricacies of holiday marketing and its impact on business success. In this article, we aim to share 10 important holiday marketing tips that every marketer should keep in mind to maximize their campaign's impact and achieve their desired goals.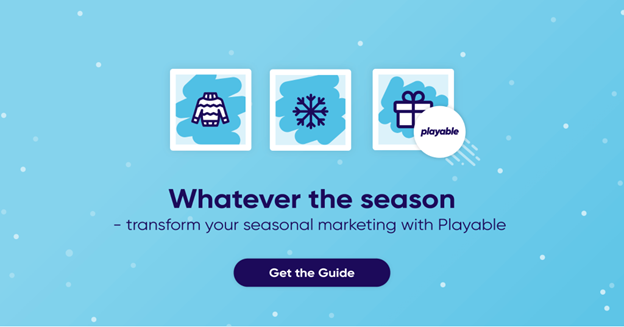 10 Holiday marketing tips every marketer should know
So, let's dive into 10 holiday marketing tips that will empower you to create engaging campaigns, connect with your audience, and make this holiday season a memorable and successful one for your business.
1.
Start early
Every year, we have customers in mid-November wanting to start planning an advent calendars or other Christmas-focused campaigns. In our experience, the best holiday campaigns are those that are carefully planned ahead of time. By starting early, you give yourself the necessary time to overcome technical challenges, iterate on your ideas, and ensure a smooth execution. It also allows for flexibility if you come across a great idea mid-way or need to pivot your campaign's direction. Remember, the key to a successful holiday campaign is planning and preparation.
2.
Understand your audience
When planning your holiday marketing campaign, it's essential to consider your target audience's preferences, shopping behaviors, and needs during the holiday season. A B2B company, for example, wouldn't create the same holiday campaign as a retailer aimed at a B2C audience. Retailers often focus on boosting sales during the holiday season, while other companies may use it as an opportunity to educate their audience or enhance brand image. By placing your target audience at the heart of your holiday campaign planning, you can tailor your messaging, offers, and experiences to resonate with them effectively.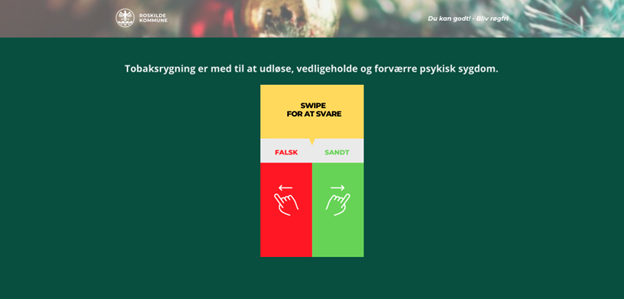 Roskilde Kommune Sundhed, the health department of Roskilde city, understands that many individuals make New Year's resolutions to quit smoking. While stopping smoking is always encouraged, it can have a big impact on people's mental health. So Roskilde Kommune Sundhed decided to do a Swipe It game in the format of True or False to generate awareness around issues that might arise for people who stop smoking that have mental health issues.
3.
Set Clear Goals
Defining specific objectives for your holiday campaign is crucial for its success. Whether your goal is to increase sales, boost brand awareness, drive website traffic, or collect marketing permissions, being clear of the measurement of success for your campaign helps you stay focused and allows you to ensure the effectiveness of your campaign. By aligning your campaign activities with your marketing goals, you can create a cohesive strategy that drives desired outcomes.
For example, if your goal is to boost sales, implementing a Gift Finder or a Luck game, such as a Wheel of Fortune where the prizes are discounts, would be an effective gamification strategy. On the other hand, if your goal is to collect marketing permissions, a fun snake game could be a suitable choice. In other words, your marketing goals need to be at the foundation of every decision you make around your campaign, from deciding which playable campaign to do, to planning your promotion strategy.
4.
Keep It Simple
While it's tempting to create the most elaborate and mind-blowing holiday campaign, simplicity can often yield the best results. Consumers appreciate campaigns with easy-to-understand user journeys and enjoyable experiences. They want to have a good time around Christmas without complicated processes. Additionally, keeping your campaign simple allows for better control, faster implementation, and a higher return on investment (ROI). Remember to consider the complexity of your campaign and its potential impact on generating sufficient revenue.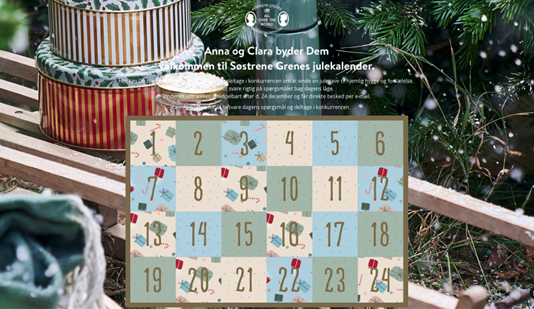 Søstrene Grene's 2022 Advent Calendar proved that a simple holiday marketing campaign can yield impressive results. Within the Christmas calendar, participants had the opportunity to unlock a simple daily quiz question specifically crafted around the Søstrene Grene brand. Plus, by participating, participants could win a Christmas present.
The campaign surpassed expectations, with 263,239 participants (44,585 unique registrations), representing 69.78% of all visitors. Participants engaged with Søstrene Grene for a total of 4,226.4 hours, showing strong interest. The campaign also resulted in 30,544 new subscribers within a month, with 15% converting into customers.
5.
Reflect Strategically on Your Lead Form
When it comes to online campaigns, registration forms play a significant role and you shouldt follow data enrichment best practices. However, it's crucial to carefully consider whether or not you should include one in your holiday campaign. For instance, if your holiday campaign, such as a Gift Finder, aims to boost sales, adding a lead form may not be worth it and could potentially hinder conversions.

Siren Craft Beer, a prominent modern brewery located in Berkshire UK, implemented a Gift Finder on their website to aid their audience in discovering the perfect gifts. The Gift Finder experience was intentionally designed to be accessible without any form of gating. The primary objective was to assist customers in finding ideal products and enhance sales, which led them to optimize the experience by removing any gating restrictions.
The positioning of your lead form
If you do decide to incorporate a registration form, the placement of the form becomes essential. You have two primary options: placing it before the game or after the game. The placement depends on your marketing goal and desired user experience. Placing the form before the game requires participants to fill it out before accessing the game, while placing it after the game makes it necessary for participants to fill in the form to enter contests or access results, such as seeing if they won something or viewing the results of a personality test.
Determining the ideal placement of the registration form involves aligning it with your specific marketing objective. If your goal is to engage your audience and enhance brand image, placing the registration form after the game might be the most suitable option. On the other hand, if your goal is to collect marketing permissions and gather valuable data, having the form before the game could be the best solution.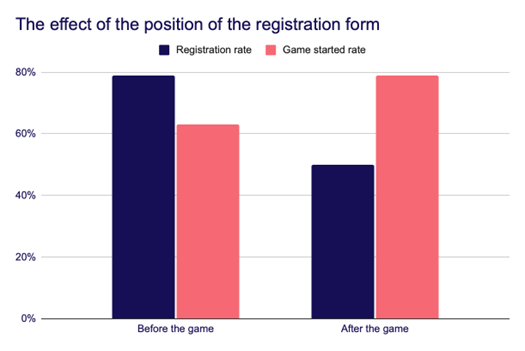 The number of field you include
The number of fields in your registration form is also crucial. Our platform data insights indicate that each additional field in a registration form leads to a 6.5% decrease in the registration rate on average. If you require many fields or sensitive information like phone numbers, it's important to incentivize participants adequately. The incentive should create a win-win situation for both you and your customers. This can be achieved by offering valuable prizes or clearly explaining the relevance for your audience of sharing these data points with your brand.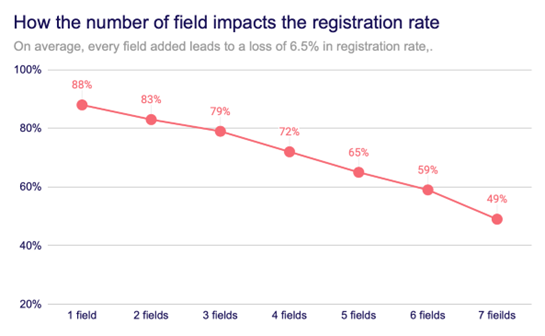 6.
Align Your Prize Strategy
The prize strategy is a crucial factor in holiday campaigns since many of them revolve around the prizes offered. There are two main types of contests you can consider:
Instant-win contests
In this type of contest, participants have the opportunity to win prizes immediately. It works particularly well for campaigns with small prizes such as samples, low-value items, or discount codes. Instant-win contests are an effective way to attract a large number of registrations, often prioritizing quantity over quality.
Traditional contests
As the name suggests, traditional contests involve participants entering a list, and then one or multiple winners are selected through a draw. This format is ideal when you have larger or multiple prizes to offer. Traditional contests are also beneficial if you want to attract a specific audience by offering a high-value gift that is tailored to their interests or needs.
Both types of contests can yield excellent results, but the choice between them often depends on various factors such as your marketing goals, industry, target audience, and the type of playable campaign you plan to execute. Reflect on the prizes you wish to offer, such as a gift basket or discount codes, and ensure they align with your marketing goals. Once you've determined the prizes, consider how you want to distribute them to participants.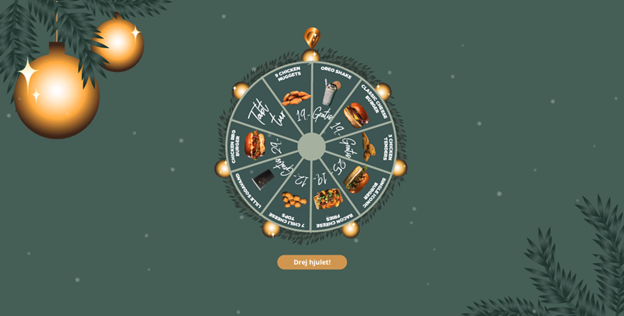 The Burger Concept creatively used a Wheel of fortune as their holiday marketing campaign and utilized instant-win prizes such as discounts or free items from their menu to drive footfall to their restaurant during the Christmas season. By offering these enticing incentives, they successfully attracted customers and generated valuable data points about their audience.
7.
Make It Mobile Friendly
With online holiday sales surpassing $238.9 billion in 2021 and mobile traffic surpassing desktop visits, optimizing your holiday campaign for mobile devices is essential. Ensure that your campaign's design, user interface, and overall experience are mobile-friendly. This includes responsive layouts, fast loading times, and easy navigation. By delivering a seamless mobile experience, you can capture the attention and engagement of mobile users, driving better results for your holiday campaign.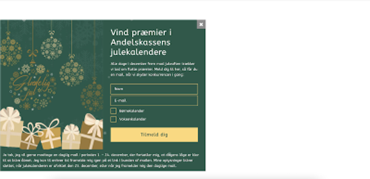 Danske Andelskassers Bank, a Danish bank, implemented two versions of their advent calendar promotional popup to ensure an optimal experience for both mobile and desktop users. This thoughtful approach allowed them to cater to the different devices used by their audience and deliver a seamless and engaging experience across platforms.
8.
Promote your Holiday campaigns efficiently
No matter how remarkable your holiday campaign may be, its success ultimately depends on effective promotion. Without well-planned promotion, your campaign won't receive the visibility it needs, and the results may fall short of your expectations. It is crucial to allocate ample time and effort to plan a comprehensive promotion strategy.
Consider implementing strategies such as website pop-ups leading visitors to your holiday campaign or incorporating a widget on your website. Additionally, develop a well-rounded social media promotion strategy that encompasses both organic and paid promotions to maximize reach and engagement. Leveraging your email list is another powerful channel; send holiday campaign emails to your contact list, including reminders to keep your audience informed and engaged.
Don't overlook traditional marketing tactics. Promote your playable campaign offline with posters and banners strategically placed in your stores, or other outdoor media with relevant footfall to effectively reach your target audience.
Simply Chocolate, a Danish gourmet chocolate producer, effectively promoted their advent calendar on social media. They introduced a captivating drop game featuring a Christmas elf collecting chocolates and avoiding obstacles. Through a sponsored Facebook post, Simply Chocolate enticed viewers to join the fun, offering an enticing prize of 893kg worth of chocolates.
9.
Focus on the Entire Customer Journey
Marketers often find it challenging to avoid becoming solely focused on their campaign, concentrating only on planning, building, and promoting it. This narrow perspective can result in a "funnel vision" where the campaign becomes a standalone effort rather than being integrated into a broader marketing strategy.
It's important to consider what happens after your campaign concludes. What valuable data have you collected that can be leveraged? For instance, if you implement a playable campaign like a personality test, gift finder, or product recommender, you can gather valuable insights about your audience. These insights can be utilized to create targeted email campaigns with offers tailored specifically to their unique needs and preferences. Another example of leveraging data is if you discover through a gift finder or swipe-it game that your audience has a preference for specific products. In this case, the data collected can be used for remarketing purposes, allowing you to target those individuals with relevant offers based on their demonstrated interests.
By looking beyond the immediate campaign and considering the data and insights collected, marketers can derive long-term benefits by incorporating them into their remarketing strategies and personalization efforts.
10.
Monitor and Analyze Results in Real-Time
Holiday campaigns often span multiple days, such as Advent Calendars that remain active throughout December or campaigns that extend from Black Friday until mid-December to drive sales.
Given the extended duration of these campaigns, it becomes essential to monitor and analyze them in real-time. This allows you to make necessary optimizations as you gather insights and data. For instance, you may consider removing certain fields from your registration form to streamline the process, or repositioning the registration form at the end of the game rather than the beginning to improve user experience. Additionally, allocating extra budget towards promotion can help enhance the campaign's visibility and engagement.
By closely monitoring your campaign and making real-time adjustments, you can maximize its effectiveness and ensure it aligns with your marketing objectives. This iterative approach allows you to refine your campaign as needed and optimize its performance, ultimately increasing its impact and driving better results.
Interested in learning more holiday marketing tips?
If you're looking to create a remarkable holiday campaign such as an Advent calendar or explore other innovative possibilities, we're here to help. Playable is the gamification platform for marketers. Book a demo today to discover how our expertise in holiday marketing can help you create engaging experiences and drive meaningful results.
Make this holiday season your most successful one yet by implementing these holiday marketing tips and unlocking the full potential of your campaigns. Happy holidays and happy marketing!