LXA Marketing Leaders Dinner
20th September 2022 | Cologne
Join our exclusive dinner for Marketing Leaders & Martech/Marketing Ops specialists at the top of their game.

🎙️With an exclusive private keynote session with Ralf Strauss
Let's turn down the lights and chat all things marketing at our exclusive LXA Marketing Leaders Dinner, where we're inviting 20 senior level marketers for an evening of great company, exceptionally good conversation and quality nosh on us.
Join us to discuss the strategies, technologies and leadership techniques that CMOs and marketing leaders are utilising to transform their marketing department into revenue generating machines.

Our dinners attract marketers from top global brands such as Sky, Vodafone, Mondelez, HSBC & the Financial Times - are you ready to join the guest list?

Here are the key details:

📅 Tuesday 20th September

📍 Cologne (venue revealed once you've been accepted on the guest list! )

💡 Keynote speaker: Ralf Strauss

🍸 Drinks 6.00pm - 7.00pm

🎙️ Keynote 7.00pm - 7.30pm

🍽️ Dinner 7.30pm - 10.00pm

💲 Did we mention that we pick up the bill?

Keynote speaker: Ralf Strauss
As senior vice president for the Volkswagen group previously between 2011 and 2012, he was responsible for digital transformation of marketing and sales. Before joining Volkswagen, he was global head of product management as part of CRM marketing between 2008 and 2011, and before that, head of marketing at SAP in Germany & central Europe for many years. Before joining SAP Germany in 2002 as head of corporate development, and later Volkswagen, he had gathered several years of experience in marketing, sales and digital projects as a management consultant.
Ralf's current roles:
Managing Partner, Marketing Tech Lab
Managing Partner, Customer Excellence GmBH
Managing Partner, CMO Academy GmbH
Initiator of the CMO community & the Digital CMO Community
President of the German Marketing Association (DMV)
Chairman of the board of the European Marketing Confederation (EMC)
Ralf publishes the yearly Marketing Tech Monitor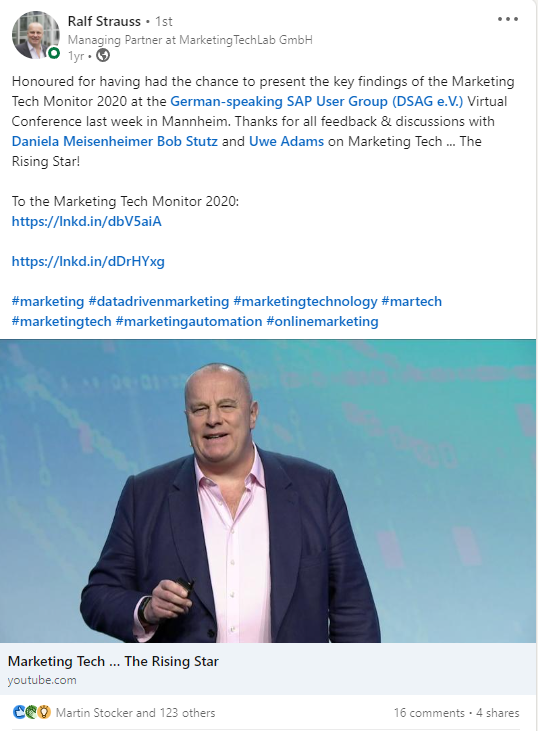 PSSST, DOWN HERE!
Our Marketing Leaders Dinners provide the perfect environment to connect, learn, benchmark and share insights with like-minded peers. If we've not persuaded you to apply for our dinner yet, why not check out the type of venue we host at below and keep reading for more info! 👇