SEO Technology Best Practice Guide
An Introduction to SEO Technology
Search is a significant source of traffic for many websites, and can often be the most important customer acquisition channel.
Google dominates the search market. It's the first port of call for product searches (40% compared to 38% for Amazon). It processes more than 3.5 billion searches per day. (1)
Search visibility is therefore a key driver of business, and so requires a considered and effective SEO strategy.
However, managing search optimisation across large (or multiple) websites can be a resource-heavy endeavour, which is why SEO technology is often required.
In this guide we'll examine the SEO technology tools which help businesses of all sizes manage the different aspects of their SEO strategy.
What is
SEO Technology?
SEO tech refers to a range of software and tools which help marketers monitor organic search performance, optimise websites, gather and analyse data and research campaigns.
There is a wide range of SEO software, from simple keyword research and rank tracking tools, to all in one solutions which cover keyword research, backlink tracking, content optimisation, site auditing and competitor analysis.
Other content and social media tools, such as Buzzsumo, can generate insights which can feed into SEO strategy.
When it comes to SEO tech, there are off the shelf tools that can address different functions separately. This can be fine for small to medium sized businesses, but for enterprise websites that are responsible for delivering a lot of revenue, there are enterprise options which can handle site analysis, content optimisation and technical architecture all in one.
This choice creates a wide range of pricing options, related to factors such as the size and number of websites covered, the quantity of tracked keywords, levels of support and reporting required, and the number of users requiring access.
At enterprise level, an SEO platform allows marketers to integrate all data sources and centralise SEO. This allows for the coordination of optimisation efforts across all teams, and provides more efficient methods of carrying out day to day tasks.
The central theme is that these tools and platforms enable you to improve search visibility, whether by finding the most effective keywords to target, or ensuring that your site is error-free and optimised for search engines.
SEO Technology Trends
Some things such as the importance of providing relevant content to the user remain constant in search optimisation but the algorithms that search engines use to evaluate sites are always changing.
This means that SEO strategy often needs to be adapted to conform to the requirements of search engines. SEO tech vendors can help by providing the tools for marketers to maintain and improve search performance.
Google updates
When we talk about search optimisation, we're usually thinking about our rankings on Google. It currently holds more than 92% of the global search engine market and therefore dominates SEO strategy for the majority of marketers. (1)
For this reason, trends in SEO technology tend to be related to the direction Google is heading in.
For example, two major recent developments in search include:
Core Web Vitals. Introduced in 2021, ​​Core Web Vitals represented a step-change in how Google thinks about the results it returns. Instead of just focusing on the most relevant result, it now considers user experience. Page load speed, mobile-friendliness and user experience are not new considerations, but with the introduction of Core Web Vitals, Google has shone the spotlight on these areas.


E-A-T (Expertise, Authority and Trustworthiness). This January 2020 core update seemed to target low-quality content, placing a bigger emphasis on E-A-T (expertise, authority, trust). In May 2020, another core update appeared to target backlinks, with sites seeming to lose if they had poor backlink profiles. Expertise, authority and trustworthiness has been an underlying factor in many recent algorithm updates, where we have seen a focus on sites such as those offering medical and financial advice.
For SEO technology vendors, it's important to understand what Google is looking for, and provide the tools for marketers to monitor their sites. For example, many vendors have recently added tools to monitor site performance against Core Web Vitals.


Automation and use of AI in SEO
Monitoring, maintaining and optimising search performance is resource-heavy. As a result, vendors are responding with tools that can automate routine content and SEO tasks. Tasks which can be automated include tracking search results, keyword rankings, backlink profiles and website audits.
AI is becoming more important for SEO, as it is especially useful for large-scale monitoring and testing. Automating repetitive tasks, processing large data sets, and optimising content using AI frees up time for more creative tasks.


Voice search
Computer interfaces continue to evolve from keyboards to mobile to voice. With the adoption of voice search driven by smart speakers such as Amazon Echo and Google Home, voice can change the way people search. Marketers will require the tools to understand conversational queries and optimise pages for voice.


Chat interfaces
Chatbots are about anything but chatting. They are simply another type of interface for retrieving and delivering content by streamlining interactions with people to perform tasks or answer questions.
Most chatbots currently exist within messaging apps. They are increasingly being used by brands to handle a variety of personalised interactions such as handling and automating service queries, instructions and facilitating regular transactions.
Marketers should consider that clients can use chatbots to support navigation and discovery, potentially shortening time to checkout. With that in mind, they need to be integrated with back end data to support account questions.


Multi-media search
Search results come in various forms, with a mixture of results now returned for many searches - image and videos, news results, featured snippets, translation and currency conversion tools.

Vendors can help marketers understand the types of results that Google typically displays for target keywords to inform content strategy. For example, marketers may have better success creating video rather than text content for some topics.


What are the key benefits of
Search Technology?
While Google offers free tools to marketers, managing enterprise SEO requires investing in appropriate technology.
Enterprise search technology offers management efficiencies while also empowering marketers to optimise SEO across sites with thousands of pages.
There are other benefits:
The ability to analyse user intent. SEO is fundamentally about delivering what your target customer is looking for and matching that intent. Analysing and learning from user behaviour is key to improving search performance.
Carry out many tasks via a single platform. An SEO platform provides an all in one solution which helps you prioritise tasks and manage them centrally.
Collaboration. SEO strategy for a large business requires collaboration from multiple stakeholders such as content creators, IT and marketing operations. An enterprise SEO platform can facilitate effective collaboration between all involved.

Automated reporting.

An SEO platform should provide valuable insights which empower marketers to make decisions to improve website performance and also offer insights that can be used for strategic planning.

The ability to manage SEO in different geographic locations.

Diagnostic tools can help to identify website issues which may affect rankings across multiple websites and countries.

Keeping up with Google.

Just following and interpreting Google and other search engines' tweaks and changes is a full-time job. The best SEO platforms will have dedicated teams following algorithm changes and their impact, and updating tools to deal with new ranking factors.
SEO is key for overall business performance. Moving up or down by one or two positions in Google can make a big difference in terms of traffic.
A Sistrix study found that the top organic search position in Google has an average click through rate (CTR) of 28.5%. This drops down to 15% for position two, all the way down to just 2.5% for the tenth result on the page. (2)
Changes in position can make a difference to overall business performance, especially at key periods of demand.


Are you ready for an SEO platform?
Before looking to invest in SEO technology, it's important to ensure that you are ready to use it to its full potential, and that you have the resources to do so.
Here are some key questions to ask:
Who will own the SEO tech? It's often run by content teams, marketing or IT, or even whichever department has the budget. Ideally, it should be managed collaboratively as it can benefit all of these teams.


Do you have the staff in place to manage the tech? It's important that someone has responsibility to use the technology, learn from the insights it provides, and communicate these insights to the wider business.


Do you have buy-in from stakeholders? Depending on your choice, SEO software can be a large investment. For this reason, it's important that the C-suite understands the importance of SEO to the business.


Do you have the skills in place to implement recommendations? In order to act on recommendations and benefit from insights, you need the technical skills to make changes to the site.


Have you established parameters for success? It's important to know what you want to achieve from an investment in tech. This may be overall website traffic, on-site conversions, or driving leads. This can help you decide which tool would be the best fit.


Are you realistic about what search tech can do? SEO can take time to produce results, even if you use the tool as effectively as possible. It's important to manage expectations.


Do you have an understanding of SEO within the business? It helps if the business as a whole, and certainly management, understands how SEO fits in, as this will increase the chances of success.
Choosing SEO Technology

Key features and functions
It's important to consider the features and functions which matter to your SEO strategy, and what you want to achieve by using an SEO platform.
These are some of the main areas of SEO which technology can help with.


Keyword research
This a vital starting point for SEO strategy, helping you identify the key terms that your target customers are searching for.
SEO software uses data to identify keywords according to potential traffic volume, user intent and competitor analysis. It can also identify keywords across international markets.


Position tracking
Tracking the rankings by your target keywords and for key landing pages allows you to monitor the success of your overall SEO strategy.
It can also help you to identify key opportunities for optimisation. For example, by identifying content that is sitting on page two or three of search engines and has the potential to rank higher.
With differences in click-through rates between search positions, monitoring key pages' rankings helps you maintain search visibility. It can also help identify issues such as keyword cannibalisation that may affect content rankings.


Website audits
Technical SEO issues can undermine search performance, so it's important to ensure that search engines can crawl and index content.
SEO tech can audit your site to check for issues such as problems which may prevent pages from being indexed to site performance issues around page load speed. Audits will also pick out areas for optimisation, such as page titles, missing tags, and metadata.
Most SEO tools will identify the issues and suggest a fix. For larger sites, or businesses running mtukipe domains, automated audits can save a lot of time and resources.


Local SEO
For multi-channel businesses with physical locations, effective local SEO can help to drive footfall to stores, showrooms and other locations.
Local SEO usually ensures that key information such as opening times and contact information is up to date and optimises Google My Business listings.


Link Building
Link building tools help you monitor your backlink profile, and monitor for spam links which can potentially impact rankings.
They can also analyse the backlink profiles of key competitors, which provides useful insights into their strategies and opens up opportunities to improve your own link profile.


Competitor analysis
Discover the top competitors in your sector. You can learn and emulate competitor success by analysing their sites and identifying the key terms that drive commercial value.
As well as competitor analysis, you can also learn about potential collaborations. For example, with publishers who rank highly for some of your target keywords.


Content strategy
SEO software can inform content strategy through keyword research and gap analysis and identify the types of content that are most likely to be successful for target terms.
Tools can also help you to optimise content pages for your target keywords, and track the performance of content campaigns.


Summary of common SEO platform features:
Keyword Research

● Discover keywords to target

● Identify keyword gaps

Position and Keyword Tracking

● Monitor rankings for target keywords

● Track performance of key landing pages

● Monitor success of optimisation efforts and SEO campaigns

Site audits

● Check page speed

● Security issues

● Broken pages and links

● Headings and metadata

● Mobile friendliness

Local SEO optimisations

● Manage local listings

● Monitor local search rankings

Link Building

● Track backlinks

● Identify opportunities for outreach

Competitor Analysis

● Identify competitors for target keywords

● Compare search performance against key competitors

● Analyse competitor backlink profiles

Content Strategy

● Content optimisation

● Identify media types for target keyword groups
Why consider an SEO Platform?
The major enterprise SEO platforms provide the features common with many SEO tools. The key difference is that these are combined into one platform, which can be used by larger businesses to manage SEO at scale.
SEO platforms offer advanced features and capabilities, as well as custom packages to suit each business. It's these features, and the scalability of the tools that sets such platforms apart.


These are some of the key features and capabilities:


Tool capacity. Most tools have limits on the number of keywords or landing pages tracked, the availability of certain features, number of team members allowed to access the tool, and so on. Limits on the numbers of keywords or traffic tracked could impact your use of the technology or significantly increase the cost.
Automated reporting and ability to produce custom reports. The ability to produce custom reports enables you to measure the search performance metrics that make a difference to overall business goals, and to share key insights with stakeholders.
Breadth and depth of data. Make sure the platform you choose has the level of data you need for your chosen target market. Access to historical search data can help you to identify and learn from user behaviour and search trends over time.
Automation of key tasks. SEO platforms are there to take on the heavy lifting so ensure that the technology you choose allows efficiency savings though, for example, automation of site audits.
SERPS analysis. As Google and other search engines deliver more mixed media results, and different results types, the ability to analyse these features helps to inform your content strategy. For example, if Google tends to favour video results for your target keywords, you can adjust your content production to match.
Analysis of market share. The ability to measure your site's 'share of voice' in search results enables you to assess performance against competitors, track the progress of campaigns, and identify areas where performance could be improved.
Support. SEO platforms can have a lot of features, and it's important that you are helped to use these platforms to their full potential.
The product roadmap. The SEO landscape is changing constantly and it's important to understand how quickly vendors are able to adapt and provide the tools to take advantage of new search features, or track against new ranking factors.
Does your vendor keep up with SEO trends? An effective vendor which provides support and up to date set of tools is one who understands search inside out, and is able to react quickly to key trends.
How to select an SEO technology solution
It's important to ensure you adopt a methodical approach to any Martech tech selection and implementation. We would recommend the following sequence of events when looking to select an SEO solution:
Internal requirement gathering & RFI
Project steering committee established
Business use cases – User/business focussed
Platform use cases – Features/functionality focussed
Create a vendor scorecard (see below)
RFP
Vendor selection – (Too often companies jump straight into their selection, and it all goes wrong. Often, they don't spend enough time and money on what follows either)
Proof of concept
Implementation & configuration
Stack integration
Training & onboarding
Support & upgrade
Vendor management
Audit & review
Create a vendor scorecard
Creating a vendor scorecard to evaluate each vendor is the next step. That way you can take a systematic approach to evaluating products.
Creating a scorecard involves being clear on your use cases so that you can evaluate whether there is functional fit between your requirements and the vendor product. You might also need to evaluate architectural fit to understand what technical support is required to manage integration with existing tools.
Beyond business use cases and technical architecture, you also need to assess what kind of training and support the vendor will provide.
We've created this basic scorecard with suggested weightings to get you started. It doesn't cover everything but our Essentials of Marketing Technology contains a comprehensive guide to support your vendor selection process.
Course participants will also receive a much more detailed worksheet to help you evaluate vendors.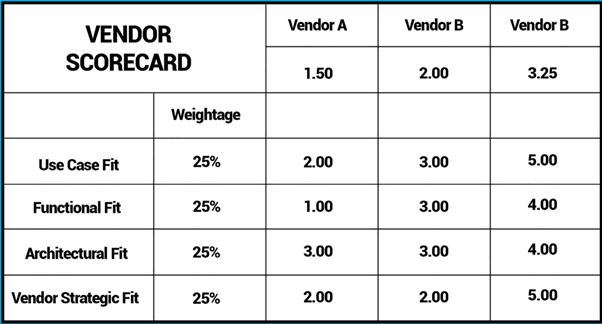 With your use cases documented, vendor scorecard defined, and RFI/RFP created, it's time to start connecting with vendors.
Creating a short list based on your company profile and preference is a good starting point; events tech capabilities and ratings, focus, functional specialism, industry and company size match.
As you progress to chatting with vendors, we would recommend you:
Take your time & prepare. Don't rush the process. Make sure you have done your research to better understand the space. Ensure you have details of your event planning needs available and your vendor scorecard and questions.
Run trials. While many enterprise SEO solutions are sold as custom packages, there are trials available for many platforms, which can be used on a smaller scale to gauge the effectiveness and usability of SEO tools.
Run a custom demo. Make sure vendors have your business use cases and business background weeks before your demo so they can sufficiently prepare and tailor what they present so you can make a fair assessment.
Get into the details of your expectations around the technology. Get into the nuts and bolts of your needs/goals to really assess the ease, speed and cost of tech.
Review vendor case studies. Ask for customer case studies showing key results of their platform.
Get vendor customer references. and ideally direct access to chat with some of their clients.


Making Search Tech Work For You
Researching and onboarding an SEO platform is only the start of the process. It's important to assess and review performance of the platform on a regular basis to ensure you're achieving the expected return on your investment.
SEO platforms also need to evolve with your business needs, and allow you to make the most of new tech capabilities and features introduced by the vendor.
So, to get the most of your SEO platform, you should add the following steps to the process:
Update workflows and skills. A common issue with the adoption of any new technology is that companies don't update workflow and team structure to get the most out of the tools. Another common issue is that sometimes marketers need to be equipped with the skills they need to make effective use of the tool.

Carry out regular reviews. Make sure you're reviewing your tech quarterly to make sure it still fits within your tech stack and works within the context of your event. This can help outline whether it's meeting its full potential.
Explore wastage. This might be a case of automating aspects of a process or keeping an eye out for overlapping technologies. Strip back to avoid complication and confusion.
Engage with your vendor. Vendors are available to demonstrate the full capabilities of their solution. Based on experience with other clients, they can advise on workflows, team structure and how the tech should be integrated into the context of your stack.


Summing Up
An effective SEO strategy can provide a powerful competitive advantage for businesses of all types. In a digital first world, search remains the first port of call for consumers looking to make purchases, or find information about products or services.
If your product or service is ranking in some of the top organic positions in Google, it means potential customers are viewing and considering your products and services. It can make the difference between success and failure.
Technology provides a way to manage SEO at scale, to track and learn from optimisation campaigns, and generates insights that can help you outrank key competitors.
If you have the time and resources, and the team structures in place to make the most of your investment in search technology, it can drive key business goals and overall performance.
Citations
1 Source: Statcounter, 'Global search engine market share', Statcounter, February 2022. (https://gs.statcounter.com/search-engine-market-share)
2 Source: Matt G Southern, 'Over 25% of people click the first Google search result', Search Engine Journal, July 14, 2020. (https://www.searchenginejournal.com/google-first-page-clicks/374516/)