SalesTech Best Practice Guide
Your step by step guide to salestech
1.What is salestech?
Salestech is where sales and technology meet. It's the tools designed to help sales teams boost their productivity, drive the speed to lead, improve lead coverage, better understand prospects and customers, and ultimately close more deals. Put another way, salestech enables and accelerates sales team's performance through a range of different platforms and apps.
The working life of salespeople has become increasingly hectic in recent years. Hubspot research found that 28% of Sales Directors and VPs work more than 60 hours per week on average.
Salespeople are also spending much of their time on manual tasks - organising and chasing leads, data entry, customer research and more. A Salesforce survey found that today's sales professionals spend just 34% of their time selling.
Salestech can help to streamline the workload of salespeople, helping them to make better use of their time, and optimise the effectiveness of their sales activity.
Research from McKinsey found that 31% of sales related tasks can be automated, more than that in the case of some admin tasks such as order management.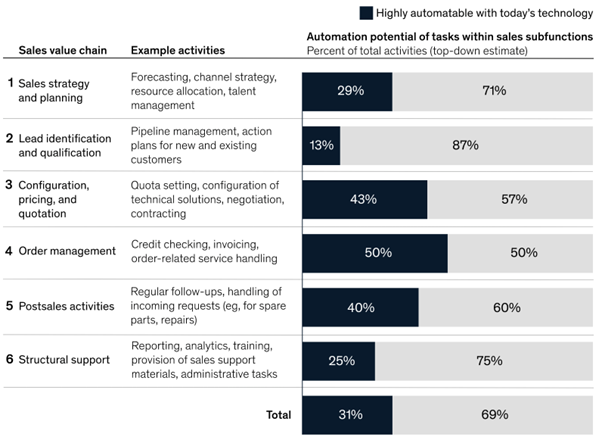 2. Why is salestech important?
Great salespeople are at the core of great sales. While technology can't replace them, it can help them to optimise their time and improve overall team performance.
Sales technology has a number of important benefits:

Accelerate speed to lead
Every great salesperson knows that speed to lead is key to conversion. The quicker the follow up, the more likely the client is to remember them and their previous conversation.
Through calendar meeting bookings integrated with diaries, click to call buttons, email templates and more, salestech can offer time saving solutions that not only drive speed to lead, but also improve the customer experience.
Better customer experience
SalesTech tools also help you to see your company and sales journey from your customers' perspective, allowing your team to gain a comprehensive understanding of their needs.
With the assistance of artificial intelligence (AI) tools such as chatbots, you can answer customer questions and collect feedback in real time, ensuring your customers feel seen and valued.
Customer insight
Sales intelligence tools can provide auto-populated information about contacts before the follow up. Tools such as Clearbit provide data enrichment tools that take an email address and reverse engineer the domain to find key information such as company size, revenues and industry focus.
With this information at hand, and hours of manual research saved, salespeople can turn up to pitches better prepared and ready to drive engagement. By better understanding the customer, they better understand their needs and arm themselves to propose a better solution.
This data can also give the sales team the vital information needed to prioritise leads to ensure the highest ROI (and return on time ROT). Better understand your lead and spend your time on the most promising leads.
Drive lead generation
Salestech helps improve organisation and productivity, improving efficiency, but driving lead generation is about increasing effectiveness.
With more accurate data, sales reps can quickly assess a lead's potential to buy, and adjust their sales strategy as needed.
Intent and signal-based salestech can also be used to identify new leads in a short period of time. For example, firmographic data tools can look up an IP address to identify which companies are visiting your website.
Similarly, using first party cookie tracking connected with a CRM, alerts can be created when contacts have been to the site or opened emails and pitch documents.
It still remains the job of the salesperson to get these leads over the line, but tech can improve lead gen quality and volume.
Enhance productivity
A significant category in the SalesTech Landscape is Productivity & Enablement. These tools enable salespeople to streamline, automate and coordinate their activity in order to boost organisation and productivity.
From lead management, pipeline management to task management, this is often achieved using a CRM. This can speed up manual tasks and also improve management by having activity and actions all stored in one place.
Whether it be click to call, lead piping or email sequencing, more time means more output and helps salespeople become more organised which ultimately leads to closing more deals.
Focus workflow
Investing in the right sales technology can improve the way your team operates. For example, it can help your team to make accurate forecasts and create more structured sales plans. strategically plan business activities.
Grow sales
Embracing salestech effectively across the sales processes creates a more uniformed way of working. One which can be built into a powerful sales playbook.
This in turn provides a more predictable growth strategy and a common onboarding approach to make an increasing sales team and book of business grow quicker and easier.
Help lead scoring and predictive analytics
Salestech can provide the data to inform and define the highest relevance and intent lead data so the sales team can double down on the most important contacts.
Improve personalisation
By integrating the sales channel activity and better understanding the customers and their intent, the sales team can deliver the right message at the right time to the right person.
Salestech with a focus on social selling via video, email, direct mail and calls can enable the pitch to stand out from the crowd.
Salestech isn't just for the client's benefit. There are also a handful of solutions out there to boost team motivation and selling techniques.
Join sales and marketing together
Integrating salestech at the heart of sales brings a more data driven approach. This same ethos aligns perfectly with modern marketing teams and presents the opportunity to align activity.
As sales and marketing activities often overlap, it's important to think about both marketing and sales funnels, and customer activity from awareness to conversion. SalesTech can help you to optimise various touch points along this journey and increase the probability of a sale.
As well as improving collaboration between sales and marketing, tech can help to address gaps in the user journey.
3.Categories of salestech
What started in 2017 as a supergraphic displaying the entire salestech marketspace has continued to expand.
In 2017, Nancy Nardin analysed the salestech market, finding more than 400 vendors for her 2017 landscape. Her newest Salestech Landscape, published in 2021, now contains 1,078 vendors mapped across 45 sub-categories.
LinkedIn 's State of Sales Report found that sales teams are now using a wider range of sales tools, and making more use of them. For example, at least 40% of sales professionals are now using CRM. A similar number are making use of virtual collaboration and sales intelligence tools.
Around a third are using technology for sales planning, engagement, and enablement. Meanwhile, the majority of respondents expect their use of salestech to continue to grow.
This makes sense as for many, sales is now virtual by default which means that it is reasonable to expect the use of virtual collaboration and demo tools to increase in use.
Types of sales technologies used by UK sales professionals (LinkedIn):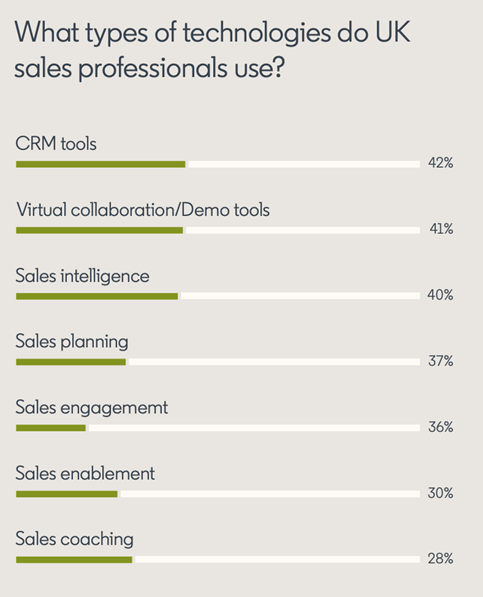 Nicolas De Kouchkovsky and VB Profiles have also created their own SalesTech Landscape.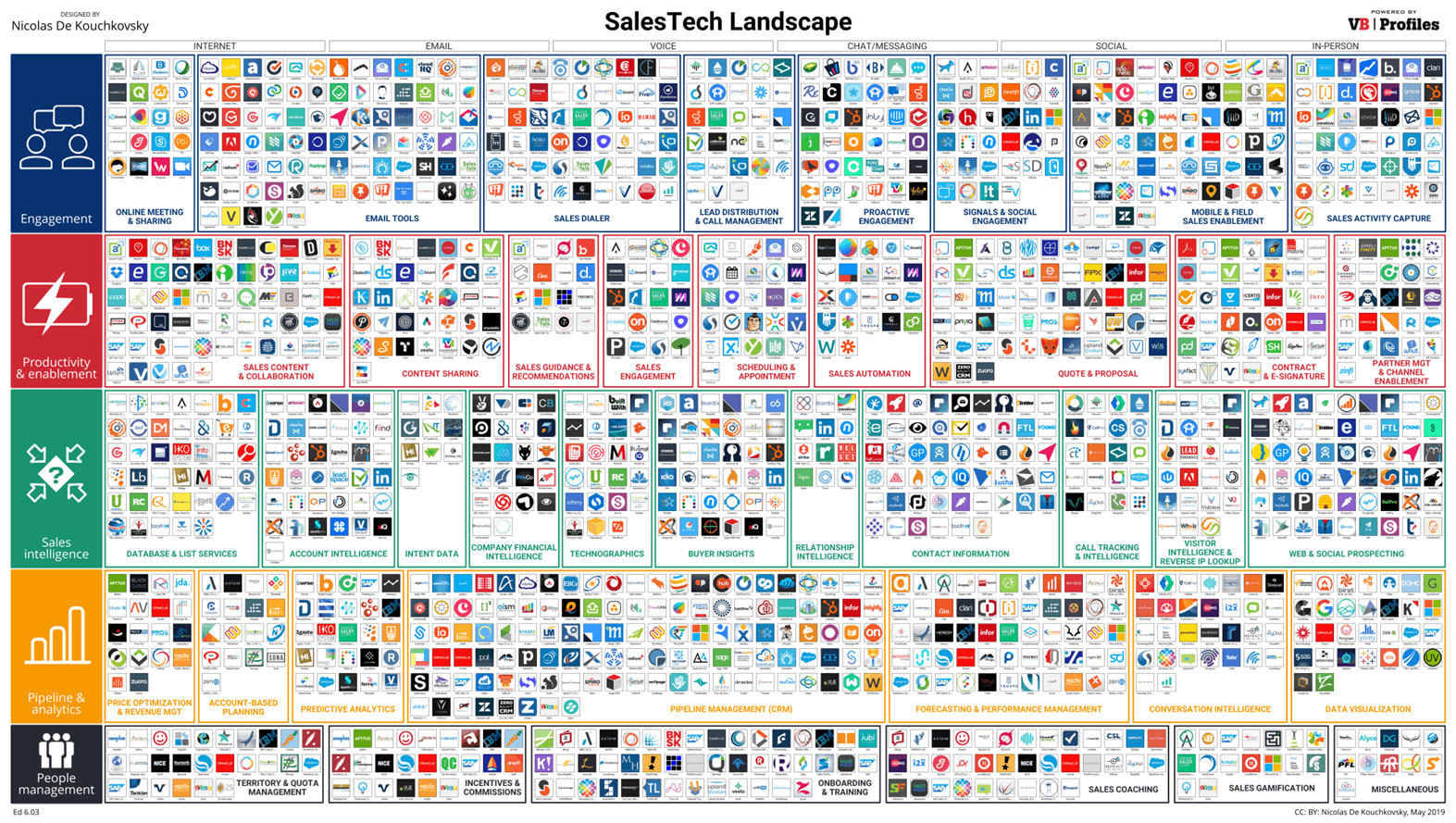 This salestech landscape divides the tech solutions into five overall categories: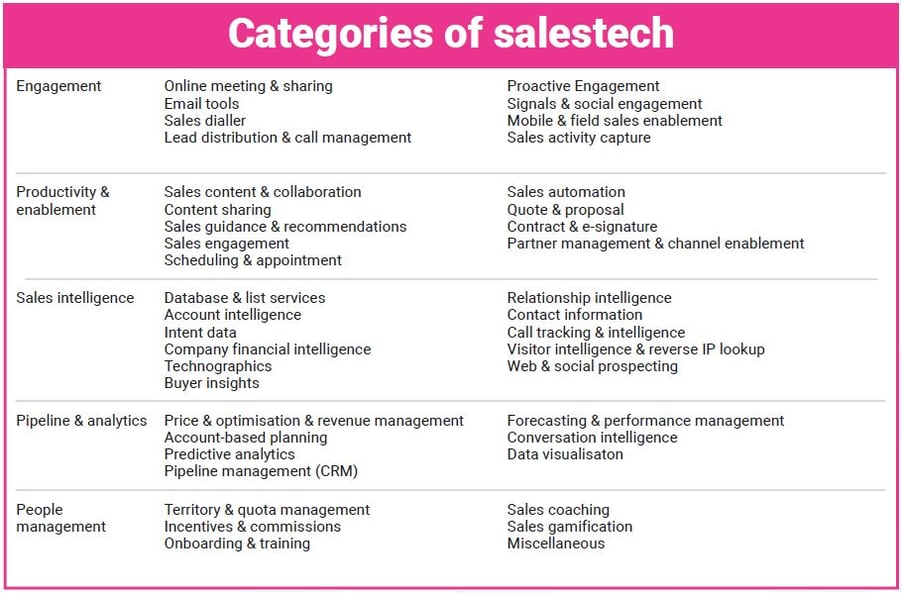 Engagement
Sales enablement tools help your team with everything they need to close a deal. These tech solutions help sales teams to use content, social media, pitch materials and reporting to ensure that the sales teams are aligned.
Types of tech used for engagement include:
Online meeting & sharing
Email tools
Sales dialler
Lead distribution & call management
Proactive Engagement
Signals & social engagement
Mobile & field sales enablement
Sales activity capture

Productivity & enablement
By automating manual tasks, you can spend time on the stuff that matters and doing more of it.
Productivity & Enablement salestech can be categorised into the following:
Sales content & collaboration
Content sharing
Sales guidance & recommendations
Sales engagement
Scheduling & appointment
Sales automation
Quote & proposal
Contract & e-signature
Partner management & channel enablement

Sales intelligence
Sales intelligence harnessed by tech can not only save hours of research time but also enables salespeople to better prepare themselves for pitches and proposals.
Data that enables a better understanding of the client can inform the organisation how much time to invest in its business and use these insights to create informed target lists and ICPs.
Sales Intelligence solutions can be categorised into the following:
Database & list services
Account intelligence
Intent data
Company financial intelligence
Technographics
Buyer insights
Relationship intelligence
Contact information
Call tracking & intelligence
Visitor intelligence & reverse IP lookup
Web & social prospecting

Pipeline & analytics
Many analytical salestech solutions are becoming increasingly focused on assembling comprehensive customer datasets which can run powerful predictive models.
These models can be utilised to drive planning and prioritising sales. From internal organisation to sales prioritisation, salestech which aims to enhance the Pipeline & Analytics can be split into the following categories:
Price & optimisation & revenue management
Account-based planning
Predictive analytics
Pipeline management (CRM)
Forecasting & performance management
Conversation intelligence
Data visualisation

People Management
There are also a handful of salestech solutions out there to boost the team's motivation and improve their selling techniques. From gamification tools to drive engagement to training and coaching tools. A variety of People Management salestech tools can be grouped by the categories listed below:
Territory & quota management
Incentives & commissions
Onboarding & training
Sales coaching
Sales gamification
Miscellaneous

4.Which sales tools should be in your stack?
While needs will differ according to the types of business and the sales process for each, here are some broad categories of salestech to consider.
CRM (customer relationship management). A CRM such as Hubspot or Salesforce acts as a single source of customer and lead information to help organise your sales team.
A CRM will track new and old leads, their position in the sales funnels, and previous interactions. For example, whether they clicked an email or downloaded an ebook.
Lead generation tools. These tools are designed to streamline the process of prospecting for leads, and provide data that enables identification of quality leads. There's a wide range of free and paid tools, such as LinkedIn Sales Navigator.
Sales automation tools. Automation is about freeing up salespeople by taking care of time consuming tasks. This may include lead nurturing, such as welcome emails sent when prospects have downloaded an ebook, or reminders to chase up valuable leads.
Automation is now a feature of many salestech tools, such as LeadIQ and ZoomInfo.
Sales demo tools. Demos are a key part of the sales process, and salespeople need to make this opportunity work well, using video and often animation to explain the benefits of products and services.
Demo tools include meeting and video conferencing software suchs as Zoom, or dedicated demo tools like Tanida DemoBuilder which facilitate video and audio meetings and help with demo production.
Appointment booking tools. These tools can be integrated on your site for demo or sales call booking. You can also have individual calendars for sales team members.
Tools such as Calendly make it easier for your team to manage their own calendars and for customers to get in touch as needed, blocking out times when sales reps are unavailable and speeding up the booking process.


6. Live Chat Tools. Chat functions on site are a useful, and fast option for customers to get in touch with questions and concerns.
Live chat tools include Intercom and Drift, and offer sales teams an extra opportunity to close a deal.
Project management tools. Features such as project tracking, file sharing and scheduling tools help to keep sales teams on track. It's also important for these tools to integrate with other salestech.
These capabilities are often built into CRM, but there are also dedicated tools such as Basecamp and Workfront.
Sales reporting and management. Reporting is vital for learning from what does and doesn't work within the sales process, and tracking progress towards sales targets.
While some CRMs and automation tools come with reporting capabilities, standalone reporting tools such as Aviso are also available.
5.Salestech data and trends
Market size and key stats
While there is no overall figure for the salestech market, research on various aspects of the market suggests strong and continuing growth.
The global sales enablement platform market is predicted to be worth $7.3bn by 2028. That's 4x growth from its value of $1.7bn in 2020. (Verified Market Research).
The global sales intelligence market was worth $78bn in 2020 and is predicted to more than double to $7.35bn by 2030. (Valuates Reports).
Salestech M&A and investment activity
There's a huge amount of venture capital funding and merger and acquisition (M&A) activity in the salestech space.
2021 saw a number of significant deals in the salestech market. Some of the more notable moves in the market include:


A high level observation about this activity is that when there are so many vendors, it can be difficult to evaluate which ones to invest in. We can expect to see more M&A activity as larger vendors acquire niche solutions to create a wider portfolio of solutions.
What are the fastest growing salestech trends?
As the salestech landscape continues to expand rapidly, it is driven in large part by some of the key sales trends playing out.
For example, according to the Revenue.io's 2021 Revenue Operations and Customer Acquisition Benchmark Report, the most popular salestech investments are sales engagement (31%), sales intelligence (31%) and account-based sales software (28%).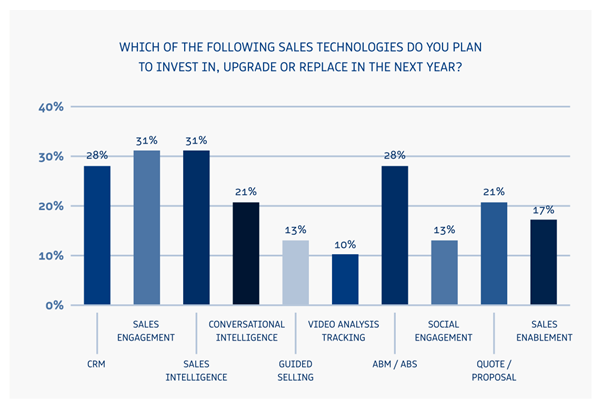 Sales engagement
Sales engagement tools help streamline organisations communicate with prospects via multiple channels in one place. For example, a good sales engagement platform can integrate email, telephone, CMS and CRM to facilitate faster and more effective communications.
Account based marketing and sales teams can make use of a sales engagement platform to save time, stay organised and optimise sales activities.
Sale intelligence
Sales intelligence tools provide both sales teams and sales operations with data and insights for market access, strategy and planning.
According to LinkedIn's State of Sales report, 71% of salespeople describe sales intelligence tools as critical to closing deals. In fact, top performers are more than twice as likely to describe them as extremely critical, with 31% doing so compared to 13% of their peers.
ABM (account based marketing)
Account based marketing (ABM) is a business marketing strategy that concentrates resources on a set of target accounts within a market. ABM campaigns aim to establish meaningful relationships with the most important clients who will deliver the highest ROI.
Dynamic salestech solutions including sales intelligence and analytical tools allow both sales teams and marketers to harness the benefits of account based marketing.
Video selling
Video is becoming one of the fastest growing sales enablement tools on the market. During the pandemic when organisations had to switch to virtual selling, companies were forced to invest in technology to enable virtual selling.
This included virtual meetings but also the use of video for pitching and demos. In fact, HubSpot listed video prospecting as the number one skill every sales development rep needs to master. Short, engaging clips of less than two minutes allow sales people to introduce themselves, deliver value with a quick tip and ask to schedule a call.
Video pitches and presentations can effectively communicate a message in a memorable and consumable way. It's a competitive world out there for a sales rep and it's only getting harder to make sure your pitch stands out. That's why more sales teams are turning to new video communication techniques to get noticed.
Social selling
Social selling is another salestech trend that is also on the rise. Researching and engaging with potential customers on social platforms is now a common practice for sales reps.
Whether it be connecting, commenting, liking, or sharing potential customers' activity, sales reps can create meaningful relationships and increase their credibility.
Conversational marketing & sales
Conversational sales and marketing solutions have the power to rapidly enhance the customer experience by enabling potential customers to receive an answer to their query in minutes without the waiting time to speak to a representative. This also frees up the time of the sales team who no longer have to dedicate huge quantities of time answering repetitive questions.
Conversational marketing and sales are powered through live chat and chatbot software to produce real-time, meaningful conversations with customers at different points in their buying journey.
It's the combination of salespeople and technology that makes for the most successful customer experience. For example, intelligent chatbots can ping the appropriate salesperson to take control at critical points in the conversation if the query has not yet been resolved.
5. Recommendations for effective use of salestech
Tech can't replace good salespeople, strategy and process
Salestech tools are there to enable the sales teams to become more efficient and effective, not do their job for them.
Your sales teams, processes and strategy are the key factors in building pipeline and closing deals. The technology is there to enable this process.
To find the most effective tools it's important to understand how salespeople work, and identify areas where technology will automate tasks to free up time, and help them with the sales process.
Don't over-automate
Automation is a powerful and useful tool, but don't over do it. Stay clear of batch and blast emails, LinkedIn spray and pray connections and Twitter smash and bash posts. It's important to keep an authentic human element to your daily interactions and personalisation is the key. Use the time saved with automation to research, plan, pause and personalise.
Beware of shiny object syndrome
The excitement of new tech (shiny object syndrome) can be dangerously distracting. Start with what's most important – getting processes on point, the right people in place and ensure you're making best use of the tech already in play before you start searching for the best or newest sales software out there.
Coordinate and integrate
Think of your salestech stack holistically and consider how your solutions all work together to provide a better experience for your customers. Consider where, when and how each tool wraps around the customer journey.
Document & roll out
Investigate your tools and how your team uses each one. Find what works best - tool by tool, tactic by tactic, hack by hack and document everything into a detailed, powerful sales playbook and share it with the team.
Make this your Bible, your informed way of working across the team. Once carefully constructed, don't just leave it on the shelf to gather dust, constantly review and update your processes based on any new learning, big or small.
Good martech and salestech management facilitates sales and marketing alignment
Martech and salestech are cut from the same cloth, the latter is part of the former. When you think "sales" think "sales and marketing", when you think "marketing" think "marketing and sales". Ensure the teams, planning, processes, and tech all stay aligned to really boost your business performance.
By aligning your marketing team and sales team, your martech and your salestech you will drive more success to the business. Think of these teams and tools holistically as they all drive to deliver a common goal.
Marketing and sales have been drifting closer together in recent years and with such a boom in marketing technology (martech) it's no surprise that sales technology (salestech) is now following in its footsteps.
Indeed, salestech is now recognised as a category in Scott Brinker's Marketing Technology Landscape 2020.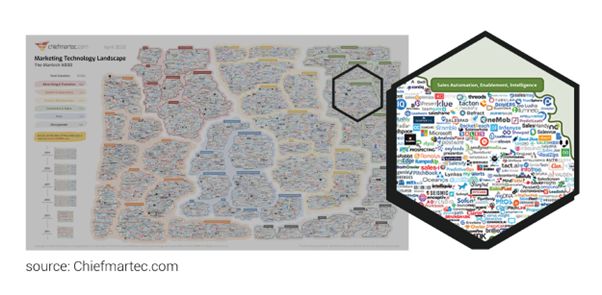 Looking to drive your salestech plans? Check out our 5Ps of marketing technology framework and guide.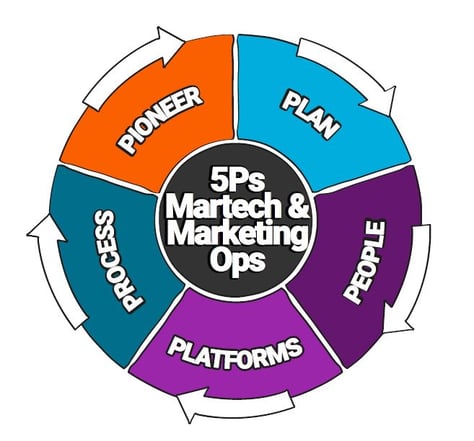 Covering a practical framework of all things martech (which of course includes salestech) that will help you build and manage your sales and marketing tech strategy and roadmap and optimise what you already have in place.