German Edition of The State of B2C Data-Driven Marketing Research Report
In a disrupted digital world, data-driven marketing is more important than ever.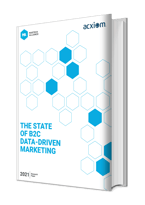 Marketers have long known that data leads to insights, and insights lead to customer understanding, but we found that while most organisations recognise this, brands often lack the data marketing skills or knowledge to deliver their customer-centric, data-driven marketing vision.
This imperative to be customer first also means data first – trusted, relevant data used at the right moment to drive every single customer interaction
Throughout this report, we will explore these themes in more detail, explore exactly how CMOs can uncover the barriers they face in a customer-first, data-driven ecosystem, how they can plan for and advance their data marketing strategy, and the role that CDPS can play to enable better outcomes.
Download your copy to find out more.