Your Guide to MarTech Tool Consolidation
Three benefits to simplifying your tech stack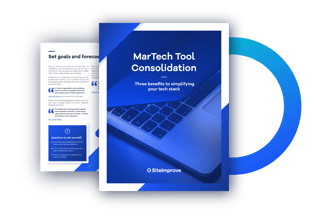 Download this eBook to learn about the three main benefits to simplifying your tech stack and avoiding tool fatigue across your digital teams.
Avoid tool fatigue and gain three benefits by consolidating your tools .
With over 8,000 marketing technology tools on the market, it's no surprise that digital teams are dealing with tool fatigue. Tools are often under-utilized, teams aren't properly trained on how to use them, and tool governance means that work quickly becomes unmanageable.
In this eBook, we discuss the three main benefits of tool consolidation:
Gain centralized visibility and reduce silos
Set goals and forecasting
Save on costs
Don't let your digital team be the ones saying they use only 61% of the functionality available in their MarTech portfolio.