Your Guide to Investing in an SEO tool
Here's everything you need to ask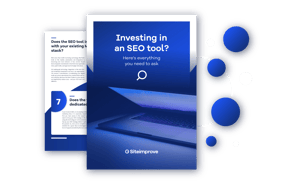 Learn how to pick the right SEO tool for your organization's needs with our free guide.
With SEO being the key element in your site's ranking, choosing an SEO tool is a major decision for any organization. After all, a good SEO tool aids the success of your digital strategy and makes your job much easier.
But with a dizzying number of SEO tools to choose from, it's not surprising that many marketers feel overwhelmed by the selection process.
Download this eBook to discover everything you need to know to make a well-informed decision, including:
The five different types of SEO tool
The SEO functions your SEO tool needs to have
How to integrate your SEO tool with your MarTech stack
The advantages of using an all-in-one SEO tool
And more