Your Guide to
Brand Management Software for Dummies
Turn creative chaos into branding brilliance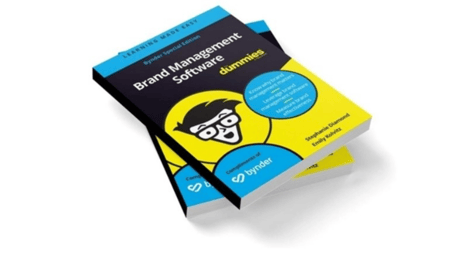 Making sure your brand is current, clear, and consistent across all media channels has become a frantic race to keep up with ever-changing technology. The best way to "Keep Calm and Brand On" is by employing brand management software.
Brand management software is a central hub for all branded content and a place where approved assets can be created, stored, organized, and shared with individuals and teams within an organization, as well as vendors, partners, and clients outside of it.

We know, it sounds like a lot.
Thankfully, we've created a clear and concise guide with the goal of making you a brand management software expert. Inside this helpful e-book, you'll find a quick overview on the one piece of technology that will put a smile on the faces of your creatives, your marketers, and even your bean counters.
Download this eBook and find:
What brand management software is and how to use it
Why you need to document and update brand management guidelines
How brand templates make content creators more productive
Why you need a brand library
How to manage creative workflows and reduce the time for approval cycles