The APAC Marketing Technology Landscape Supergraphic 2020
It's been a sufficient amount of time since we worked on the UKs Marketing Technology Landscape last year for us to forget exactly how much hard work goes into the delightful little visual - and so we've toiled away gathering tiny logos to bring you the inaugural Marketing Technology Landscape for Asia Pacific.
Feast your peepers: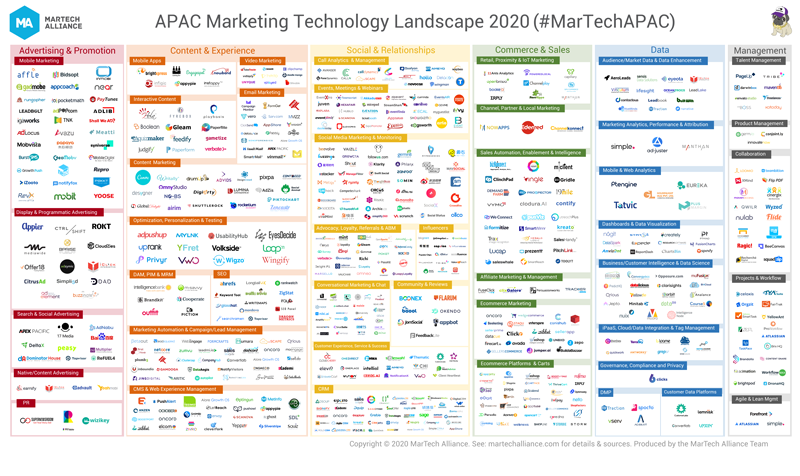 The background
It was a simpler time, the year was 2011 and Scott Brinker was establishing himself as the godfather of martech when he introduced us to his Global Marketing Technology Landscape.
It contained a mere 150 vendors. Fast forward to 2020 and his little baby has grown in to an absolute beast, showcasing over 8,000 logos and spawning many a regional edition by contributed by martech enthusiasts.
Here at MarTech Alliance we're currently working on our third annual UK edition and are excited to be sharing this APAC version with you fine folks.
---
Want to dig a little deeper than the logos? Join at #MarTechFest Dial Up - the online marketing technology anti-confernece for a week of martech content & more.
---
T
he snapshot stats
The inaugural APAC

Martech

Landscape contains

660

vendors
Social & Relationships is by far the largest subcategory accounting for 34% of vendors
Just

10

of the

44

subcategories contain

nearly half (49%)

of the vendors
25.5%

of the APAC landscape was HQed or born out of Australia.
A whopping

41.7%

of the vendors are represented by India
Proportionate to local populations of

24.9m

in Oz vs

1.3b

in India its clear just how much of a punch the Australian market packs
In fact Australia boasts nearly 7 vendors per million people, India .2 vendors per million people and Singapore a staggering 12.95 vendors per million people
And with a population of just over 5m New Zealand can brag they have

6.2

vendors per million people
Categories & Subcategories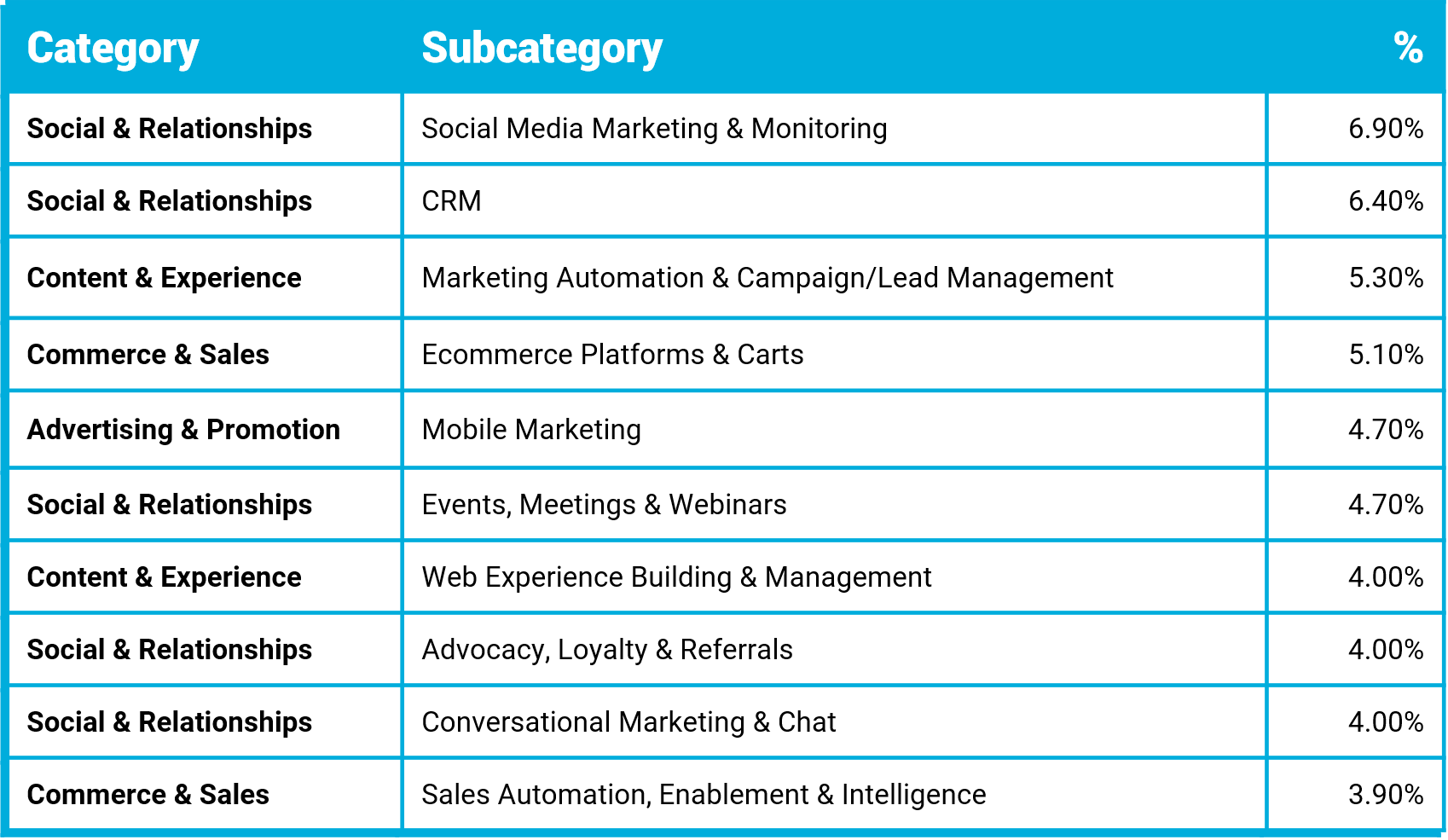 ---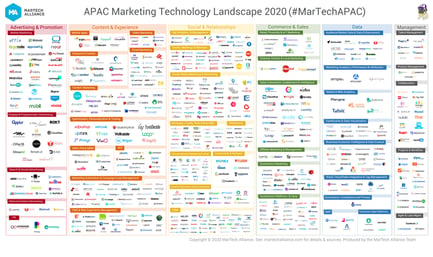 Get your high resolution version of the 2020 APAC Marketing Technology Landscape Supergraphic here
---
This graphic is only an approximation. The main purpose is to start the discussion about the martech landscape across the Asia Pacific region.
This graphic is only our approximation of the

marketing technology

space and we have no doubt missed a vendor or two - apologies in advance. It is intended only to stir discussion. You can add your details to

this form to be added to our research spreadsheet for the next edition.
We defined any

marketing technology

company founded or headquartered in the APAC as part of the APAC

Marketing technology

landscape.

Key sources used in our research to build this graphic:

Chiefmartec.com

, MarTech Tribe, our open online form for vendors to submit their details, CabinetM, Google, Crunchbase and TrustRadius.

We grant permission to reproduce copies of this graphic in full and "as is" in any slide presentation or website. A back link to this post would be greatly appreciated.