As John Hannah said in Four Weddings and a Funeral,
"Stop all the clocks, cut off the telephone,
"Prevent the dog from barking with a juicy bone,
"Silence the pianos and with muffled drum
"The 2021 European Martech Supergraphic has come".
I think that's what he said anyway. I don't know, it's been a while since I last watched it. Anyway, I think there're two things we can all agree on here; Hugh Grant should have ended up with Kristin Scott Thomas, not Andie MacDowell, and that it's immensely exciting to see the updated versions of the various European Martech Supergraphics.
First and foremost, let's have a little look at the Supergraphic, courtesy of out friends over at MartechTribe.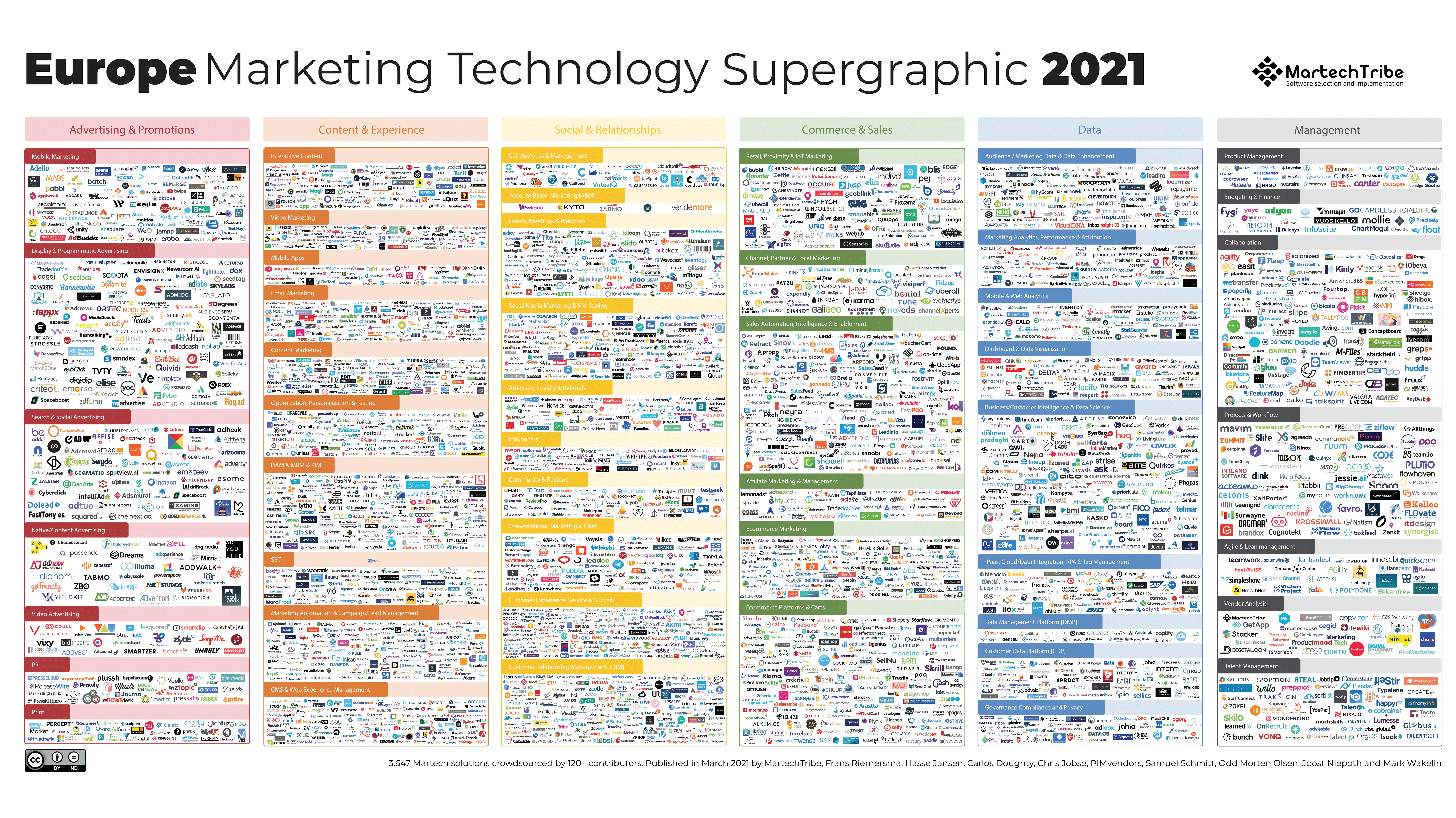 So, a lot has changed here. Last year, there were 2,427 solutions on the European Martech Supergraphic. This year, there are a huge 3,647.
That's a growth of 1,220 solutions in what has been a pretty bad year for starting – or even maintaining – businesses. That's remarkable. Percentagewise, that's just over a 50% growth. Make no mistake, there were a few solutions to go out of business (127, to be exact) but they are heavily outweighed by those joining the field.
Interestingly, while it doesn't change the overall number of solutions in the Supergraphic, five vendors reported pivots to different categories within Martech.
While the United Kingdom is Europe's leading Martech country by a long way, followed by Germany and then the Netherlands, Norway showed the largest growth rate; an absolutely huge 97%.
The order of things is largely the same as it was in 2020, with Content and Experience maintaining its position on the top of the Martech Category size and growth charts, with Social and Relationships staying in at second place.
Until next year... Or until the next martech supergraphics drop; global, UK and APAC (and yep the last 2 are in fact produced by our good selves) versions will be landing this year.
Rather excitingly, Frans Riemersma - founder of MartechTribe - will be appearing as a speaker at #MarTechFest Dial Up, the internet version of our famous (and much aped) anti-conference, which will take place for a whole working week from the 19th to the 25th of April, 2021!
You can get your pass for that week of loveliness right here!